Free From Insulin on the Very 14th Day of following FFD's Diabetes Reversal Program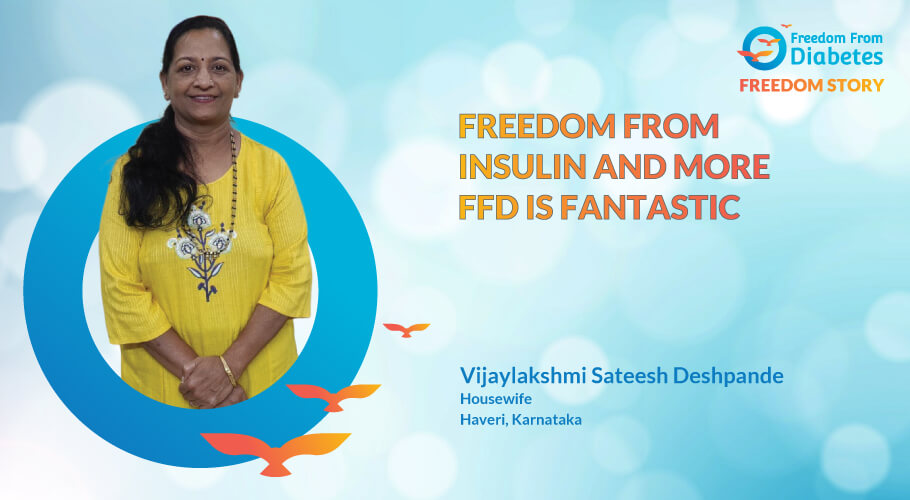 Name- Mrs. Vijaylakshmi Sateesh Deshpande
Age- 55 years
Profession- Housewife
Place - Haveri, Karnataka
Once a diabetic..a diabetic forever! was all that I thought before coming to know about FFD. There is something known as reversal and one can become free of insulin and diabetes medicines were just an unbelievable thought. FFD happened and my life just changed totally.
I am Vijaylakshmi Sateesh Deshpande, a housewife from Haveri, Karnataka. My diabetes was diagnosed in the year 2007.
I used to take my mother-in-law for regular check-ups and would get mine also done on my own. During this period, l got to know that l have diabetes. Family history-wise, my paternal grandfather and my father were diabetic.
Diabetes had affected my life to the extent that I was very dull, always wished to sleep, had thrombosis, TSH problem (has to be repaired yet), put on weight, and was with lack of energy.
Medicine dosage kept changing with years and by 2016, I had to be put on insulin for uncontrolled sugars.
I had to inject 20 units of Mixtard 30 in the morning and 12 units at night along with Starvog GM 2 one tablet in the morning, Zoryl M 0.5 in the afternoon, and Starvog GM2 one tablet at night.
Life was definitely not beautiful. But can it be? Is there any way? I had no clue, but something really good was waiting for me. I came across FFD...through Facebook.
Mrs. Vijaylakshmi Sateesh Deshpande
On the very 14th day of following FFD, I was free from insulin which was an unbelievable one because l knew l had to be with insulin forever. This was a very big milestone in my life and that day the saying 'I CAN I WILL' got a real meaning and motivated me further to reduce the medicines.
Now, l am almost free from medicines, that is, 1/2 tab in the morning only. l have a strong belief of becoming free of medicines soon and start climbing the GTT ladder. I will definitely pass the Litmus test GTT- soon.
I am very happy, fit, and enthusiastic. l am regular with my exercises, yoga, Zumba, and diet. FFD's Diabetes Reversal Program is a beautiful journey of health, fitness, and education. We know what to eat and when to eat as well as how it is beneficial to our body. We are taught to have a balanced diet here.
The most important part of the journey is the Inner Transformation Phase. Here we are shifted from an unhealthy mindset to a free, calm, and joyous state.
This phase plays a tremendous role in all aspects and sugar levels drop to a large extent and sustain. Our behavioral (reactions) changes towards others including family members bring a noticeable difference. l loved this transformation phase and a big thanks to Dr. Pramod Tripathiji.