How I stopped 30 units of insulin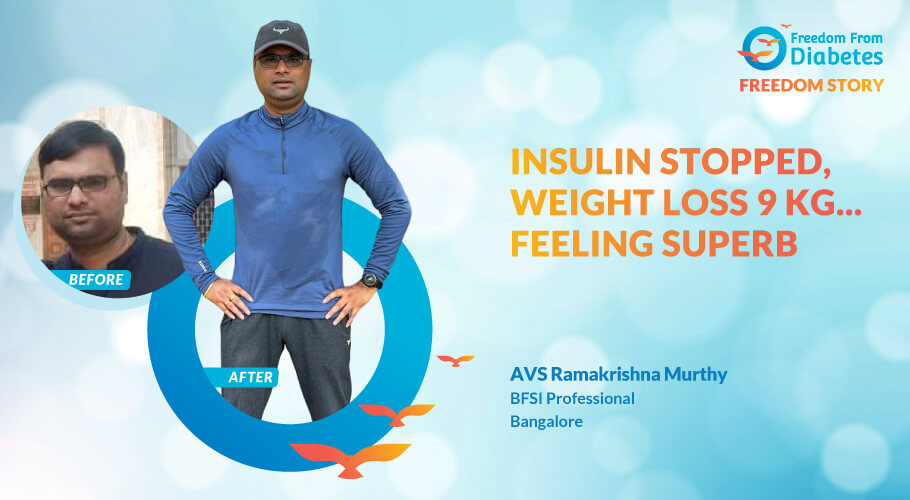 Insulin stopped, weight loss 9 kg...feeling superb
Name- AVS Ramakrishna Murthy
Age- 36 Years Young
Profession- BFSI (Banking & Financial Services Industry) Professional
Place - Bangalore


Hello all,
I'm AVS Ramakrishna Murthy, from Bangalore. I am an Investment Products Sales professional working in Asset Management Company.
My diabetes story


A random test at a stall put up in a park where I had gone for walking in 2016 showed a high sugar level. I then went for the entire test which gave me a shocking result.
I have a strong family history of diabetes with my both parents suffering from it. During COVID, my HbA1c touched 13 and I was put on insulin. I realized I did not want to live like this.
How did FFD happen?


I came to know about FFD through a Facebook advertisement.
What made me choose FFD?


I never liked being on medicines. With FFD, I saw a hope of going free of medicines. The introductory webinar by Dr. Pramod Tripathi added to my confidence and I enrolled in Freedom from Diabetes type 2 diabetes reversal program - HTP immediately

AVS Ramakrishna Murthy
Reversal story


When I joined FFD, I was taking 10 units of insulin in the morning and 20 units at the night. After joining the FFD program, my insulin stopped within one week which was just amazing. My weight loss of 9 kg also has been remarkable. It came down from 82 kg to 73 kg.
My waist size has reduced from 36 inches to 32 inches. My size has changed from XL to L size. This transformation has made me go for an entire change in wardrobe, but I am very happy about it.
Meeting Dr. Malhar personally in Bangalore was superb. He was the one who motivated me to join a gym. My HbA1c has also seen great improvement from 10.3-10.4 to 7.
I am still on diabetes medicines but with FFD support and guidance will become free soon. I would like to thank my wife and family for all the support.


Key quote
"This is just the beginning of my transition. A lot more is waiting. Thank you, FFD"
Key takeaways
Insulin stopped
Weight loss 9 kg