How I went from HbA1c 16 to 6 in just 8 Months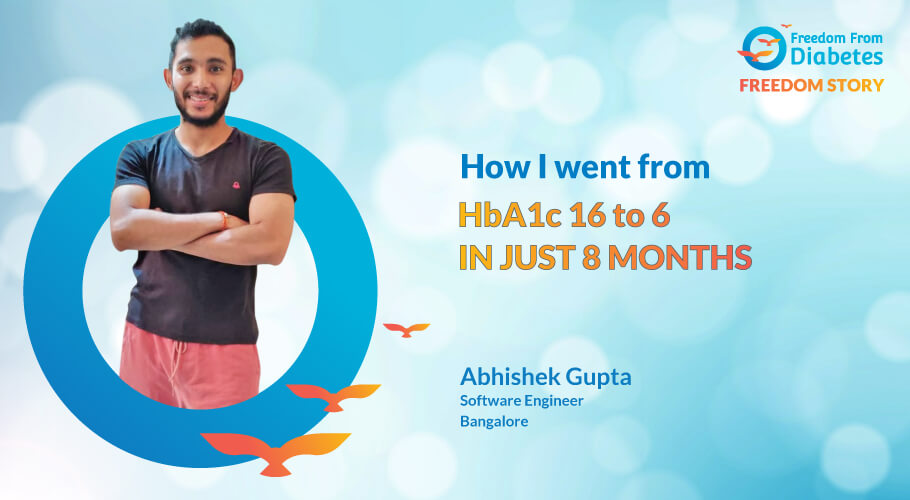 My 20 units of Insulin were stopped in 11 days
Name- Mr.Abhishek Gupta
Age- 25 years
Profession-Software Engineer
Place - Bangalore, India
Profession-wise, I am a Software Engineer at a fast-growing startup. Nature-wise, I am a critical person and like to understand the root cause of things. Understanding the root causes of diabetes at FFD was an amazing experience for me. And no one does it better than FFD.
Both my Mom and Dad are diabetics. Also, my grandmother. My elder sisters however are non-diabetics. My father had 2 major heart operations in the last 10 years. A heart-attack at when he was 52 (2011) and recently a bypass surgery when he was 60 (2019).
I was diagnosed to have diabetes during a general body check-up in December 2019. My HbA1c was found to be 8.4. I did not take it seriously then because I was not experiencing any symptoms.

Later, I lost 14 kg of weight and was in extreme pain for 2-3 months. After a consultation at the local hospital, I came to know that the pain was due to a medical condition called Balanitis. The root cause was extremely high sugar levels.
In January 2021, my Hba1c was 16. When the doctor saw my reports (Hba1c - 16), he was shocked. I have immediately prescribed 20 units of Insulin and 3 different medicines (1 once a day, 1 twice a day, and 1 thrice a day) then.
As soon as I got the results, I researched on the internet and came to know about FFD from Dr. Pramod's Youtube video (7 stages of diabetes reversal). I joined immediately as the next batch, batch-66 was starting in just 2-3 days.
Mr.Abhishek Gupta
My hope was shattered but as soon as I joined FFD, things changed drastically. My 20 units of Insulin were stopped in 11 days. Medicines also slowly decreased. In 3 months, my Hba1c dropped from 16 to 7.5 (Insulin and meds stopped). Not only sugar, but I also had high cholesterol and in just one month it came in the normal range.
The best part of FFD was - it was a myth-buster and a marvelous educator for me. If my parents, in their age, knew about the things that FFD taught me now, they would have been free. My Dad would never have gotten any heart attack.

In April, I found out that I have type 1.5 diabetic. Due to this, in May, my doctor started a minor 4 units of Insulin for me. I was a little down because it is difficult to be free for type 1.5 to reverse his diabetes. I wanted freedom, not just reversal.
My latest Hba1c came to be 6 which has been nothing but a miracle for me. A journey from a high HbA1c of 16 to a normal value of 6 in 8 months. Not only sugars, my cholesterol, vitamins, everything is under normal range now. I have made peace with being type 1.5.
Pancreas Yoga has been exceptionally helpful for me in keeping my BSLs in control even without medicines and insulin. There's a chance of healing the pancreas. If it happens, it's good, if it doesn't, no problem at all.
My prime focus right now is to gain a lot of muscles and keep on doing weight training. I was a regular gym-goer and used to be an above-average bodybuilder in 2016-2018. So, I would like to go back to that.
Once again, Thank you Dr. Pramod Tripathi and FFD for educating me on the root causes of diabetes and showing me a positive path towards health.