How Vijit's 24 units of insulin stopped in Just 1 Month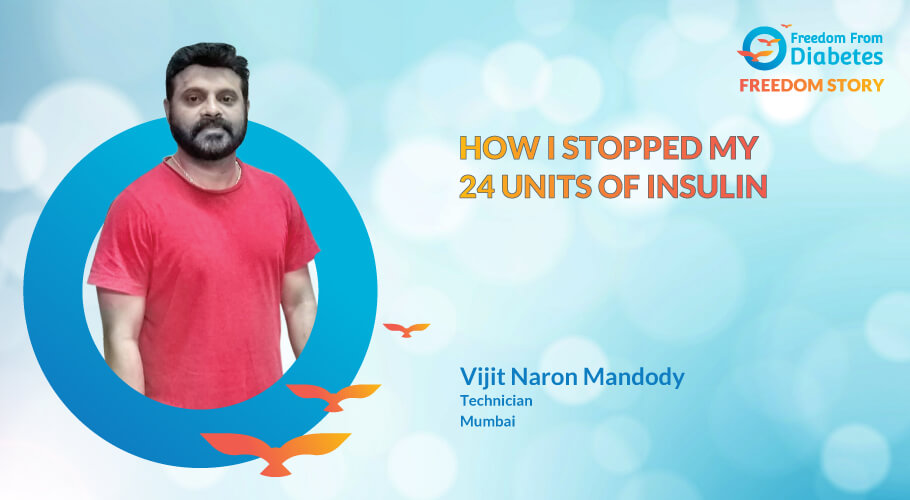 After a decade of battling diabetes, I found remarkable results in just a month.
Name- Mr.

Vijit Naron Mandody

Age- 49 years
Profession-

Technician

Place - Mumbai, India
Diabetes happens due to several causes. I had many reasons to have diabetes but did not know that I could get rid of it.
Actually, I am a 49-year-old Technician who works in Dubai Based Company. My father, mother, and my 3 brothers have Diabetes, definitely a strong family history in my family. Professional stress was also there. So all-in-all, my chances of having diabetes were high.
It was not shocking news for me to have been diagnosed with diabetes actually. It so happened that 15 years ago, I had gone with my mother to get her check-up done.
What went in my mind I do not know, but I also go myself checked for sugars. Sugars came ot to be high and even I joined the clan of diabetics.
Gradually, things were getting worse. I had started suffering from problems with urination. Also used to feel numbness in my fingers to the extent that I was not able to fold my fingers. Plus the fingers had lost sensation.
Irritability, Lethargy, Tiredness had grasped me. Not only that I also suffered from issues like gases, sleep, anxiety, high cholesterol, back pain, skin problems.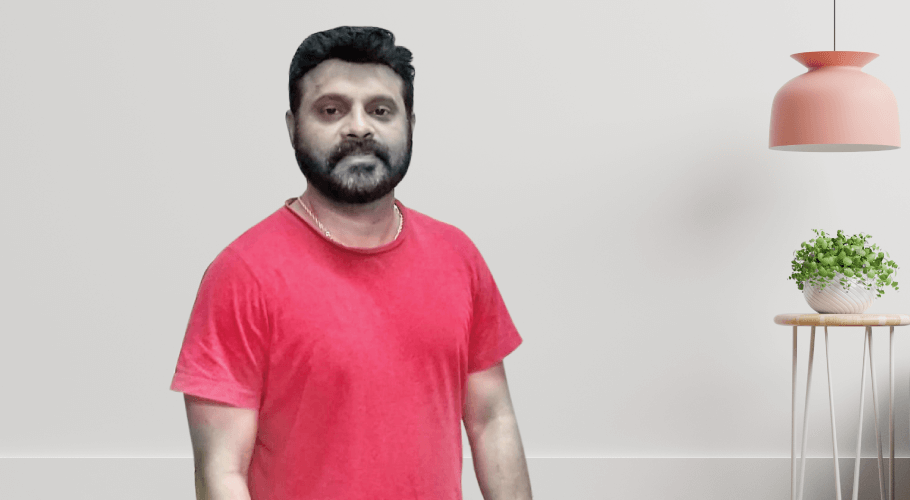 Mr. Vijit Naron Mandody
By 2015, my sugars were just not behaving well. So I had to be put on insulin. The dosage went up to 24 units, 12 in the morning and 12 in the evening.
I really did not know if there was any way out. Got highly depressed about life. One of my friends gave me information about FFD. I watched many Type 2 Diabetes Success Stories on YouTube which was amazing.
Later, I attended the Discover Reversal Session (DRS), the online session of Dr. Pramod Tripathi. Dr. Tripathi was brilliant. He looked in total command. There was no second thought, I immediately registered for the Annual Diabetes Reversal Program i.e. Holistic Transformation Program (HTP) 65.
From then, Life has been Beautiful. My insulin dose which was 24 units per day stopped in 1 month. I got rigged of my oral medicines in 2 months' time.
The FFD diet and the rest of the protocols helped me balance my weight also. I had gained weight up to 64.5 kg which was pretty high for my height. Now I am at a decent weight of 51 kg.
My urination as well as finger numbness problem is in good control now. I only follow FFD rules about eating, resting, and working out. Very happy with this experience.
I will always thank god for showing me FFD - the way to get freedom from all my problems.