Incredible weight loss story from Bangalore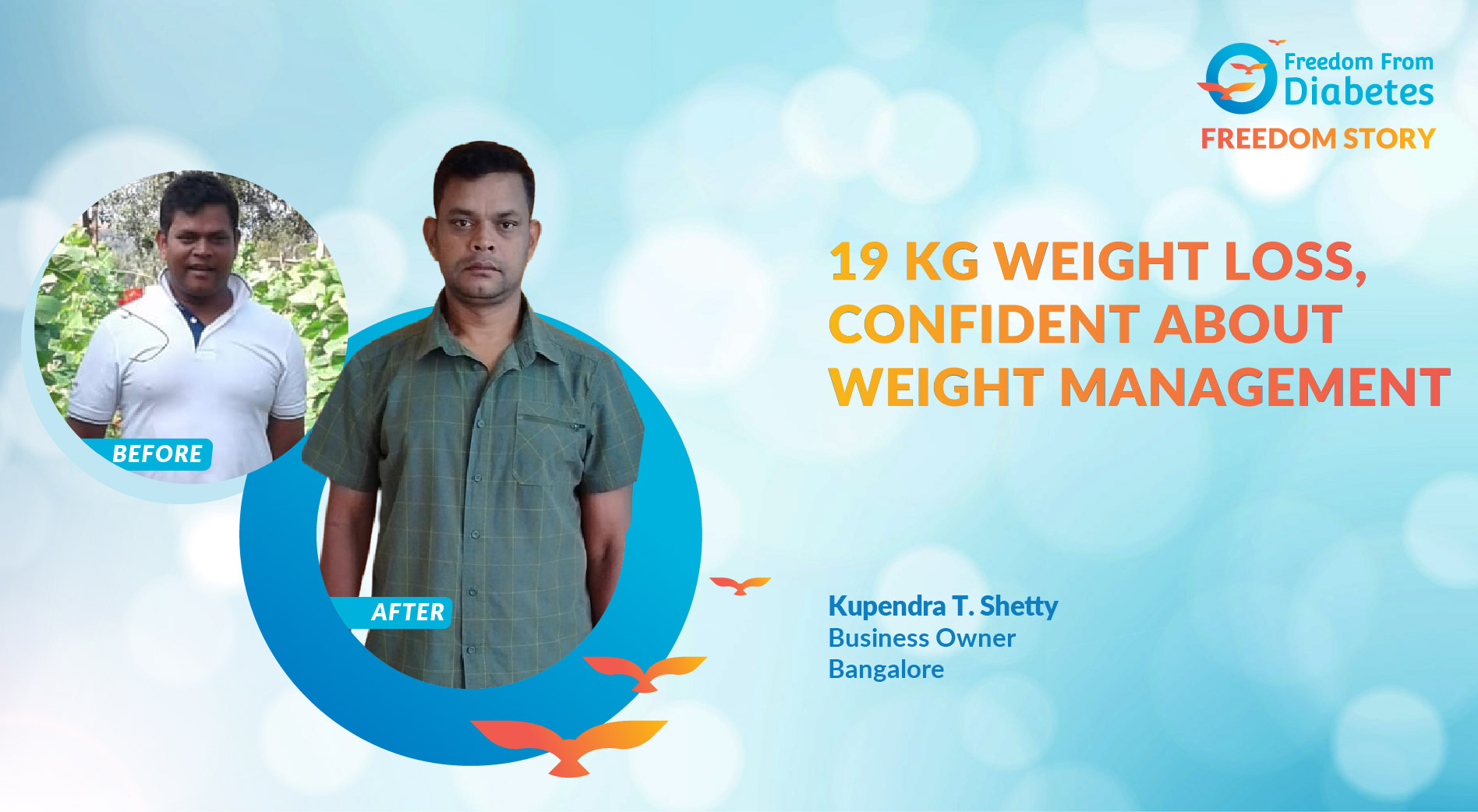 19 kg weight loss, confident about weight management
Name- Mr.

Kupendra

T

.

Shetty

Age- 43 years
Profession- Business Owner

Place - Bangalore, India
Why did I join FFD?

I was obese and had varicose veins in both legs. Newly diagnosed with diabetes. The doctor told me to lose weight.
Introduction

Hi
I am Kupendra Shetty 43 years young business owner from Bangalore. There is no family history of diabetes, and neither was any major stress in my life. My lifestyle and eating habits are the main culprits I believe. I weighed very high at this young age and varicose veins were making my life difficult.
Diabetes and varicose veins

November 2021 brought a piece of bad news for me. It was at this time that I got to know about high blood sugar levels.
I did not want to start medicines for it. For varicose veins in both my legs, the doctor had already told me to reduce my weight. Some even gave me a piece of advice to not lose much weight as it is not good for my health.
How did I get to know about FFD?

I was lucky to have got a chance to attend Dr. B.M. Hegde's speech in one of the hospitals in Bangalore. He spoke in great admiration about Dr. Pramod Tripathi and his work in the field of Diabetes Reversal. I decided there and then to join FFD.
My FFD journey

FFD has been the best thing that has happened to me. I was diagnosed with diabetes in November 2021. I immediately took action and attended the online introductory session Discover Reversal Session and then joined the FFD diabetes reversal program HTP batch 77.
My main concern was varicose veins and excess weight. I started following all 4 FFD protocols properly and results started pouring in. Since it was a newly diagnosed diabetes, it did not take much time to bring sugars under control.
The weight loss journey has been remarkable though. FFD's juice feasting helped me a lot. I lost a significant chunk of 10-12 kg with it. Water fasting too helped me but it gave me some abdominal pain.
I weighed 112 kg at one time which I reduced to 104-106 kg on my own through diet and exercise. My weight while joining FFD was 104 kg and now I weigh 85 kg. The whole weight loss has been 19 kg.
Impression

On the 27th of February 4th week Sunday, I started with juice feasting, did it till the 28th of February evening by
6.30 p.m. I started walking from the temple town at Kukke Subbaramanya to Dharmasthala, reaching 1st March morning at 6 a.m., for Maha Shivaratri fest. The distance was 55 km in one stretch. This was done on juice feasting day and I could do it comfortably. Before FFD, this just could not have been possible.
I feel like a miracle has happened in my life. I followed FFD instructions and here I am 19 kg less and happy. I am confident that I will not put on weight as I know how to manage weight now. All thanks to FFD.
Takeaways
19 kg weight loss
Energetic and Happy