Jehovah George: 10 Days to Full Diabetes Reversal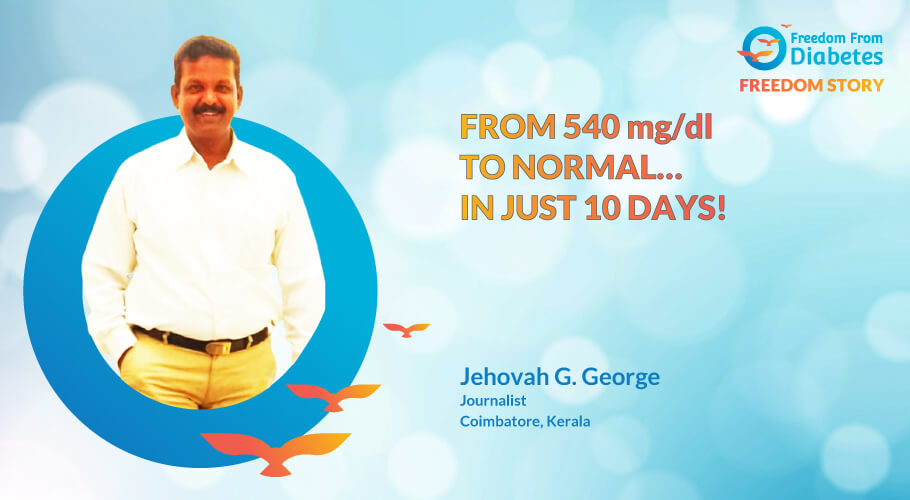 Name- Mr. Jehovah G. George
Age-
Profession- Journalist
Place - Coimbatore Tamilnadu
Like many other sufferers, I discovered that I was diabetic by chance. I remember the date clearly. It was May 23rd, 2020.
I was feeding my pet dogs when I suddenly felt a burning sensation in my right foot and found my left-hand thumb was unresponsive. I was literally unnerved! But not too concerned.
I dismissed it as some food allergy—most likely brought on by the coffee and mushroom chilly I had eaten earlier in the day. I poured some cold water on my leg and the sensation subsided. But the next day, I experienced the same burning sensation.
I visited the local doctor the same evening and he did a BSL random test. To my utter shock, the reading was 540! About 400 points above normal!
I was told to do some additional tests, including the HbA1C, which measures the average BSL over the past three months.
But the readings were just as high, at 16.5 (about 10 counts above normal). I WAS DIABETIC! My father is diabetic, so I guess you could say there is some history of diabetes in my family, but I was nevertheless shocked.
The doctor immediately prescribed medication. But I was unwilling to take any allopathic drugs and told my doctor that I preferred to try naturopathy treatment. The very next day I began to take herbal medicines.
This continued for 4 months; however, my BSL remained stubbornly fixed at the same numbers.But nothing else was the same.
I lost my zest for life, my weight began to climb, and soon, I could not fit into any of my clothes. To say, I was depressed would be a grave understatement. But help was at hand.
Later the same year, sometime in October, I learned about FFD from one of my brother's friends, who happened to be an FFD member, himself.
I realize now what a great stroke of luck this was. He told me about FFD's incredible success in reversing diabetes, without medicines. I was very excited.
As a journalist, research is second nature to me. I researched FFD and its founder Dr. Pramod Tripathi comprehensively. And was even more enthused.
Over 11,000 diabetics had been freed from all medicines through their programs. And many more had reversed other complications too, like BP, heart damage, kidney damage, etc. I immediately enrolled in FFD's flagship program, the Holistic Transformation Program (HTP).
I was assigned my own team of doctors, dieticians, exercise experts, etc. I learned about the science of diabetes reversal, FFD's four protocols—diet, exercise, inner transformation, and medical—and so much more. I began to work the program religiously.
Mr.Jehovah G. George
Amazingly, within just ten days, the doctors told me that I could stop all my medicines completely. I was euphoric. As a side benefit, I realized that I had also been losing weight—almost without added effort. I dropped 20 kg in four months and had reached my ideal weight.
During my research, I came across many doctors and businesses dealing in diabetes reversal. But from my experience, I can honestly say that Dr. Pramod Tripathi and FFD are the only genuine ones.
I have no words to describe the incredible hope that FFD holds for every diabetic patient; the tremendous motivation and confidence engendered by Dr. Tripathy and the entire team of doctors, dietitians, and exercise experts.
Although I'm totally free of all medicines, I still follow FFD protocols, the diet-exercise regimen and inner transformation exercises, I was taught don't just keep me physically healthy, they bring joy and quiet to my mind too.
Festivals now bring even greater joy. I celebrated this Diwali with great gusto, and Christmas and New Year 2022, with a large helping of sweets and cakes. Truly, life is sweet again. Thank you, FFD.