June 23: Top 10 Diabetes Reversal- Health Transformation Stories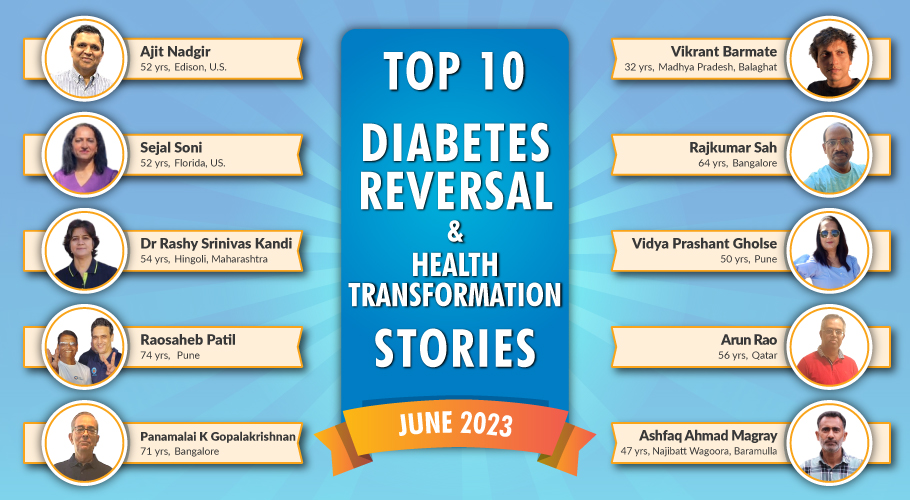 June month is truly a magnificent time, bursting with excitement and joy. Every year on the 21st of June, the world unites to celebrate 'International Yoga Day', a day dedicated to embracing inner peace and finding solace in the art of yoga.
And this year, FFD (Freedom from Diabetes) took this celebration to soaring heights, leaving no stone unturned! With over 450 participants gathered together, their enthusiasm was contagious as they embarked on an incredible journey towards diabetes reversal.
Top 10 success stories of June 2023

Mr. Ajit Nadgir | Age- 52 Years | Edison, US | Software Engineer
A checkup done for unsatiable hunger disclosed Ajit suffered from diabetes. He also suffered from obesity, BP and high cholesterol. Joining FFD worked wonders for him. He never required to take diabetes medicines as his sugars came under control, lost 10 kg of weight and improved in all other parameters of health.
Read his full transformative story here

Mrs. Sejal Soni | Age- 52 Years | Florida, US | Operations Associate
Sejal struggled with diabetes for a challenging period of 8 years before discovering FFD. She also grappled with obesity and high blood pressure. However, upon enrolling in the FFD program, she is not only free from diabetes medication but has also successfully stopped taking her blood pressure medication. She has also lost 11 kg of excess weight through the innovative treatment provided by FFD.

Read her inspiring story detailed here -

Dr. Rashy Srinivas Kandi | Age- 54 Years | Hingoli, Maharashtra | Pediatrician
Personal stress had taken a toll on her life. With no family history of this relentless condition, its arrival felt like an unwelcome intruder. Obseity and gout were other problems which she suffered from. FFD just changed her life. She not only became free on the very second day of the program but lost 10 kg over the course of time and is fit enough to climb high altitudes.
Read her full motivational story here -