Miracle of "Water Fasting"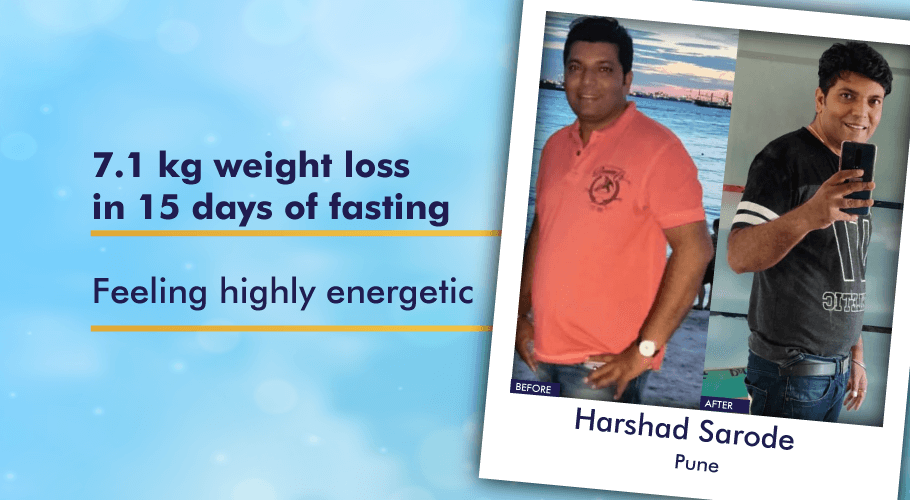 Weight loss Story: Mr. Harshad
Name- Mr. Harshad Sarode
Age- 45 years
Profession- Business Owner
Place - Pune
Hello, myself Mr. Harshad Sarode, age 45, business owner, participant of Intensive Batch 55. During our program, we have explained the importance of Juice feasting and fasting.
A very important topic is " Should diabetics fast?"
was also dealt with. At first, it was a bit difficult to digest that diabetics can fast but repeatedly watching the video with the topic " Should diabetics fast?" by Diabetes specialist Dr. Pramod Tripathi, things got clear and it was registered in my mind that "diabetics should fast!" This video gave me a lot of understanding of our bodies.
I would like to share an important fact that since childhood I have never fasted even for a day. So, this was my very first experience with fasting.
I decided to go on water fasting for a complete 10 days but surprisingly ended up doing 15 days, 360 hours of water fasting.
Honestly, it wasn't all easy, especially the first 2 and last 2 days. There were major hunger cravings these days.
But with motivation from Dr. Gopinath Karpe, Dr. Malhar, and all the lovely people of Group 55 C I could complete my fasting successfully.
My determination to save my organs and my family's constant motivation and support helped me a lot. Now, I am confident that I will be able to do many such water fastings in the future.
I have lost around 7.1 kg of my weight during water fasting and am feeling highly energetic now.
All thanks to Dr. Pramod Tripathi and his team.
I would like to appeal to all that look at this "Lockdown" period as an opportunity as "NOW, is the time to focus on your health!"