Mr. Ashok: FFD reversed my diabetes + co-morbidities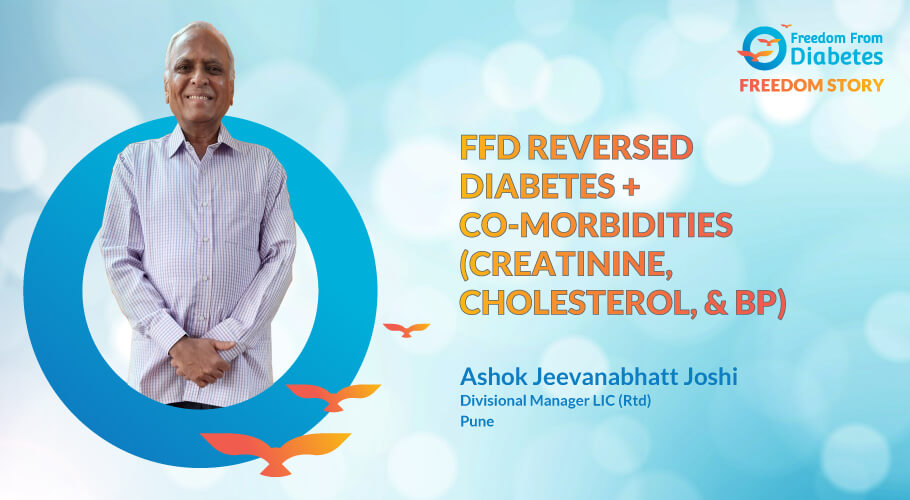 FFD reversed diabetes + co-morbidities (creatinine, cholesterol, and BP)
Name- Mr. Ashok Jeevanabhatt Joshi
Age- 68 years
Profession- Divisional Manager LIC (Rtd)
Place - Pune, India
My thought - so many quacks are out masquerading that they cure diabetes, but FFD has an empirically proven protocol to reverse diabetes.
Dr. Pramod Tripathi is a pioneer in the diabetes reversal program. He and his team are God-sent apostles to ameliorate the health of millions of people worldwide.
I am a Pensioner, a retired Divisional Manager of Life Insurance Corporation of India. Since 2014, I was pre-diabetic but continuous medication started in early 2019. Family history-wise, my mother was a mild diabetic, she died at age 82.
Though I am residing in Pune, I was not aware of the FFD organization and also that it is located at a very central place like Prabhat Road in Pune.
I came to know about FFD in one of the videos of Dr. B M Hegde of Manipal-Udupi which convinced me about the authenticity of FFD's Diabetes Reversal protocol. Everyone knows, Dr. Hegde is a crusader in the area of the health of human beings.
Without allowing my brain to use its wisdom anymore, I saw the website and YouTube videos of FFD and immediately enrolled for a 2-hour Discover Reversal Session of Dr. Pramod Tripathi online, paying Rs. 500.
I was totally convinced about their holistic approach and the same day enrolled myself for their one-year's course, the Holistic Transformation Program (HTP).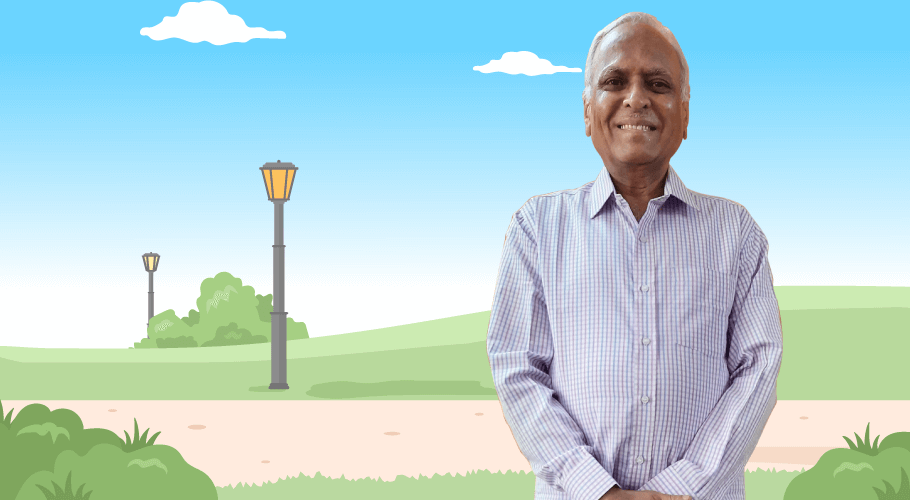 Mr. Ashok Jeevanabhatt Joshi
After joining the Holistic Transformation Programme, my only tablet of diabetes stopped within 25 days and I continue to be free from diabetic medicine even after 6.5 months of my reversal journey of FFD.
My batch number is 69 of FFD and I started my diabetes reversal journey on 5-04-2021. I was pre-diabetic/diabetic for 6 yrs and taking one tablet a day for 2 years, was also on one tablet for hypertension for more than 8 yrs.
My creatinine level was 1.12 at the beginning and after medication and other protocols of FFD; it came to be normal within 3 months.
The most noticeable achievement is that I have had hypertension for more than 8 years and had been taking one tablet daily. The hypertension tablet stopped after 30 days of the FFD HTP journey. This is a highly satisfying aspect for me.
I was taking cholesterol tablets for 3 months even during the reversal journey which has now stopped completely. My Vit B12 and Vit D levels were very low and after 3 months of medication during the reversal journey both the counts are normal. Now, I feel perfectly fine.
My weight reduced from 60.5 kg to 56 kg (BMI 23 to 21.14) which I had maintained 35 years back. My abdominal girth was reduced by 5 cm. My belly became flat after 40 years of losing all the fat deposited on thighs, buttocks, abdomen, etc.
FFD's Diabetes specialist doctors who are highly qualified don't manage diabetes but reverse it. I am happy to share that my blood sugar levels have stabilized completely and I underwent GTT (Glucose Tolerance Test) on 08-11-2021 to testify whether I have completely reversed my diabetes. My joy knew no bounds when I passed the GTT test.
All thanks to FFD for not just reversing my diabetes, but also treating my co-morbidities like cholesterol, BP, creatinine well.