He not only reversed diabetes but got freedom from BP too!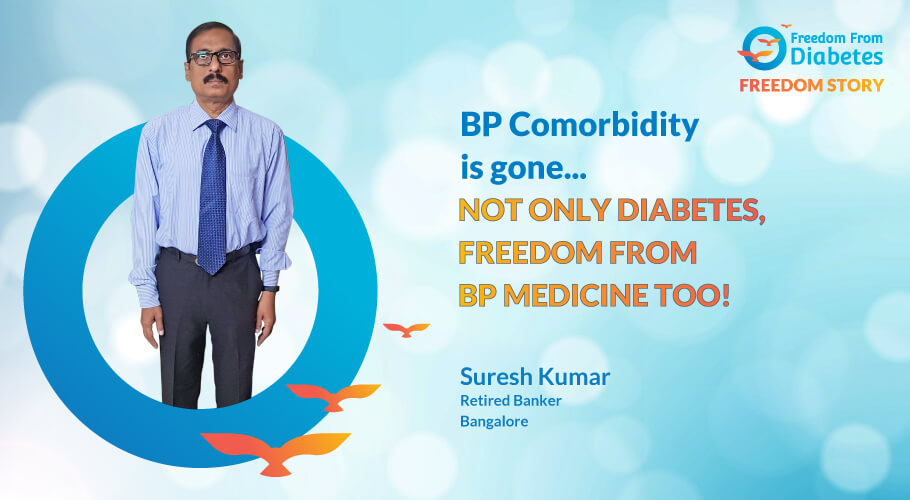 Name- Mr.Suresh Kumar
Age- 65 years
Profession-Retired Banker
Place -Bangalore, India
Diabetes brings along other problems too. For me, it was high blood pressure majorly. I did never imagine that I would ever come out of both of them.
I am an Engineer by qualification and a Banker by profession. Now, retired from the Bank and am involved in the activities of my society. My dad had Diabetes though he was very active. He did not go for insulin-like me. Mother had diabetes too but it can be called adult-onset diabetes.
I was diagnosed as diabetic about 21 years back on a routine check-up. Laboratory tests for urine and blood confirmed it. Started with a mild dosage of pills. I was also given pills for BP. As per the doctor, BP and sugar are like cousins and will appear together and so it is always advisable to take tablets for both.
I was not careful about my diet. A busy schedule during working hours and late sitting is the order with Bank officers. Hence my dosage went on increasing month after month.
Due to an ailment connected to my middle back (pleural effusion during 2010), I have advised pills for that ailment also. It was found that Insulin is better suited as the treatment for pleural effusion was getting prolonged. Hence started with Insulin alone without diabetics pills.
After getting the effusion problem sorted out, though I could have switched back to diabetic pills, I continued insulin as it was more effective and with lesser side effects.
In course of time, doctors opined that combination therapy with tablets and insulin improves glycemic control and reduces insulin requirements etc. I was taking insulin on a sliding scale basis.
When the fasting levels were up by a certain number 1 unit of insulin was to be increased before bedtime in the night. Likewise, if the evening BSL was higher I was advised to increase the morning dosage.
So I was taking 32 + 30 units of Novomix 30 in the morning and evening respectively plus Galvus Met 50/500. Apart from diabetes medication, I was also taking Tozaar-25 for BP.
Mr.Suresh kumar
One of my neighbours was undergoing FFD's Diabetes treatment in 54 batch. She had good improvement and got out of the medicine fast. (she was not on insulin anyways). And I got the FFD programme link.
Those days, a 30-days programme on diabetes reversal was going on. I was attending Dr Pramod Tripathi's programme very closely. I got convinced and started with a smoothie and saw visible changes in me. Then I got enrolled on one year programme, HTP.
Dr Tripathi's sessions were so lovely and convincing, I started following FFD's Diabetes Reversal protocol without any second thought. Here I am without Insulin and pills.
Insulin and tablets reduced gradually as per Dr Rajesh's advice, within 2 months of joining FFD INT 64. Dietician Dr Palak Shah also followed up on my diet requirement and provided me with a chart which helped me in reducing weight by nearly 14 Kgs.
My T-shirt size has come down to L from XL and my waist has reduced from 33 to 29/30. BMI has come down from 25.5 to around 19 now. Feeling light and walking has become effortless. I never imagined that losing weight is so easy and also doing away with diabetic medicine.
The bonus point was I got freedom from BP medicines too. It took around 4 months for my blood pressure to medicines to stop, but I am very happy about it. It is very difficult to get rid of the comorbidities, but FFD did it and that too successfully.
I am following the diet and exercise protocol as per FFD guidelines. I feel really really happy that I am out of medicines.
All thanks to the FFD team and the leader Dr Pramod Tripathi sir.