N D Agrawal: An Inspirational story of insulin reversal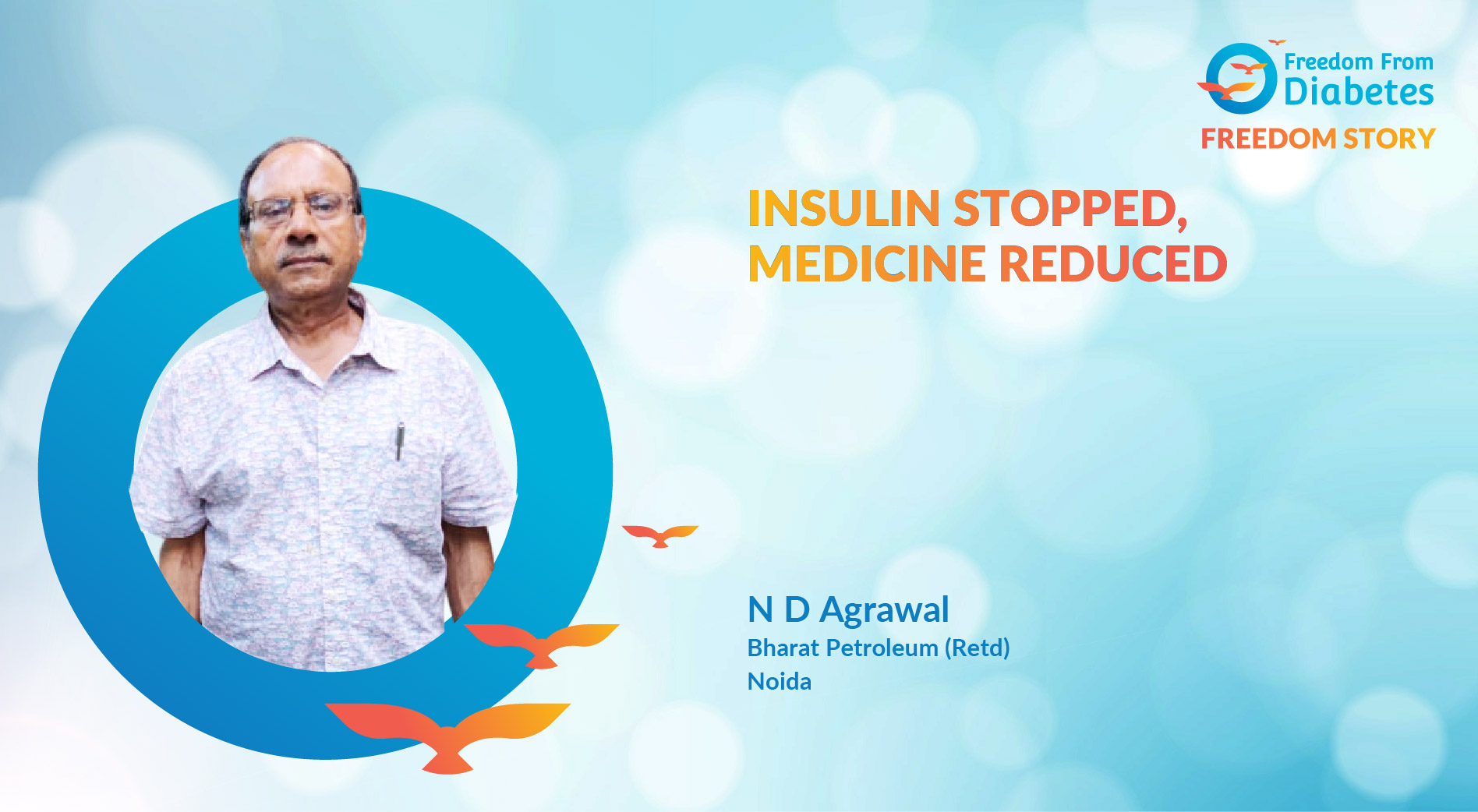 Insulin stopped, medicine reduced


Name- Mr. N D Agrawal
Age- 62 Years Young
Profession- Bharat Petroleum (Retd)
Place - Noida, India
Introduction


Hello friends
I am N D Agrawal, age 62, retired from Bharat Petroleum.
Why did I join FFD?


The idea of diabetes reversal was thrilling. I thought "why not try it?"
My diabetes story


In the year 2007, faced issues with blurred vision. As per the doctor, it was due to a lack of sugar control. The feeling of lethargy also crept in. All this was worrying which made me feel "How will I deal with it? It's all finished"
Took oral medicines from 2007 to 2013, then had to be switched to insulin 10 units in the morning, and 10 in the evening.
Mr. N D Agrawal
How did FFD happen?


Had tried various options to control sugars but nothing helped. Was lucky to come across Dr. Pramod Tripathi's YouTube video comparing different diets. I joined the FFD diabetes reversal program in HTP batch 76.
Reversal story


I became free from 20 units/day of insulin within 20 days of joining HTP. Medicines have been reduced to 1 tablet. I no longer take tablets for cholesterol.
Weight reduction also has been remarkable, from 76 kg to 65-66 kg, a total of 10 kg.
Impression


Lethargy has disappeared. Feel energetic now.


Key quotes


"FFD has brought in an attitudinal change in me"
"One can live without milk and milk products"
"Dr. Pramod Tripathi's Diabetes Reversal Program is a great initiative"


Key takeaways
Insulin freedom
Reduced medicines
Weight loss of 10 kg