Nirmala Rathi: FFD gave me freedom from diabetes & Thyroid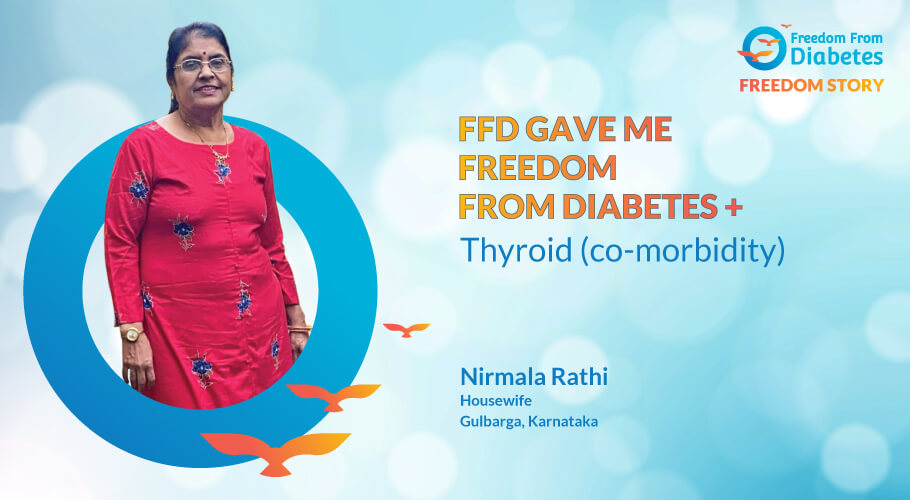 FFD gave me freedom from diabetes +Thyroid (co-morbidity)
Name- Mrs.Nirmala Rathi
Age- 64 years
Profession- Housewife
Place - Gulbarga, Karnataka, India
Every individual is different. Every diabetic is different! Thanks to FFD for its customized treatment. I, Nirmal Rathi, am a 64 years young housewife from Gulbarga, Karnataka.
In the year 2003, my doctor advised me to get a checkup done for my thyroid as he thought I had all the signs and symptoms in relation to thyroid issues. this was the time when I also came to know about me being a diabetic.
I was just expecting to see some haphazard thyroid readings but never thought of any sugar-related problems. The rest of all my family members were healthy and free of diabetes. There were no major issues as such except for some personal family issues.
Slowly I started facing problems with sleep, hypothyroid, knee pain, fatty liver grade 1, back pain. I also underwent gall bladder surgery in between. Medicines kept increasing year by year. By the year 2020, I was started on insulin too.
The dosage was around 25 units in the morning and 25 units in the evening. My deteriorating health, obesity for the last 20-21 years had really brought down my quality of life and made me depressed. I had no hope of coming out of it.
I got to know FFD through one of my son's friends who was a past participant. He was in great appreciation for Dr. Pramod Tripathi and FFD.
I was quite eager to see improvement in my health and enrolled myself in Holistic Transformation Program (IRP) batch 59 which started on 13th June 2020.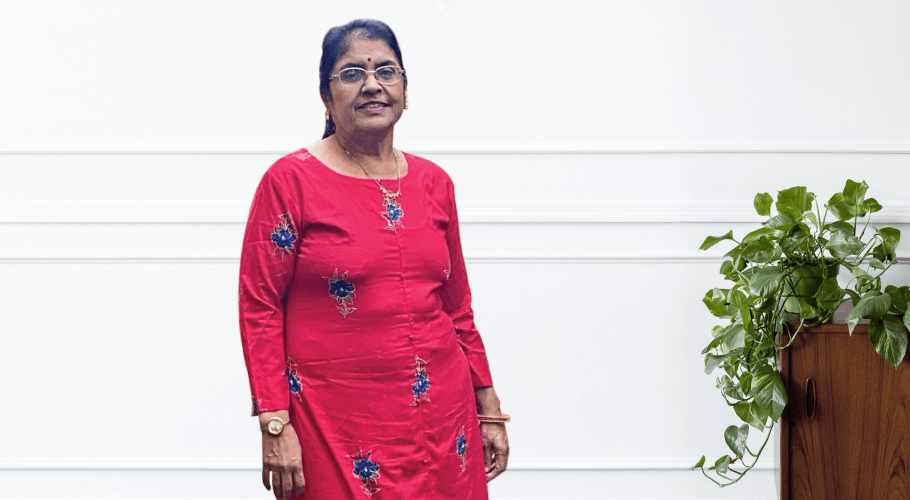 Mrs.Nirmala Rathi
After joining, I was advised to attend the Discover Reversal Session of 'Diabetes Reversal' which gives a proper overview of how diabetes reversal is approached and achieved.
The Discover Reversal Session was conducted by none other than Dr. Tripathi himself. It was inspiring to know that there is a sure-shot way to come out of diabetes and other health issues.
My journey with FFD began on the right note, I must say. My 50 units of Insulin stopped in just 1 month of joining IRP which was the first best news for me.
My diabetes medicines started reducing after around 3 months and completely stopped after 9 months.
I suffered from thyroid, diabetes and a little body ache before joining FFD; however, now I don't have any of that.
Later on, I came to know that it is very difficult to reverse co-morbidities like thyroid, cholesterol, BP but FFD had done it for me.
I got out of thyroid problem successfully only due to FFD's powerful and well-designed Holistic Transformation Program. As all the above improved, I also lost 21 kg of excess weight and got entry into the 20+ kg weight loss category.
Today, I feel more active, happy, and regularly indulge in keeping myself healthy. I feel light and relaxed, which keeps my mind elated and tension-free. My mood stays fresh, and I am less worried.


Thanks to FFD, my life has totally changed, in a good way.