P Arul Selva Singh: 72 units of insulin gone in 25 days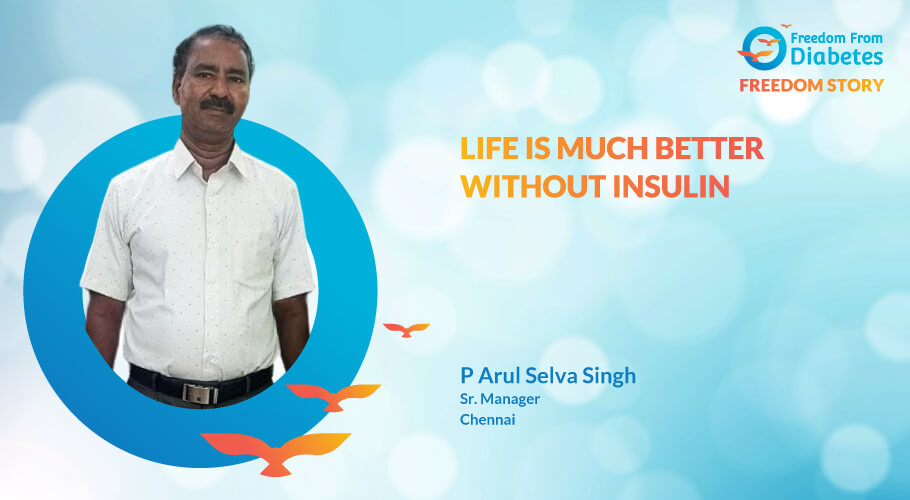 Life is much better without insulin
Name- Mr.

P

Arul

Selva

Singh

Age- 53 years young
Profession- Sr. Manager

Place - Chennai, India
Trigger
I saw the videos of successful patients and thought if they can do it, I too can.
Introduction
Hello
I am P Arul Selva Singh, a 53 years young, gentleman from Chennai. I am working in a corporate company as a Senior Manager.
Medical history-wise, both my parents have diabetes. Luckily, there has been no major stress as of now.
How did I get to know about my diabetic status?
In 2004, when I had gone for a routine medical check-up, my doctor informed me about my borderline diabetes. He told me I need to start walking to control my sugar.
Difficulties I faced
For a few years, I was on anti-diabetic oral medication but in 2016 was started on insulin. By the time I came to FFD, I was on 18 units in the morning, 18 units in the afternoon, and 36 units at night.
The insulin was doing a lot of damage. I was eating more. My weight had gone up to 103 kg. I was having problems crossing the road, running, squatting and sitting on the ground, etc.
How did I come to know about FFD?
One day while scrolling through the mobile, FFD came to me as flash news. Till then, I had never heard about it.
Then I visited the website, read and watched video testimonials of successful patients, and on the very second day joined for introductory session DRS.
Mr. P Arul Selva Singh
FFD journey
The 2-hour session on diabetes reversal was very clear, logical, and had scientific truth in it. I got impressed. Joined FFD diabetes reversal program HTP later.
My assigned doctor started reducing my insulin dose as my sugars started falling in place. And within 25 days, I was given the good news to stop insulin completely. It was like passing a board exam at the top rank.

72 units of insulin stopped in just 25 days was a great feeling. Now I was free of injecting myself. My HbA1c used to be 7.8 with insulin and medicine. It is now 6.8 without insulin.
The FFD diet protocol is so amazing that my weight came down to 83 kg from 103 kg, a good 20 kg weight loss.
At one point my family got worried thinking there is some problem with this kind of weight loss but I know for sure there is nothing wrong. It is healthy weight loss.
Impression
Freedom from insulin and that to a huge dose of 72 units is amazing. The weight loss has changed my life forever. I feel light, active, and more energetic now. I can do more things without hesitation.
I took it as a challenge and cooked my food as only I knew what to do and the results are superb. FFD has taught us how to survive with the food that is available and made us independent.
Key Takeaways
Freedom from insulin
20 kg weight loss
Independent