Padma Byrappa: 32 Years of Diabetes Reversed in Just 23 Days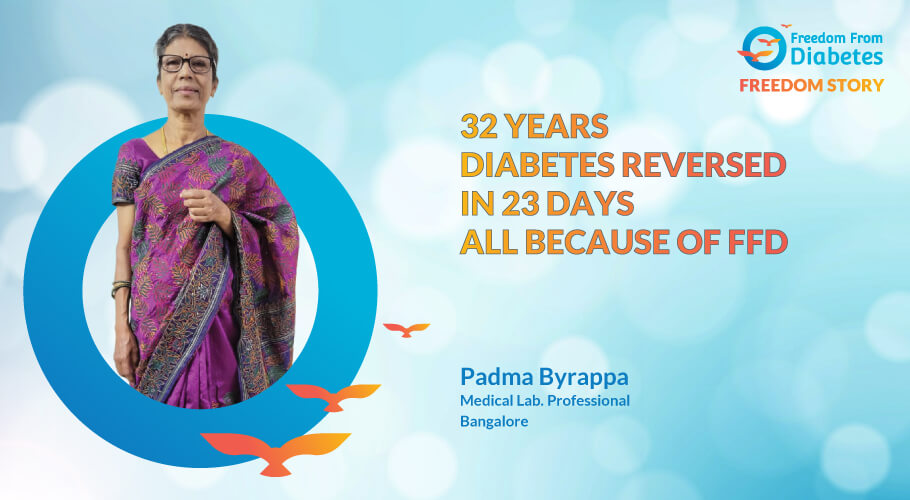 FFD Reversed Diabetes and Helped Me Gain Weight Too!
Name- Mrs. Padma Byrappa
Age- 67 years
Profession- Medical Lab. Professional
Place - Bangalore
When I discovered my diabetes, 32 years ago, I never thought that there could be a way out or to say a natural way to get rid of it. Now, it seems like an impossible dream has come true.
Profession-wise, I am a retired medical lab professional. I was diagnosed with diabetes when I was 35 years old. I am now 67 years old. It was diagnosed during a routine checkup.
It is not that I was unaware of this, but none of my parents had it. My family history of diabetes is very interesting.
One of my brothers was diagnosed with diabetes first and after 3 years I came to know that I was borderline diabetic.
My mother and other brothers were affected later. Now, many of my family members have diabetes.
A common man's understanding of diabetes is that it is just increased sugars levels and that sugar and rice need to be stopped immediately. It is not that simple.
Diabetes is the outcome of many things like incorrect lifestyle, wrong food habits, lack of exercise, lack of mental peace, etc. Somewhere things were not right and I had acquired it.
With time, I started facing problems with constipation, tiredness, high cholesterol, hypothyroid, weight loss, hair loss, joint pain.
As the disease progressed my number of tablets also increased. I was on 5 tablets when I joined FFD. -
Gemer Forte 1 - 1x0x0
Glycomet 850 mg - 0x0x1
Voglibose 0.3 mg 1x1x1
The situation was very depressing which kept me looking for at least some solution for my relief. At that time, I did not know I would embark on a permanent solution in the future.
I came to know about FFD through Facebook. I participated in the online session on 20th September 2020. Later enrolled in HTP batch 64.
Mrs. Padma Byrappa
FFD's journey was magical. My diabetes medicines stopped completely in 23 days of joining the FFD program. I had diabetes for 32 years!
I would like to share something interesting here. FFD protocols helped me in COVID too. Midway through the program, I contracted COVID-19 and was hospitalized for a week.
During this, I had to take insulin. I also needed to take follow-up tablets for diabetes after discharge for about 1 month.
After getting discharged from the hospital, I started the FFD regime, and to my surprise, I got rid of the tablets within a month.
I am following the FFD schedule now and am very happy in life. I have joined a gym and I am out of medicines and feel very good. I hope that I will clear GTT next year.
Being a low BMI of 15.5, I needed to increase my weight, unlike others. It is always difficult to gain weight as compared to losing weight. But FFD people guided me beautifully and my weight increased by 4 kg.
I feel very good and energetic now. Thanks to Dr. Pramod Tripathi, Dr. Mrunalini Thorat, the diet expert, the exercise expert, and the entire FFD team.