Ragathushara G Reversed Diabetes and Loss 30 kg Excess Weight as a Bonus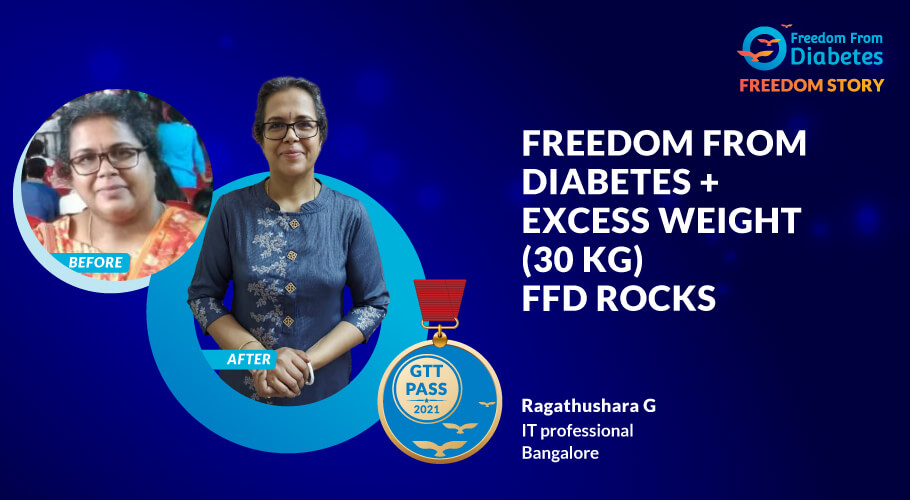 FFD Rocks: I highly recommend FFD's Diabetes Reversal Program
Name-

Mrs

.

Ragathushara

G

Age- 45 years
Profession- IT professional
Place - Bangalore
Balance is very important in life. Right balance helps us work smoothly. In my case, the main reason for stress was lack of maintaining work-life balance which is the main contributing factor for me having diabetes and several other health problems...but thank god FFD happened!
I am Mrs. Ragathushara G, 45 years young, IT professional from Bangalore and there is no need to tell, IT jobs are very demanding.
My mother and grandfather were diabetic. Around 6 years back during my annual health check-up, my Hba1C was found to be very high, above 10. That's when I was diagnosed as diabetic.
I too had to follow the standard line of treatment, go on anti-diabetic medicines. I was on Amaryl M1 twice a day, morning and night, before coming to FFD.
My other sufferings were frozen shoulder, thyroid, gall stones, acidity, gases, high cholesterol, hypothyroid, etc.
I happened to get a forward of Dr. B. M. Hedge's youtube video link where he was speaking of health in general and referred to FFD and Dr. Pramod Tripathi. This made me look for more information about Dr. Pramod Tripathi and FFD.
Mrs. Ragathushara G
I attended the DRS, now known as Discover Reversal Session, on 20th February 2021. All that Dr. Pramod Tripathi explained in this session was convincing and I joined the immediate Holistic Transformation Program (HTP) batch 68 starting from 13th March 2021.
I started following all the 4 Diabetes reversal protocols of FFD as explained and magic happened. My medicine dosage started reducing from day 1 and just within 15 days, all my diabetes medicines were stopped.
My weight was 107 kg when I joined. Within 4 months I could bring it down by around 30 kg following the FFD diet and exercise regime strictly. It was just unimaginable to see myself in this slim form.
After reaching and maintaining the above medicine-free status, I was educated about GTT - the litmus test for a diabetic. FFD staff encouraged me to prepare myself for it. I am happy to share that I cleared my GTT in October, on the first attempt.
Life is superb now. I feel great and more energetic. I used to get knee pain during the winter months before, which is totally gone now after the weight loss. I do indulge in sweets and other restricted foods sometimes.
My exercise includes Zumba and walk-at-home 3 days a week, 2 days of strength training, and 1 day of yoga. I also follow the 1 day of water fast weekly.
FFD has truly given me the freedom from medicines and excess weight (30 kg).
Special thanks to Dr. Pramod and especially my dietician Beena who has always motivated me whenever I was down.