Rajshri Deshpande: 22 years of Diabetes Reversed in just 1 Month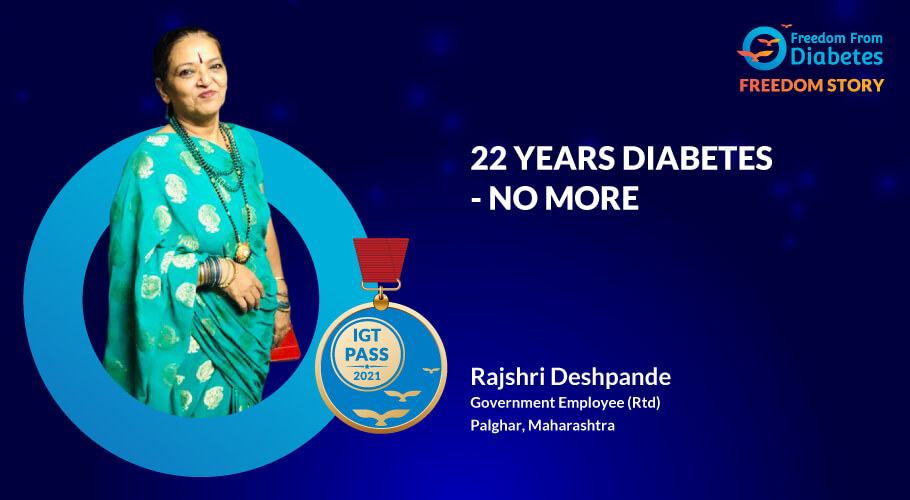 Name- Mrs. Rajshri Deshpande
Age- 59 years
Profession- Government Employee (Rtd)
Place - Palghar, Maharashtra
When FFD declared my name as an IGT winner, my happiness had no bounds. It was a superlative feeling. I had absolutely no hope that I would ever see this day. FFD came into my life and just changed it, for good.
I am Rajshri Deshpande, a 59-year-old lady from Palghar, Maharashtra, now living a retired life.
My diabetes was diagnosed in the year 2000 February. I was suffering From UTI and during this treatment, I was detected with diabetes, high BP, and vertigo. Famous diabetologist Dr. Shashank Joshi treated me and I was prescribed lots of medicines.
I do have a family history of diabetes. My paternal uncle, grandmother both were detected as diabetic.I suffered from low energy, urine infection, vertigo, high HbA1c, uncontrolled BP and sugar level, swelling in the entire body, severe acidity, cholesterol, obesity, and dental issues( surgery).
All these health issues never gave me hope that I could get rid of them. I had to be maintained on 7 tablets namely Amaryl, Glycomet, Cardace, Lozar H, Jalra 500 ( twice) , Atorlip F, Stugeron.
Life with so many issues and tablets was definitely not what I wanted or any individual would want. The urge to improve health, made me search for information on the internet, and one fine day I came across a video of Dr. Pramod Tripathi talking about 'Diabetes Reversal", a concept that was pretty new, inspiring, and motivating for me.
Mrs. Rajshri Deshpande
It was 12th June 2020 when I spoke to Dr. Pramod Sir and explained to him my health issues as I had undergone open-heart surgery plus had diabetes, high BP, vertigo.
After listening to me patiently, he gave me a green signal to join the FFD protocol. I was overwhelmed. His words were so HEALING that they motivated me to follow him blindly. His each and every word seemed to be a big promise. I had no cardio support due of lockdown.
So, I requested Dr. Tripathi for his guidance and treatment which he gave. I am blessed for it to date. His amazing efforts healed me. I am blessed to be free of medicine ( BP , sugar, vertigo) within a month which I was having since 2000. 22 years of diabetes, gone in just 1 month. WOW!
The whole journey of weight loss, controlling hunger pranks, avoiding sweets, junk food, parties, long fast was a difficult task to go through in the beginning. Gradually, after observing positive changes in me, my family also started observing lot of FFD tips which benefited them also.
The FFD protocol made it possible for me to become free from medicine. The lifestyle changes became a part of life that help me to stay fit and healthy, I am lucky to clear my IGT too.
My special regards to Dr. Pramod Tripathi, EA - Apoorva madam, Exercise expert - Gauri madam, Dietician - Sanchita Nandurkar, my app doctor - Dr. Vaishali Jadhav. All of them extended support whenever I required it.
I feel blessed, it's my REBIRTH. Dr. Pramod Tripathi has the Sanjeevani to heal and motivate. Special Hanumanji blessings for him. As I always greet Dr. Tripathi - Hanumanji ki jay ho!