Ravi Chemudupati: 7 years of diabetes, gone in 1 month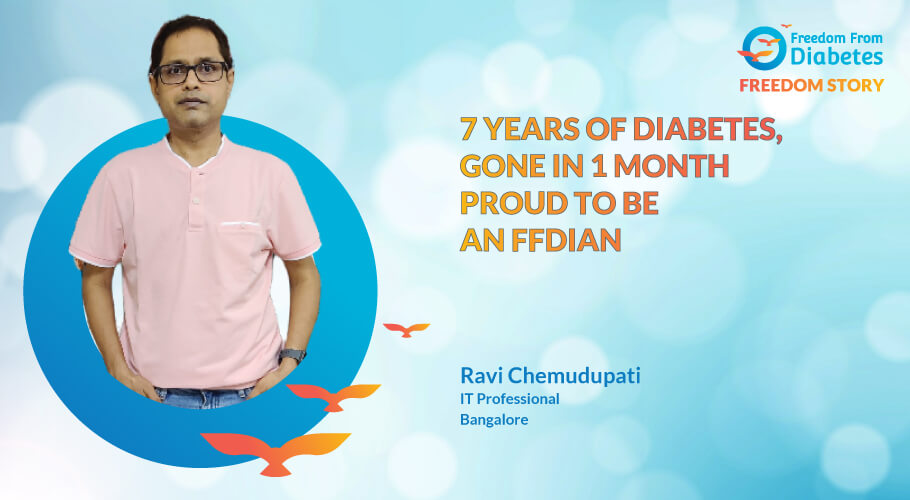 Name- Mr. Ravi Chemudupati
Age- 45 years
Profession- IT Professional
Place - Bangalore
I feel very proud to be associated with FFD. Things have started falling in place since then. I am Ravi Chemudupati, 45 years young, IT professional from Bangalore. Diabetes is hereditary in my family.
My father and grandmother had diabetes. When I look for the causes of diabetes, I find professional stress and heredity are the 2 strong points in my case. But there are several other reasons to have diabetes too.
I came to know about my diabetic status through a random check done in 2014. There was a constant feeling of weakness at that time. I also used to have pain in my feet. Was never on insulin but was on Glycomet GP1 twice a day.
The very next year, in 2015, was found to have high BP and started on medicines for it too. The year 2017 was another bad year when my cholesterol level was in the high range.
Though I did not suffer from any grave issues, I definitely wanted to get out of it. I was quite positive about life and kept searching for solutions.
I happened to see an advertisement about FFD while surfing on Facebook. Got to know more about it through a friend too. Everyone was talking positively about FFD which made me make the decision to join it. I was confident I will be benefitted from it.
Mr. Ravi Chemudupati
Enrolled myself in HTP batch 69 after participating in the Discover Reversal Session. The online session was conducted by Dr. Pramod Tripathi himself which was simply great. He has got the aura, I must say.
Talking about my journey at FFD, I can describe it as 'Incredible'. I knew that proper diet and exercise were necessary to maintain good sugar levels but did not know what to eat, how much to eat, when to eat, etc. Exercise-wise too, I came to know lot of things. The main shock was when I was told walking does not help much and one needs to do other kinds of exercises.
I was off medicine within 1 month of the program. Had begun the HTP program with 76 kg of peak weight. Now, I am 16 kg down maintaining it around 60 kg.
I feel very good about myself. Feel more positive, healthy, and energetic. My strength and stamina have increased immensely. Now, I am able to walk 12 km easily which I do on Saturdays.
Thank you, FFD.