Seekh kababs | Onion Seekh Kabab Recipe | Punjabi Style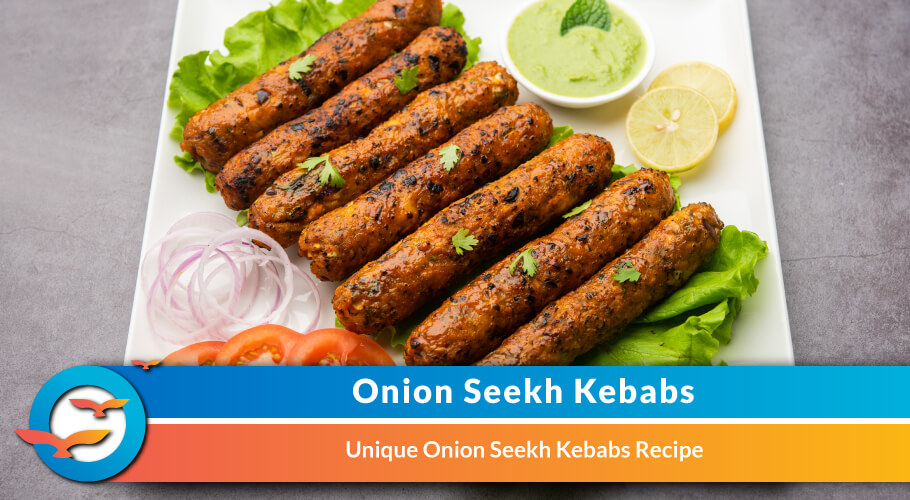 Seekh kabab is a fantastic appetizer dish that should be on any Indian party's snack tray. We keep hearing, one needs to have a balanced diet for good health and fitness. There are some dishes that you usually order when dining out but would never attempt to prepare at home! One such favorite is veg seekh kababs. This is a dish I've always felt was too tough to prepare at home. Not any longer!
What is the definition of a good, well-balanced diet?


A balanced diet should provide and fulfill all the nutritional needs. The less fried, less oily food definitely gets more marks.
We have chosen a recipe from Punjab today -'Onion seekh kebab'.
Why is it called seekh kebab?

The original name of seekh kebab was Shish Kebab. Shish means sword in Turkish as swords were used to roast them.
What are the types of kebabs?

Kebabs come in different types namely, shish kebab, tunday kebab, shami kebab and hariyali kebabs.
Can diabetics eat kebabs?

Kebabs are mainly cooked meat dishes from Middle Eastern cuisine and the Muslim world. Diabetics can have Veg kebabs or veg seekh kebabs - the vegetarian version of them.
Recipe features

This veg seekh kebab recipe is made of all diabetes-friendly ingredients like sweet potato or raw banana, spinach, besan, spices and brown rice or barley flour.



| | |
| --- | --- |
| Course | starter/snacks |
| Cuisine | Middle Eastern/Awadhi |
| Preparation time | 15 mins |
| Cooking time | 15 mins |
| Serving | 4 Person |
Onion seekh kebabs Recipe-
Ingredients
1 Tsp Chat Masala


1 ¼ Cup Onions (Finely chopped)


½ Tsp Garam Masala


2 Green Chillies (Finely chopped)


4 Cloves Garlic (Finely chopped/grated)


½ Cup Green Coriander (Finely chopped)


1 Cup Baby Salad Spinach (Finely chopped)


1 Cup Large Sweet Potato or 3 Raw Bananas (Boiled, peeled and grated)


1 Tsp Coriander & Cumin Powder


¼ Cup Besan


Salt to taste


2 Tbsp Brown Rice Flour or Barley Flour
Method
Soak the skewers/ bamboo seekhs in water for a few hours before making kebabs.


Mix all the above ingredients together, except the rice/ barley flour.


Add spices and salt to taste.


Divide this mixture into eight equal portions.


Wrap tightly around the top 3/4th section of the sticks to get seekh kebabs.


Roll each kebab in brown rice flour or barley flour.

Place the sticks on a greased baking tray and put the tray in a preheated oven at 180 deg C. or place it in a hot tandoor.


Cook the kebabs for 12-15 mins, turning twice to the other side, every 4-5 minutes.


Serving suggestion


Serve Vegetarian Seekh Kebab hot with lemon wedges and onion to make it a great party starter and appetizer.
Diet conscious, diabetics should try to add less deep-fried foods like kebabs to their diet regimen.
FFD is one of the pioneers in diabetes reversal with 11,500+ as its success number and still counting. It has got a team of experts like exercise, diet, psychologist, mentor, inner transformation, etc., which expertise in customized care. Do take advantage of it. Join our Discover Reversal Session to get your diabetes reversed to live a good and healthy life.
Looking for other healthy Diabetes-friendly Recipes? Try these: