Shailesh Kamat: Reversed diabetes & lost 19 kg .I highly recommend the program!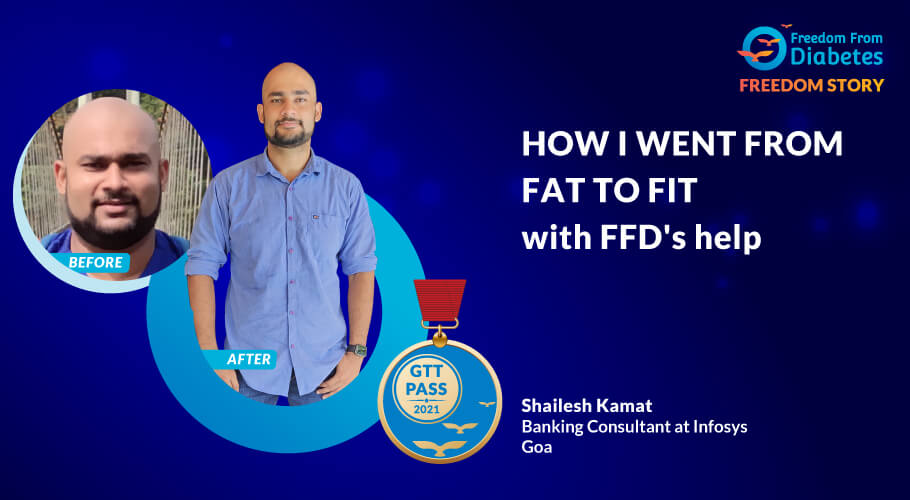 How I went from FAT to FIT
Name- Mr. Shailesh Kamat
Age- 26 years
Profession- Banking Consultant at Infosys
Place - Goa, India
Amongst all the other causes of having diabetes, obesity is a major one. Again, obesity can be due to different factors but obesity due to overeating can also be a problem. And who knows better than me?
I am an MBA graduate working as a Banking Consultant in an IT Company based out of Bangalore.
Always was an over-eater. So my HbA1c used to range between 6-7 when I was 19 years old. Diabetes got confirmed at the age of 21 ( Aug 2016), when I met with an accident due to which I lost my left foot heel.
My sugars were found to be very high and were on insulin till recovery. Now I feel my heel would be saved and I need not have to undergo heel replacement surgery if my sugars were under control. I just have that one regret.
Took Insulin for 4 months from August 2016 to November 2016. No medication after that. Post that, started Metformin 850 in January 2021 till I came across FFD in March 2021. I had no other problems except my excess weight, I was 105 kg.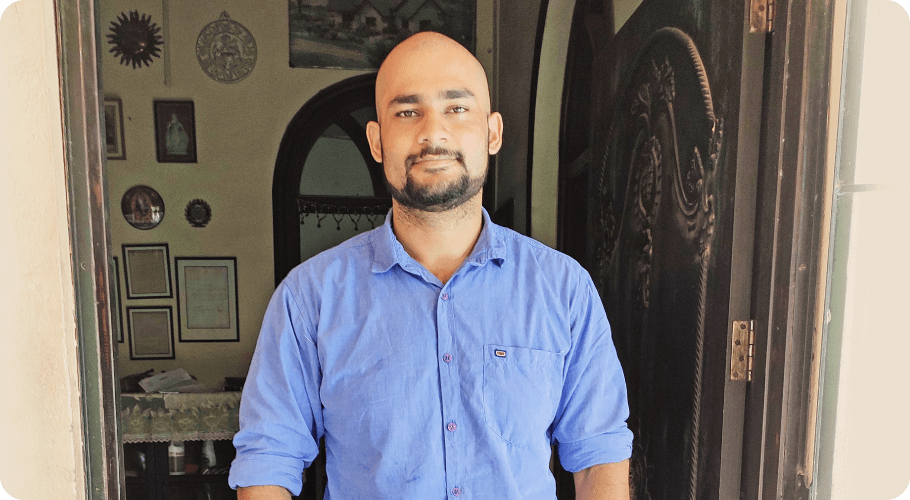 Mr. Shailesh Kamat
An office colleague of mine aged 41 randomly did his blood tests and his HbA1C was 11. He discussed it with me and realized that we were in the same boat. He was determined not to take any medicines.
He joined FFD in December 2020 and forced me to join FFD as his health improved. I was in a fix initially but finally got convinced and joined FFD's Diabetes Reversal Program in March 2021. The whole credit goes to this colleague of mine.
I was not on medication for a long time but my medicine for diabetes stopped in just 10 days of joining FFD. My current HbA1c is 5.9. For me, the only happiness/milestone was weight loss. I have been trying to lose weight since I was 14 years old.
Weight-wise yes, once upon a time I was 105 Kg, now I range between 84-86 Kg. I am on Cloud 9. The best part is my access to a wide range of clothes. Being fat I was always conscious of what I wear and how I look and had a limited wardrobe.
I try to stick to a vegan diet as far as I can. Exercise-wise, I do a set of cardio and core on weekdays. I intend to follow this lifestyle for the rest of my life.
I am very happy to share that I have cleared GTT on my very first attempt successfully. Physically for me, my journey with FFD has been from Fat to Fit.
Thank you, FFD.