Shreenivasaraddy Vishnuraddy Kamaradder: A phenomenal success story from Australia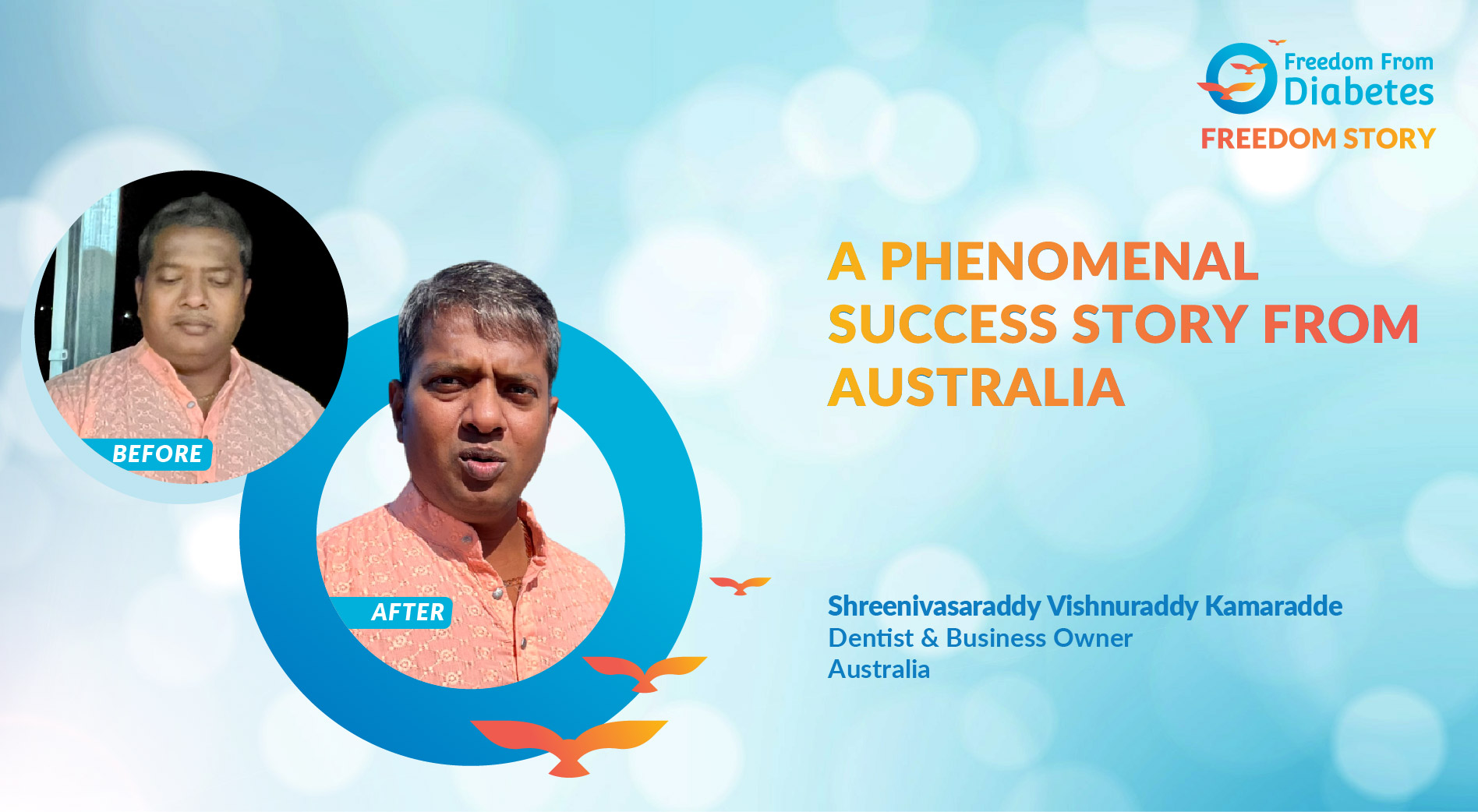 Thought behind joining FFD
I wanted to get rid of this ailment from my body.
Introduction
Hi All,
I am Shreenivasaraddy Vishnuraddy Kamaradder, a Dentist and business owner. We own two dental practices in Australia and manage them besides working in our own business as Dentists.
Both my parents have diabetes. My beloved elder sister passed away which was a great shock. Plus being a dentist and business owner involves some amount of professional stress.
How did I discover my diabetes?
It was incidental. In December last year, I went to have a day surgery and the nurse that morning checked my BGL (blood glucose level) which was 9.5. I was taken by surprise. Then my GP also confirmed the same later after checking my annual blood reports that my Hb1ac was 8.2.
Problems faced
Since it was just a newly diagnosed diabetes, I did not face any problems.
How did I come to know about FFD?
One of my friends said while he was listening to Dr. B.M. Hegde, he came across FFD. He endorsed and highly recommended this holistic doctor.
My FFD journey
"Oh, God! I am experiencing an emotional choke-up! I don't know where to start! How to express my gratitude to all of you?"
I joined the FFD diabetes reversal program HTP batch 79. My journey started in mid of February this year (2022). The 4 FFD protocols that are superb gave rapid results.
The important milestones are as follows
1) My HbA1c in December was 8.2 and now it is 5.3
2) Stopped the Metformin 500 mg within a month of the start of the program and never went back to it.
3) Weight in December was 105 kg and now it is 88 kg ( was down to 83 kg but have put on since I started gym. It is healthy muscle gain weight)
4) My dress size- The shirt size went down from XL/XLL to Medium to Small. Trouser/waist size went down from 38 inches to 32 inches
5) My Lipid profile- Amazing improvement with all the parameters
6) Blood pressure- Which used to fluctuate, has become stable and well in the healthy range.
Impression
My special thanks to you Dr. Pramod for being the pioneer and thinking in the interest of mankind. You are a wonderful human being. You didn't end up becoming that other Doctor who merely uses his knowledge to earn a livelihood. My head bows down to you in appreciation. Dr. Pramod, may God bless you, your family, and the FFD team.
My key takeaways
Freedom from medicine
17 kg weight loss
HbA1c change from 8.2 to 5.3