SOL KADHI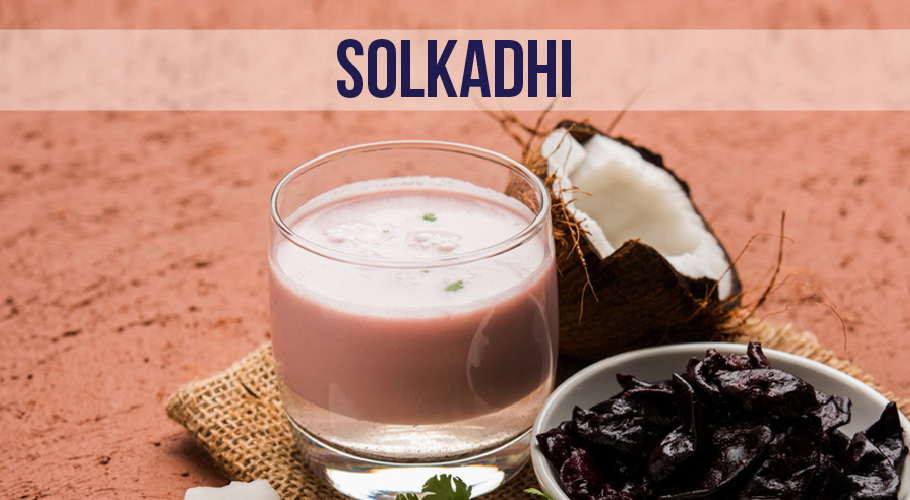 INGREDIENTS:
6- 8 Kokum or Aamsol. 1 Cup of Coconut (Freshly grated)
1 Cup of Hot Water
2 Cloves Garlic or 1 Tsp of Ginger
1-2 Green Chillies
A Pinch of Asafoetida (Hing)
Rock Salt to taste
Coriander leaves for garnishing .

METHOD:
Soak the kokum in about 3/4th cup water adding the hing and salt. Keep aside for 3-4 hours. Grind the grated coconut, garlic and chillies together with little water in a blender or mixer. When it grinds to a thick paste like texture, squeeze the 'vegan milk' out of the paste and keep aside. Add another ¾ cup of water to the dry remains and run the mixer again for a minute or so. Again extract the vegan milk - adding to the original extract. Repeat this process 2-3 times till basically all the 'milk' gets extracted from the coconut. This process can be repeated a couple of times, but bear in mind that the vegan milk gets thinner with every consecutive extraction. Discard the kokum from the water, add the coconut milk mixture into the kokum water, mix well to get a creamy pink colored sol kadhi. Taste it and adjust seasoning as required. Keep aside for an hour or more.
Garnish with fresh coriander leaves and serve chilled.
Note: It is important to let the Solkadhi rest for at least an hour before you consume it. Remember to stir the Kadhi every time you serve it - the coconut extract tends to rise to the top when the kadhi is left untouched for a bit!