Story of Real Transformation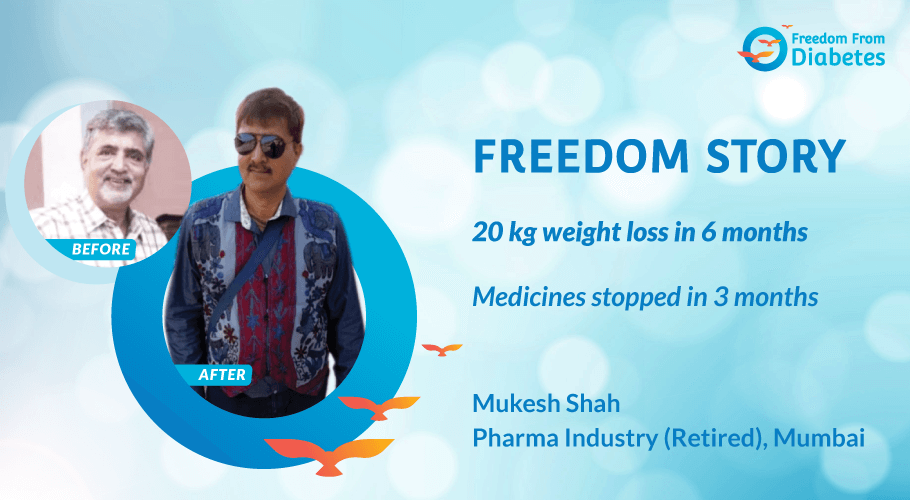 Weight Loss Story Of Mr. Mukesh
Name- Mr. Mukesh Shah
Age- 61 years
Profession- Pharma Industry Retired
Place - Mumbai
"Desire to run the next Dream marathon to be held in the city." Hello! myself Mukesh Shah, 61 years old, postgraduate in Chemistry(1981) from Mumbai.
I worked in Pharma Industry for 40 years and have just recently retired. I came to know about my diabetes 6 years ago and was started on pills. Before joining FFD, I was taking 3 potent antidiabetic tablets a day to maintain my sugar levels.
I came to know about Freedom From Diabetes through Facebook. Post participation in the introductory workshop on the briefing of how the diabetes reversal takes place on a so-called natural /pure path and interactions with past successful participants, I got so convinced that, I enrolled myself in Diabetes Reversal Program i.e. Intensive Reversal Program Batch 53.
I followed all the 4 Diabetes Reversal protocols taught strictly, like no dairy product, smoothie, diet protocol as suggested. I also did juice feasting and intermittent and 72 hrs long fasting. Staircase climbing after meals, Pranayam all became my daily routine.
It almost took three months for me to go off medication, however, by then I had significantly lost 18/20 Kg of weight. Coming down to 83-84 kg from a huge weight of 103 kg was something pleasing for me.
This weight reduction helped me a lot as I could jog now. Since fortnight, I have been jogging, gradually increased to 7-8 km daily.
I must say I had lots of motivation and support from my mentor and the FFD team. Now, it is my dream to run the next "Dream Marathon to be held in the city.
For six years, I lived with diabetes, but now I want to say " I don't want to die with diabetes" -
Thanks, FFD.