SUCCESSFUL 30 DAYS WATER FAST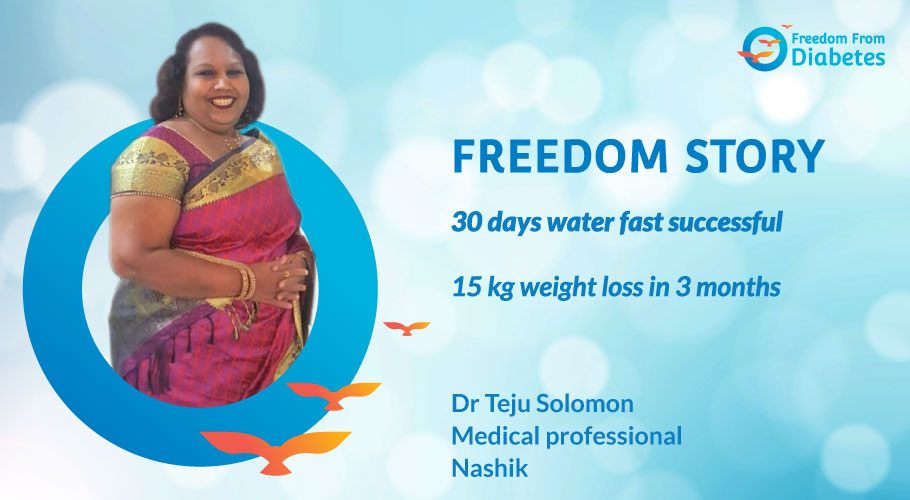 Hello, Dr. Teju Solomon, age 49 years, an independent medical professional from Nashik.
In 2004, I had to undergo a caesarian section with an incisional hernia and I started putting on weight. Then in 2016, I had to undergo a very serious surgery of hysterectomy and herniectomy. With all this, I kept putting on weight. My weight in 2004 was 65 kg and in February 2020 was 99.5 kg. There was one interesting thing with me and that was even though I was obese, overweight I could do all activities like dancing, jogging, running, etc. But still, weight was definitely a problem.
I was suggested to join Freedom from Diabetes by a doctor friend. I joined Intensive Batch 56 of 14 March 2020. I started following the FFD protocol and started seeing positive changes in me. As the program progressed we were told the importance of fasting. At that point, my mentor and also my doctor advised me to go to "Water Fasting". Their opinion was water fasting would fast track my whole journey towards health. So, I decided to go on water fasting and also planned to break the 30-day record.
The First 2 days of Water Fasting were very difficult. Lockdown was an additional problem. The first week, I also suffered from constipation but appropriate advice to have smoothie solved it. My water fasting schedule got set with a smoothie, green tea, black coffee, shahi pani (which I enjoy the most). I learned that during water fast one should remain properly hydrated. All my group members, doctors, mentors supported me throughout and I could complete 30-day water fast successfully.
Overall my experience with FFD as well as water fasting has been wonderful. I am looking and feeling so good that all my friends and family members are highly appreciating it. Not only that my husband is also very much motivated to see my transformation.
I have lost 15 kg in 3 months successfully from 99.5 kg to 85 kg. 👏🏻
I have only benefitted and benefitted by joining FFD.