Sunil Masta: An Unbelievable 35 kg weight loss story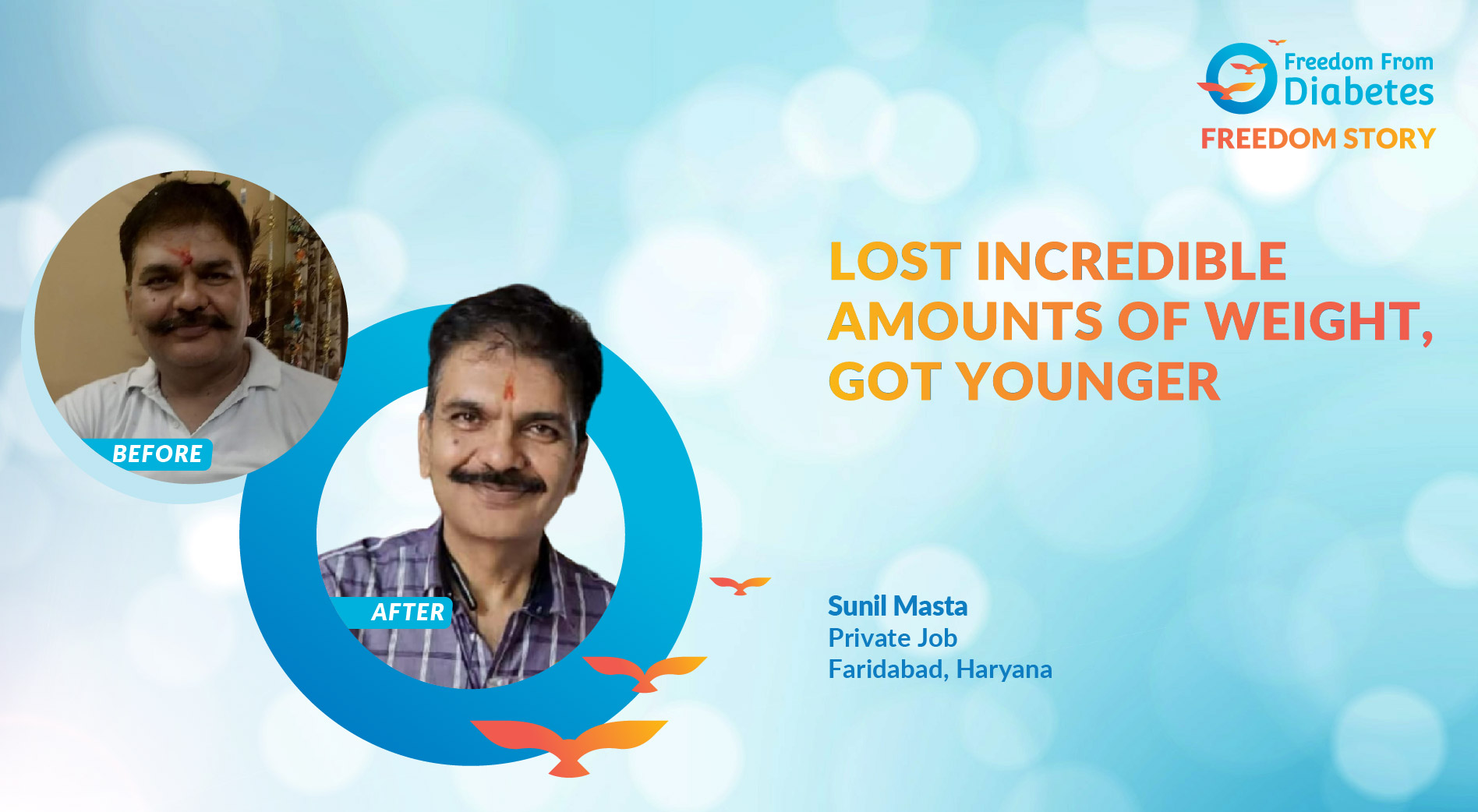 Lost incredible amounts of weight, got younger
Name- Mr. Sunil Masta
Age- 56 Years Young
Profession- Private Job

Place - Faridabad, Haryana


Hi
I, Sunil Masta, 56 years young from Faridabad, Haryana.
Professionally, I have a commerce background and work for a private company.
What inspired me to join FFD?

I wanted to lose weight and reverse my diabetes to avoid complications in the future.
My diabetes story

I suffered from COVID in 2020. As a part of the regular checks, I noticed that fasting sugars were high. This led me to do additional tests which confirmed my Diabetes status.
Mr. Sunil Masta
My weight gain story


Putting on weight was a steady process.
At one point it reached a high of 112.5 kg. Things were getting difficult day by day. I tried all the ways possible to reduce weight but did not succeed.

I followed many things which people recommended/suggested to me to reduce weight but could not reduce even 1 kg. Tried herbal products too but they did not help much.

I attended many weight loss sessions but didn't subscribe to any as they are into selling products. I just don't believe in the contents of the product they sell. In short, I tried on my own but did not join anywhere to reduce weight.

How did FFD happen?

I became aware about FFD through a TV advertisement and YouTube videos. I got convinced that Diabetes and being overweight were going to be solved at FFD. So I joined the holistic transformational program in batch 74


My weight loss journey with FFD


My weight loss has been unbelievable. Right from the first week, I could sense great things happening on this front.

The loss in weight was so drastic that I stopped following the FFD pattern for 10 to 15 days to check whether it is due to FFD protocol or not. I stopped losing weight which made me believe that it was because of the FFD protocol that I was losing weight.
I lost 35 kg which I honestly never dreamt of. Now I am 78.5 kg
Sugars too are absolutely fine.
Impression


Feeling very good now. Very active. My children of ages 24 and 28 say they have never seen me so smart before! I look as young as I was during my wedding time.
Thank you Dr. Pramod Tripathi for designing such a wonderful program.
Key takeaways
Incredible 35 kg weight loss
Diabetes reversal done
Looking younger feeling fitter!