Today's Special Freedom Story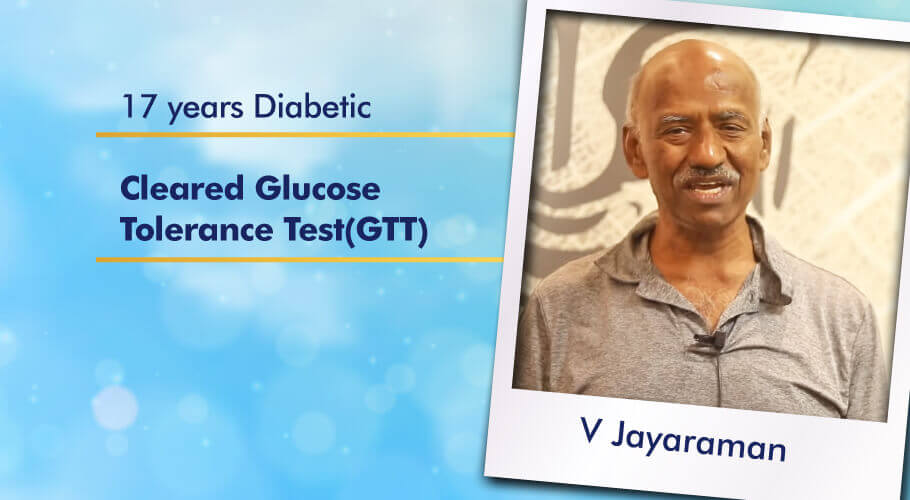 Health Transformational Freedom Story of Mr. V. Jayaraman.
Name-V Jayaraman
Age - 66
Profession - Chartered Accountant
I am always interested in trying something new especially if the results seem interesting to me. In 1992 I met a friend who had reduced 15 kg by joining a Gym. I too joined the gym and in 4 months reduced 15 kg. But over the years the effect wore off and I gained the weight again. In February 2014, I weighed 85 kg. I was 61 yrs. old. I was reasonably fit and in good physical health but had been diabetic for 8 years and was taking 1500mg of Metformin daily.

Then a very good friend of mine Mr. Pramod Bakre (God bless him) who had attended diabetes specialist Dr. Pramod Tripathi's lecture told me of this "Mad Doctor" who professed that diabetes was fully reversible!! 'Mad' because the entire world knows that diabetes is NOT reversible! But my friend said there was something "special" about Dr. Tripathi and I might find it interesting.
So I attended diabetes specialist Dr. Pramod's Discover Reversal Session – 2 hours in his consultation room with only 6 of us present – on 20th February 2014. There were a lot of new things I learned there and when I was back home, I googled and found a lot of TRUTH about 'Alloxan, IGF, Leptin Resistance, Milk and dangers of Animal-based milk'.So, I took my wife Bhuma to attend the next Basic Program on 24th Feb 2014.
My son is MD General Medicine and an Endoscopy Specialist and my younger brother is a Neonatologist and both of them told me that for my mental satisfaction. I could follow what Dr. Pramod taught but diabetes could not be reversed. That is what they had been taught in medical schools. We threw out all the old groceries and bought new FFD Pure Path groceries and started on the regimen on 27th Feb. 2014.

I could see the dramatic results immediately. (Two persons without whom I could not have achieved all this – Diabetes specialist Dr. Pramod and my wife Bhuma). At that time there was NO OTHER doctor and Dr. Pramod was himself regulating all the medicines to be taken. 27th March 2014 was the last diabetes medicine that I took and from 28th March 2014, I am totally FREE of all medicines. It was like a rebirth for me.
My general health improved. My energy levels improved tremendously. My sleep quality improved. I got rid of joint pains. I lost 15 kg of weight in 4 months. I cleared the Glucose Tolerance Test for the first time in July 2014 and have cleared the GTT 4 times till August 2018. I have run many 10 km marathons with my wife and do regular workouts of about 60 to 75 minutes daily.
At the age of 61 to start running marathons is such an exhilarating feeling. I feel TOTALLY FREE for life. Since January 2018 I have done intermittent fasting. Many days I eat only once a day and on other days I eat twice a day.
My zeal and zest for life have increased. I substantially reduced my practice as a CA and I and my wife are volunteers with Dr. Pramod in his vision of spreading this awareness that Diabetes is Fully Reversible.
My friend who led me to this path, unfortunately, did not follow Dr. Pramod Tripathi's regimen and continues being on medicines.
Dr. Pramod and his team have inspired me and many others like me to enjoy our lives with a BETTER QUALITY and BETTER CONTENT and it's truly my good fortune to have come across him to help me lead such a good quality of life today.
You can also reverse your diabetes with FFD, Request you to enroll in their first online session more directly from Dr. Pramod Tripathi