Weight loss Success Story: How I went from 107 kg to 88 kg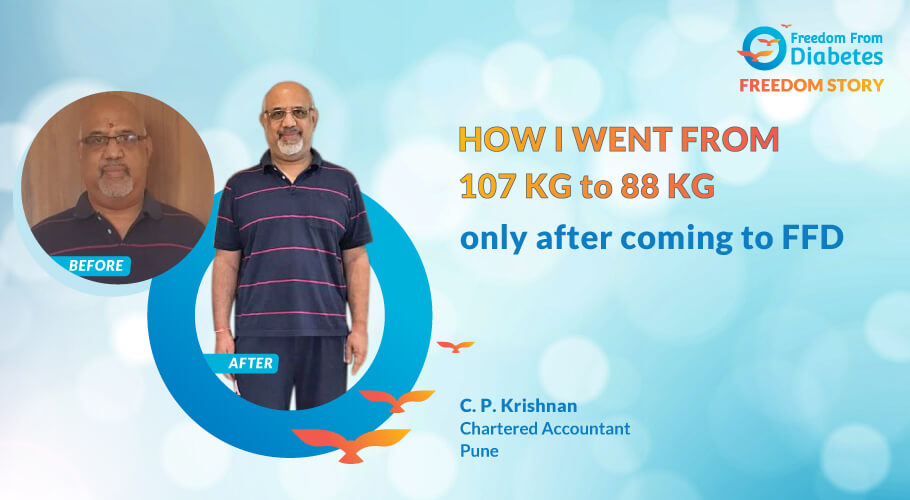 Cholesterol Medicine Stopped & Lost 19 kg Weight Within 6 Months!
Name- Mr. C. P. Krishnan
Age- 59 years
Profession- Chartered Accountant
Place - Pune, India
During the time in your life, when you are busy with your career and part of the rat race, you tend to ignore your health and wellness. Obesity brings with it lots of issues which I very well know.
It is only due to FFD that I am experiencing how good it is to feel light and healthy after losing excess weight.I am Mr. Chandrasekharapuram Parameswaran Krishnan, a Chartered Accountant by profession, now retired from service from 2019 October.
It is obvious, being a chartered accountant, my life was very busy and hectic. I actually had no time for myself and neglected my health totally.
All this had done the damage. I was afflicted with uric acid and cholesterol. Plus, I had put on a lot of weight too. I weighed 108 kg since 2013, I remember.
Heavyweight also brought in problems like sleep apnea. I was just not feeling good about myself. I wanted to lose weight and stop my medications.
Talking about the family history of diabetes, my maternal grandfather and uncles were diabetic. My mother is also slightly diabetic, but I and my siblings are fortunately not diabetic.
My brother-in-law is on the FFD program since January 2021, this year. He is a diabetic and now doing well. He came to know that FFD also treats other problems like obesity, BP, PCOD, weight loss, weight gain and so recommended I take up the program for weight loss.
I was already suffering from obesity and its related problems so immediately took a decision to join FFD. First I attended the Discover Reversal Session of Dr. Pramod Tripathi.
The session was wonderful as Dr. Tripathi explained the root causes of diabetes and other health issues very convincingly. A lot of problems do get added if one is obese.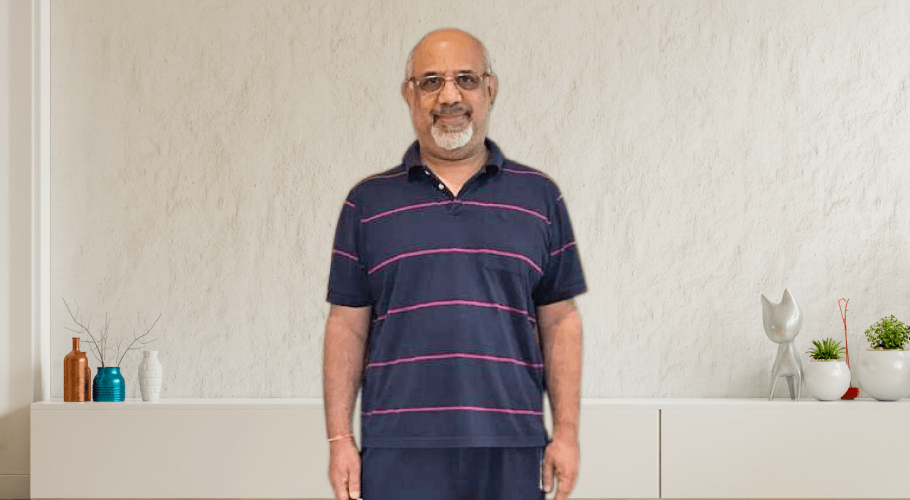 Mr. C. P. Krishnan
I knew I had come to the right place and immediately enrolled for FFD's Annual Program i.e. Holistic Transformation Program HTP batch 69 for weight loss. When I joined HTP I weighed 107 kg and was taking medicines for cholesterol and uric acid.
I started noticing immense progress in my health as I followed all the 4 FFD's Diabetes Reversal protocols - diet, exercise, inner transformation, and medical. I think the green smoothie is the best innovation of the century. I also call it 'fat cutter' in my own language.
I started losing in inches and kilograms. I lost around 19 kg of my weight in just 6 months of joining FFD. Waist circumference reduced from 116.5 cm to 101 cm in 6 months.
The progress was noticeable and I felt really good. I no longer need to use the CPAP machine now. I used to need it for sleep apnea earlier. My cholesterol medication is down to 50 % and I have stopped taking medication for Uric acid and also stopped vitamins supplements.
It took 2 months to stop the medication for uric acid. Today, I was advised to stop medication for cholesterol, however, it will be done gradually over the next month.
After losing weight, you feel good about yourself and are more active. My sleep apnea made me drowsy during the day and I was feeling heaviness in the morning with higher BP. Now I am feeling much better.
There are several 100s like me in FFD who have successfully lost 15+ kg weight and are leading a healthy life.
Thank you, FFD and Dr. Pramod Tripathi for paving a path of health for all of us.