Why You should add Dietician in your Diabetes Reversal Team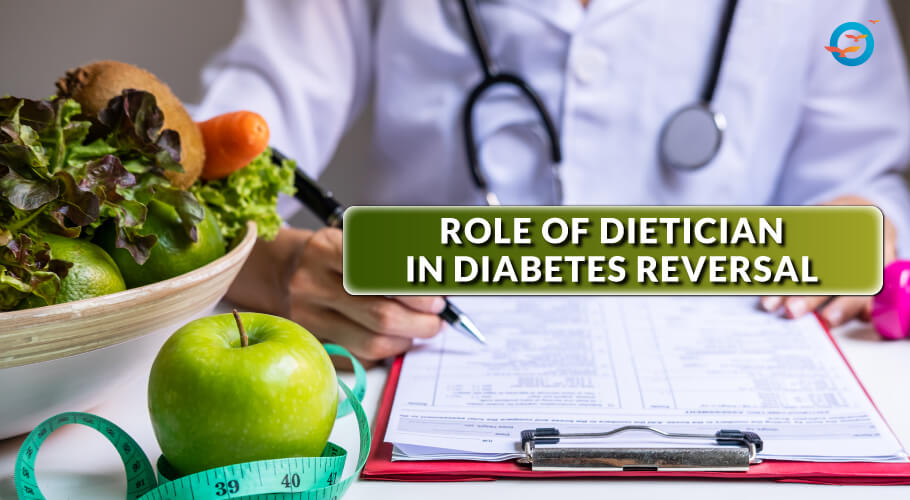 Diabetes, as we all know by now, is a lifestyle disorder. The real disorder however is not diabetes but insulin resistance. This is the root cause of diabetes, and it is a result of an unhealthy lifestyle, viz. lack of sufficient physical activity combined with bad diets and sustained stress.
For a long time, diabetes was declared to be irreversible; a disease that could never be rolled back, the best that patients could hope for was to manage the symptoms, I.e. blood sugar levels.
We know now that this belief is just not true. Diabetes, especially Diabetes Mellitus (Type 2 diabetes) which is by far the most prevailing type of diabetes can, and is, reversible. At FFD we have successfully helped more than 11,000 diabetics free themselves of all medicines completely.
Despite many of them being on multiple medicines, plus high insulin dosages, and afflicted by a host of other complications from eye problems to high blood pressure, cholesterol, etc.
A key factor behind our success is our diet protocol, which lays down specific guidelines about what one should eat and what should be avoided.
What are some dangers associated with dieting?
A lot of this dietary information is freely available and mostly actionable. However, not all the information available is factual and there is a lot of incorrect information out there. Plus, there are many individual factors that are often not considered, leading to problems later on.
Thanks to social media and AI, our news feeds are now peppered with stories that match our content consumption habits. So, someone searching for weight loss remedies, for instance, will find themselves inundated with stories of individuals who lost loads of weight doing things that are simply unbelievable.
These stories are almost always accompanied by before-after images showing obese people transformed into svelte, ripped people worthy of gracing any glossy magazine. Many a time these images are doctored. And the remedies are rarely validated by responsible clinical research.
What are the benefits of a dietician's guidance?
Accurate, relevant, and current information. Working with a dietician ensures that one doesn't fall prey to such incorrect, ambiguous, or misleading information. A good dietician also keeps up with advances in the field and is thus able to leverage these in their guidance
A dietician will try—as much as possible—to customize your diet to factor in your own dietary preferences. This is not possible with off-the-shelf, non-personalized diets. This is especially relevant if you suffer from food-based allergies or your religious beliefs proscribe certain foods.


With you through your reversal journey


As one progressed along their reversal path, their dietary needs change too and your diet should reflect these changes. For instance, your medications may reduce or stop altogether.
Sticking to the original diet plan in such cases could very well lead to hypoglycemia—where your blood sugar drops to dangerously low levels. This can lead to stroke and seizures.


Weight loss for diabetics specifically means fat loss. The two are used interchangeably but are not the same. Plain weight loss is often merely the loss of water or muscle loss. Both are dangerous.
Losing water leads to dehydration—a dangerous condition for a diabetic as the body needs water to flush our the excess glucose. It also needs water for various bodily functions.
Loss of muscle is bad for diabetics as muscle is a very important factor in burning calories for energy. The more muscle one has, the higher their calorific needs.
Thus muscle building is a critical phase in diabetes reversal plans. But muscle-building calls for a higher intake of protein, amino acids, carbs, and various vitamins and trace minerals.
Diabetics need to balance this intake so their blood sugar stays within prescribed limits. A dietician can help you reach your muscle-building milestones without compromising on your diabetes-reversal goals.
Part of your health care team


Although you may consult one-on-one with your dietician; you must think of them as an integral part of your diabetes-reversal team, and work accordingly.
Remember, the diets they prescribe must work in tandem with recommendations from your doctor, fitness consultant, and psychologist or mental health counselor.


Conclusion
At FFD, every participant of our reversal programs—be it our yearlong Intensive Reversal Program (IRP) or our residential program Transcendental Residential Program (TRP)—is assigned a dedicated team comprising a doctor, exercise expert, mental health counselor (inner transformation expert), and a dietician. Facilitated by our FFD App, they modify exercise, stress release exercises, and diets to keep you on the fast track to reversal.
Interested in learning more about diets and diabetes reversal? Register for our Discover Reversal Session with FFD founder, Dr. Pramod Tripathi to understand how reversal works and the role diet and dieticians play in its success.