4 Best West indian Diabetes friendly Sweet Dish Recipes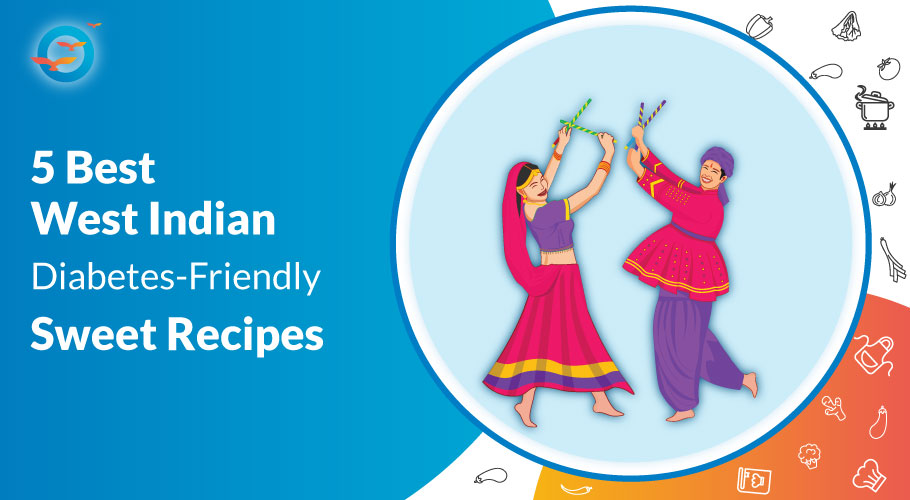 Sweets mean celebration, prosperity, and happiness. No ceremony, occasion or festival is complete without sweets. West India too has a list of sweets in its kitty.
Here are 4 west Indian sweet recipes that are diabetes-friendly.
1. Coconut Banana Burfi

The original coconut burfi or nariyal burfi is a simple fudge prepared from grated coconut, sugar and milk.
Recipe Features

FFD style coconut banana burfi is made from ripe banana, coconut, cashew, and stevia as the sweetener. By avoiding the use of animal milk and sugar, we can consider this as one of the diabetes-friendly sweets recipes.
Ingredients
4 Cups of Fresh Coconut (Scraped)
4 Drops of Stevia
2 Tbsp Cashew Paste
1 Tbsp Almonds (Blanched & shredded)
1 Tbsp Pistachio (Blanched & shredded)
1 Ripened Banana
Method
In a thick bottomed kadai, mix the coconut, mashed banana and cashew paste.
Roast it until it thickens up and acquires a halwa-like consistency.
Add the pistachio and almonds.
Spread the coconut batter in tray.
Smoothen out the edges of the batter and cut into burfi shapes when it cools down.
2. Karanji


Karanji is a sweet item from Maharashtrian cuisine which is mostly made during festivals like the Ganesh festival, Diwali, etc. It is a half moon-shaped covering made up of suji or maida stuffed with shredded coconut, dry fruits, and sugar. Traditionally it is fried in ghee.
Recipe Features

FFD style karanji is made through the baking process. This eliminates the frying part and usage of ghee. By using jowar flour, we are cutting down use of maida or suju made from grains. Plus the use of stevia and dates instead of sugar makes it more diabetes-friendly.
Ingredients

For Filling:
¼ Cup Cashew (Finely slivered)
¼ Cup Almonds (Finely slivered)
¼ Cup Pistachios (Finely slivered)
½ Cup Dates Chopped
Few Drops Stevia as needed
1 Tsp cardamom Powder
½ Tsp Jaiphal Powder (Nutmeg)
Pinch of Kesar/saffron
For Dough:
2 Cups Jowar Atta
½ Cup Cashew Butter
½ Tsp Cardamom Powder
½ Tsp Nutmeg Powder
2 Tbsp Cashew Cream
Few drops Stevia
Hot water to make the dough
Makes between 25-30 medium ones
Method
Roast the cashews, almonds and pistachios and saffron to a very light golden.
You will know it's done when the smell of roasted nuts comes.
Cool it.
Add the dates, stevia, cardamom and nutmeg powder.
Keep aside in an airtight box.
For Dough:
Mix all the ingredients very well.
Make soft dough with hot water.
Make small rounds & fill with the filling.
Seal & make flowery edges.
Bake in oven at 180° – 200° C until golden on both sides.
3. Raw Carrot Halwa


'Raw is King'. Raw or live food creates an anti-aging effect, and anti-degenerative effect because of the enzymes present in it.
Recipe Features

FFD, inspired with this, has come up with a rare recipe named 'Raw Carrot Halwa'. This comes under the no-bake diabetic desserts category.
Ingredients
½ Cup Carrots (Finely Grated)
½ Cup Coconuts (Freshly grated)
¼ Cup Deseeded Black Dates (Squished by hand)
¼ Tsp Elaichi Powder (Cardamom)
2 Tbsp chopped Almonds
Method
Mix all ingredients very well and decorate with almonds and serve.
This is really good if you are a Raw Vegan.
4. Kesar Elaichi Shrikhand


This shrikhand is a special FFD innovation for diabetics.
Recipe Features

It is a blend of all diabetes-friendly ingredients like almonds, raisins, raw mango, saffron, pistachios, etc. We have carefully eliminated the usage of animal milk to make this sweets recipe. We guarantee, this kesar elaichi shrikhand will make you forget the normal Shrikhand.
Ingredients
2 Cups Almonds (Soaked Overnight, Skinned)
1 Cups Raisins (Soaked for 4 hours)
2 To 3 Drops Stevia
½ Cup Raw Mango (Shredded)
Pinch of Black Salt for taste
½ Tsp Saffron (Soaked in 2 Tsp of water)
10 Cardamoms (Elaichi)
Sliced Pistachios for garnish
Method
Blend everything together except kesar/ saffron and pistachios.
Make into as smooth consistency as possible.
Serve garnished with kesar/ saffron and pistachios
The above 4 West Indian sweets recipes are unique due to the careful choice of ingredients which make them diabetes-friendly. Diet has tremendous importance in maintaining health and sugars. For more such recipes, definitely visit our recipe section.
Freedom from Diabetes is an organization that specializes in diabetes reversal. It also helps people in reversing lifestyle disorders like obesity, high cholesterol, high blood pressure, and thyroid issues. Join our one-year Holistic Transformation Program (HTP) where you get customized treatment from our team of experts who will help you achieve your goal to lead a medicine-free life.
Looking for east Indian healthy Diabetes-friendly Breakfast, lunch & dinner Recipes? Visit here:

1. West Indian Breakfast Recipes