5 Best West Indian Diabetes friendly Breakfast Recipes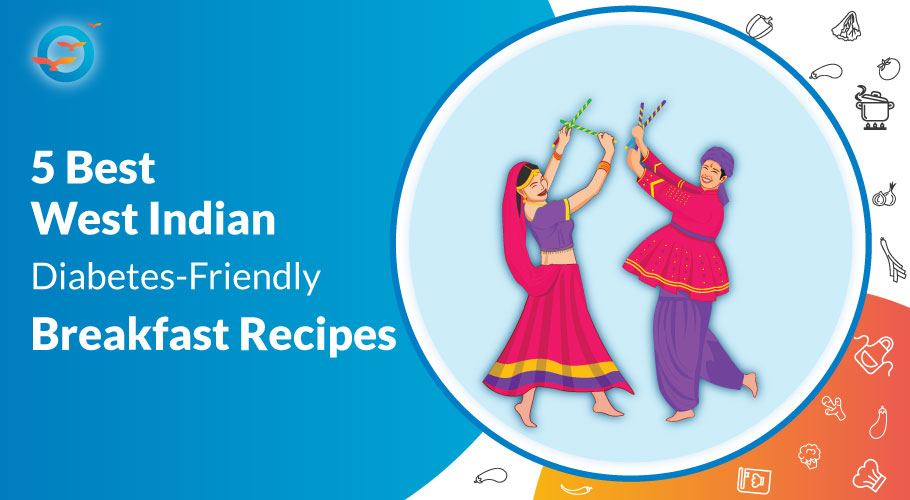 The Western part of India consists of various states like Gujarat, Maharashtra, Rajasthan, and Goa. The cuisines from each state vary depending on the geographical position, climate, and history. The western region has the most diverse styles of food in India.
Here are the 5 best West Indian diabetes-friendly breakfast recipes specially chosen for you
1. Dhokla Recipe


Recipe features

Dhokla is a vegetarian dish native to Gujarat. The main ingredient of dhokla is dal. We all know dals are very good for diabetics as they are nutritious and help in maintaining sugar levels too. This is definitely one of the diabetic-friendly recipes.
Ingredients
2 Cups Bengal gram / Chana Dal
1 Cup Green gram / Moong Dal
½ Cup split Black gram / Urad Dal
½ Tsp Fenugreek / Methi seeds
Ginger- Green Chilli - Cumin /Jeera paste
Method
Soak all the grams separately for 4 hours.
Soak fenugreek seeds along with any gram.
Drain, wash and grind together all the Grams / Dals adding water.
The consistency of the batter should be like that of idli neither thick nor runny.
Add salt and beat the batter nicely.
Cover and keep in the warm place for fermenting about 6 to 8 hours depending on the weather.
It should be almost double in size.
Add ginger-green chili and cumin paste and beat it well.
Pour over greased plate and steam it.
2. Khandvi Recipe