5 Best West Indian Diabetes friendly Dinner Recipes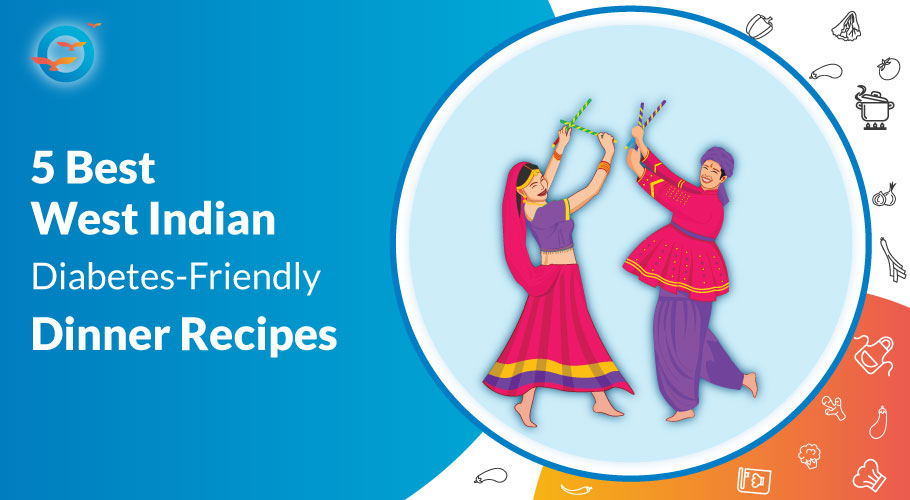 Dinner is an important meal. Having a healthy dinner helps us in many ways like - in better digestion, good sleep, stable blood sugar and lower anxiety. Dinner choices vary from region to region. Today, we are going to learn about the recipes from West India which covers different states like Rajasthan, Maharashtra, Goa and Gujarat.
Here are 5 best West Indian diabetes-friendly dinner recipes chosen for you
1. Sannas



Sannas is a famous recipe from the Goa region. It is actually a steamed rice cake made up of a coconut, rice, and yeast batter.
Recipe features
FFD style sannas uses brown rice instead of which polished rice. The combination of brown rice with urad dal or black gram along with coconut makes it very healthy. This can be one of the best west Indian dinner recipes for diabetics.
Ingredients
¾ Cup Brown Rice (Parboiled or Idli Rice)
½ Cup Split Black Gram (Dhuli urad dal)
2 Tsp Dates Paste
1 Tsp Yeast Solution
Salt as per taste
½ Cup Coconut Milk
¼ Cup Warm Water
Water for making paste
Method
Soak both the rice and urad dal separately in the water for 4-6 hours.
Drain and rinse the brown rice and dal.
Add water to brown rice and grind to make a smooth batter.
Add this batter to a large bowl.
Grind dal to make a smooth and thick batter.
Add dal paste to the brown rice batter.
Add coconut milk to the batter and whisk well.
Add salt and 2 Tsp dates as per taste to this batter and whisk well.
Set it aside.
To make the yeast solution; mix the yeast and 1 Tsp dates paste in a glass of warm water.
Stir well and leave for 10 minutes to rise.
Add the yeast mixture to the batter.
Mix well to combine.
Cover it and set it aside for about 2 hours to allow it to ferment or double in quantity.
Boil water in a large pot/pan or a steamer.
Take a steamer with a stand.
Grease the ramekins or idli moulds.
Pour the batter about ¾ of the way into each mould and place it in the steamer.
Steam it for 15-20 minutes or till cooked.
Remove the lid carefully and insert a toothpick to check if Sannas is cooked.
If it comes out clean then Sannas is ready.
If not, steam for few more minutes. Keep aside.
Gently remove the idli mould from the steamer.
Let them cool down.
Once cool, remove carefully.
Serve hot with a chutney or a curry of your choice.
2. Shengole
This dish comes from Marathwada, Maharashtra. Shengole or shengolya are tear-drop shaped rings made up of spiced dough cooked in a simmering broth prepared with red chilli powder and turmeric. It can also be called as "handmade pasta".
Recipe features
FFD style shengole is made from jowar flour and besan only. The use of wheat flour is avoided to avoid grains. This dish can be considered as one of the West Indian Dinner recipes.
Ingredients
½ Cup Jowar Flour/ horse gram flour
½ Cup Besan/ chickpea flour
¼ Tsp Carom Seeds (Ajwain)
¼ Tsp Turmeric Powder
1 Tbsp Garlic Green Chilli Paste (7-8 garlic cloves and 1-2 green chillies)
Salt to taste
Finely Coriander Leaves (Chopped)
1 Tbsp Oil
Mustard Seeds
Cumin Seeds (Jeera)
Pinch of Asafoetida
1 Tsp Garlic Paste
1 Tbsp Goda Masala/ curry powder
1 Tbsp Red Chilli Powder
1 Big Glass Water
Method
In a dish take jowar flour.
Add besan/ chickpea flour.
Add carrom seeds, turmeric powder, garlic chilli paste and salt.
Mix everything well together.
Add lots of coriander.
Knead to make it a thick dough by adding little water at a time.
Don't make the dough too thin.
Transfer the dough into a bowl, cover, and let it rest for about 10 mins.
Heat up oil in a pan.
Add mustard and let it pop up.
Add cumin seeds and let them sizzle up.
Add asafoetida.
Reduce the heat to low.
Add garlic paste, goda masala/ curry powder and red chilli powder.
Mix well and fry for about a minute.
Add water and salt.
Let the gravy boil nicely.
Take one small ball of dough and roll it into shengole.
Fold in the centre and seal both the ends together.
The size of shengole can be of your choice.
When all shengole are ready drop them into boiling gravy.
Mix lightly, cover, and cook on medium heat for about 15-20 minutes.
Add coriander leaves and shengole are already.
You can have these shengole as it is or add a little lemon juice.
Also, add coconut oil.
It tastes best with this.
Serve this with papad, pickle and onion.
Variations:
Shengole can be made with only mix dal flour also.



3. Sev Bhaji- Maheshwari Style