A Crispy, fluffy Lentil Shepherd's Pie add these recipe to your holiday table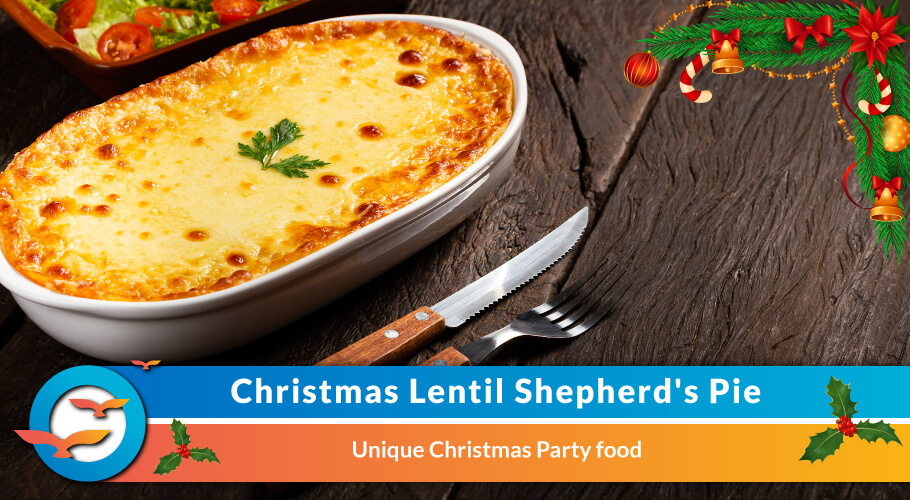 Food is consumed in various forms like cooked, baked, fried, half-baked, boiled, par-boiled, etc. Out of all these forms, baked foods fall into the special popular category. Pie is one such kind of baked food.
What is a pie?


A pie is a dish prepared by baking a pastry dough casing containing a filling of various savoury and sweet ingredients.
Have you ever heard about Shepherd's pie?

It is an interesting pie recipe which a lot of scope for modification. The name is pretty weird and immediately raises the question -
What country does shepherd's pie come from?

Shepherd pie is a dish from the United Kingdom.
What is traditional shepherd's pie made of?

Shepherd's pie is traditionally made with a mixture of sirloin and lamb topped with a cheesy and creamy mashed potato topping.
Why do they call it shepherd's pie?

Shepherd's pie or cottage pie is made from lamb, hence the name (as shepherd's look after sheep) Today, we are going to learn about a savoury pie -Lentil Shepherd Pie - in FFD style, of course, a diabetes-friendly recipe.
Recipe features

This is a very tasty, nutritious and gut-friendly recipe. It has all the benefits of lentils, sweet potatoes, cauliflower, carrots, peas and more. The use of vegan cheese instead of normal cheese makes it 100% vegan and diabetes-friendly.


| | |
| --- | --- |
| Course | Main |
| Cuisine | United Kingdom |
| Preparation time | 35-40 mins |
| Serving | 4-6 |
Ingredients:

Lentil Filling:
1 teaspoon olive oil


3 onions, chopped


8 cloves garlic minced


1 tablespoon Italian herbs mix


6 tablespoons tomato puree


2 cups lentils/ masoor cooked in a vegetable broth with 2 bay leaves


1/2 cup fresh peas, precooked


1/2 Cup Cauliflower florets, precooked


1/2 cup carrots, chopped and precooked


1 teaspoon chilli flakes


1/4 cup tahini paste


1 tablespoon balsamic vinegar


2 teaspoons vegan Worcestershire sauce


Freshly cracked black pepper and salt to taste
Topping:
2 sweet potatoes cooked and well-drained


1/2 kg cauliflower, cut into large florets and steamed and well-drained


1 1/2 teaspoons salt, or to taste


1 tsp dried rosemary


2 tablespoons vegan butter or olive oil


1/2 cup or as needed, coconut milk


1 tablespoon nutritional yeast


Freshly cracked black pepper to taste


1/2 cup Vegan cheese for garnish

Method:
Mix all the filling ingredients and add more/ less seasoning as per your taste.


Put into an ovenproof pie dish and spread evenly.


Dab the cooked sweet potato and cauliflower with a kitchen towel


Squeeze to remove any excess moisture.


Put in a large mixing bowl and mash it up till there are no lumps.


Add remaining ingredients except for coconut milk and mix well.


Add coconut milk little by little to make a smooth and soft mash that is not too watery.


Spread the mash evenly over the lentils and sprinkle the cheese over it.


Bake at 180 degrees for about 20 minutes until the top is evenly browned.


Serve hot. Serves 4 to 6 persons.
Looking for other healthy Diabetes-friendly desserts? Try these:
Try this New dessert Marzipan recipe in this christmas