Ankur Kulkarni reversed Diabetes & Cholesterol. Cleared 4 times GTT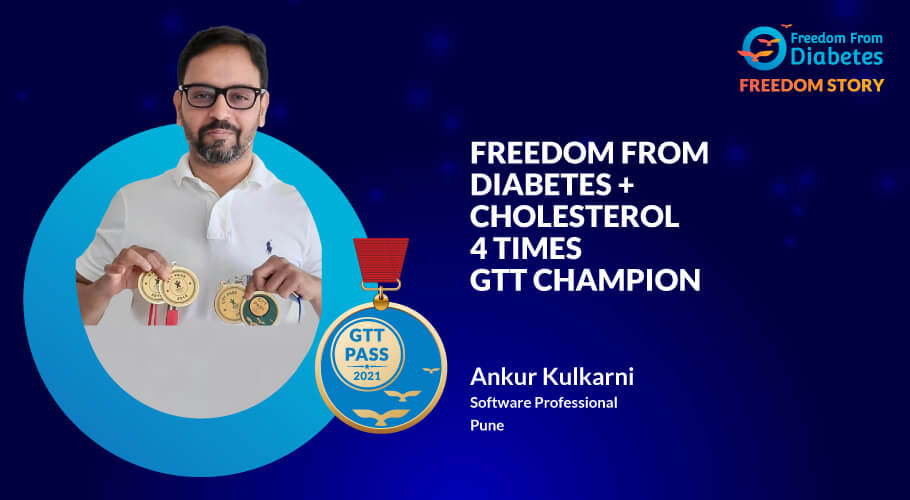 Name- Mr. Ankur Kulkarni
Age- 40 years
Profession- Software Professional
Place - Pune
FFD is not just an organization or a clinic or an institute, it is a Healing Centre for your body, mind, and soul!
I am Ankur Kulkarni, 40 years young, software professional, from Pune. Amongst several reasons to have diabetes, heredity and stress were the 2 main reasons in my case, I believe. There is diabetes on my maternal side.
I got to know about my diabetes when I was very young, almost 28-29 years of age. I had sudden weight loss that time. Also, it was not the age to suffer from weakness, pain in the lower abdomen, low energy levels, etc.
I too was started on anti-diabetic medicines. I faced problems with high cholesterol and was taking medicine for that too.
Facing all this, at a very young age was definitely distressing. At one point, I thought even if I do anything I cannot get rid of medicines...but I was wrong.
I came to know about FFD from a coworker/friend of mine. He had made remarkable progress in his health at FFD and was in great praises.
I took part in the introductory session of Dr. Pramod Tripathi and got convinced about this line of treatment totally.
Mr. Ankur Kulkarni
Being a software professional, my life was pretty busy. I came to know about FFD's Diabetes Reversal Program i.e. TRP - Transcendental Residential Program and decided to join it.
TRP is a 7 nights 8 days residential program where you get a live experience of all the FFD protocols. It is like a pilot test of diabetes reversal.
I enrolled my name for TRP batch 33 starting from 17th March 2018. Each moment of the stay at Hidden Oasis Resort was incredible. My diabetes medicines stopped during my TRP course itself and I was announced a 'Free Bird'. Amazing...11 years of diabetes Reversed in just 7 days.
I was then introduced to GTT - The glucose tolerance test. Was explained what it is and why is it important to clear it. I wanted to appear for GTT. To my surprise, I passed GTT on the first attempt itself. Later, I cleared it for 4 consecutive years and am very proud of it.
Before TRP-33, I could not even walk briskly for 15-20 feet as it used to hurt in my lower abdomen. Now, I do intense weight training and cardio.
I have started living a healthy and happy life. My physical appearance has changed and my confidence level has gone up.
FFD is truly a "Healing Centre'.
Thank you, FFD