Archana: Hats off to FFD's proactive Diabetes Treatment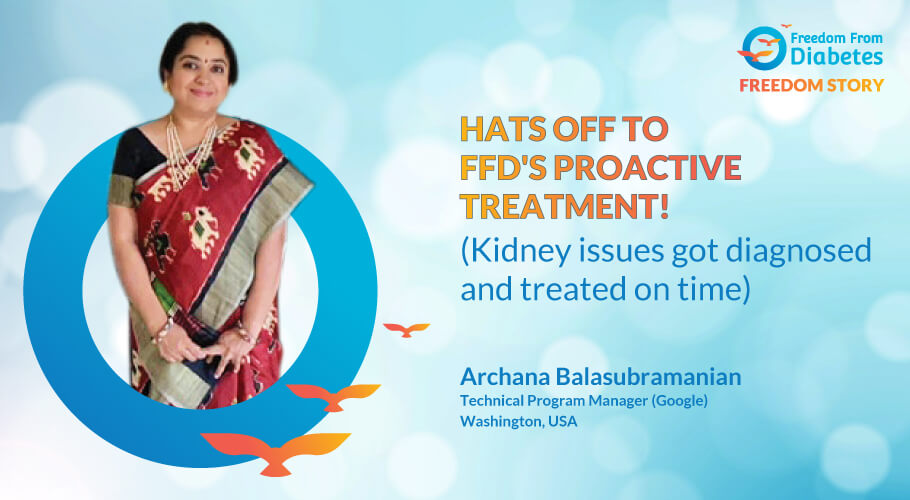 My HbA1c came down to 5.6 without medication!!
Name- Mrs.Archana Balasubramanian
Age- 45 years
Profession- Technical Program Manager (Google)
Place - Washington, USA
Hello, I am Mrs. Archana Balasubramanian, a technical Program Manager at Google from Washington, USA. Just being in the USA does not mean you are at the best place. And I came to understand this only after coming to an organization from India, Freedom from Diabetes!
I have had Gestational Diabetes over 13 years ago and full-blown diabetes 4 years ago. I have given Metformin 5 years ago without proper education and nutrition counseling.
The nutrition counseling here in the US did not work. So I went off my metformin as I did not understand how it was helping (my HbA1c was always 6.5). I lost a considerable amount of weight in 6 months of stopping Metformin.
A random BSL check shocked me. That is when I found my A1C went to be 12. My next immediate step was I cut back on food, and that is when my eyes got affected. I could not read normal stuff on my laptop.
Eventually, I went back to 2000 mg Metformin and was maintaining my A1C at 6. But I did not feel good. I wanted to fix my disease and the hunt started.
Family history-wise, my mother has diabetes and is taking medication. My mother-in-law has diabetes and is taking insulin. I lost my father early when he was 54 from a cardiac arrest. So there is diabetes as well as cardiovascular issues in the family for sure.
A friend's aunt named Vidya from HTP batch 34 recommended FFD to me. She has been an inspiration. I first attended the Discover Reversal Session of Dr. Pramod Tripathi to get an overview of the 'Diabetes Reversal' process.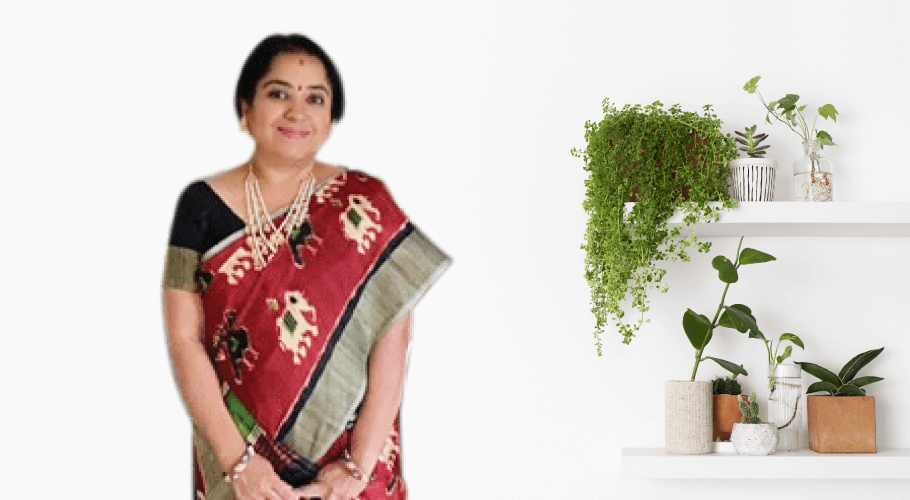 Mrs.Archana Balasubramanian
Later, I enrolled myself in Holistic Transformation Program (HTP) batch 61 which started on 8th August 2021. The combination of 4 powerful Diabetes Reversal protocols - diet, exercise, inner transformation, and medical working in synchronization is the high point of FFD, I feel.
I started getting positive results from day 1 of my HTP program and stopped medication two weeks after joining FFD. My HbA1c came down to 5.6 without medication.
My journey from HbA1c 12 to HbA1c 6.2 without medicine shows that it can be done. The disease behaves. It is taking me longer, but I will stick it through to completely reverse.
The most interesting thing that happened with me coming to FFD was like this. I did not know my creatine was off. My US doctor never signaled a problem till FFD looked at my results and flagged kidney issues and B12 being low.
At FFD, both were treated and I feel like I am on the right track. I am just surprised that no one noticed here (US). Maybe they prefer to pump medicine when things go wrong versus FFD proactively identifies issues and helps fix the root cause. Thanks, FFD for recognizing my co-morbidity and treating it.
I thank God for the grace he and she continue to give and the FFD'S Diabetes Reversal program and Dr. Tripathi for the wealth of knowledge. I feel good.
My HbA1c has risen to 6.2 presently. I have realized this journey is a continuous one depending on how strong the disease is. I am now trying to refocus and am confident that FFD will definitely help me get back on track.
Thank you, Dr. Pramod Tripathi and FFD team.