Ashwini Doddihal: Very happy to see my HbA1c reduced 11.88 to 5.3 in 3 months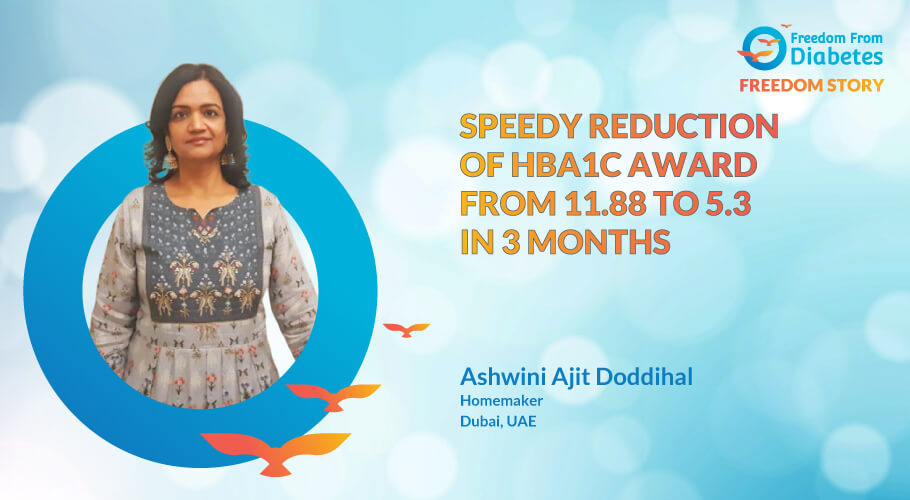 Name- Mrs. Ashwini Ajit Doddihal
Age- 49 years
Profession- Homemaker
Place - Dubai, UAE
Diabetes does not happen suddenly. It takes time for the disease to show up. But right treatment can fasten up the recovery process for sure. In my case, the recovery was unbelievably very speedy.
I am Ashwini Ajit Doddihal, a 49 years young homemaker from Dubai. Talking about family history, my mother has diabetes.
I was aware of my pre-diabetic state from 2017, but it culminated into proper diabetes in 2020. My diabetes was confirmed in September 2020 during a routine health check-up.
I used to feel tired and irritated all the time. I never took insulin but was on Janumet 2 tablets a day for diabetes and Thyronorm 75 mg once a day for the hypothyroid condition which I was taking for a long time from 2002.
I came to know about Freedom from Diabetes from a relative of mine and social media, both. Learning positive things from so many different sources had increased my hopes and confidence in FFD.
I started Diabetes Reversal Programs first with DRS now known as Discover Reversal Session in October 2020.
The session was conducted by Dr. Pramod Tripathi himself and he gave us a complete overview of the causes of diabetes and how it can be reversed.
Mrs. Ashwini Ajit Doddihal
I soon joined HTP batch 64 which was going to start from 7th November 2020.
My experience with FFD was a memorable one. The way the 4 protocols are blended is superb. I do not think anyone else has done this so beautifully.
My progress began from the very first day, I must say. I became free of diabetes medicine within a month of my joining FFD. It was very good to experience the whole thing brick by brick.
Not only this, my thyroid medication was reduced by 25 mg after coming to FFD. This is a very big achievement as I know improvement in thyroid levels is a very difficult thing to happen.
I am extremely happy with my improvement at FFD. Now I feel very energetic, I do cardio 3 times a week, and weight training 2 or 3 times a week.
Muktotsav is the annual event of FFD where all the achievers are awarded. I am happy to share that I got nominated for the Lowest HBA1C category in the year 2021 Muktotsav for a speedy reduction in HbA1c from 11.88 to 5.3 in just 3 months.
Thank you, FFD for showing me a way to good health and freedom from diabetes!