Bisi Bele Bath Recipe | Easy Bisi Bele Bath Recipe | Karnataka style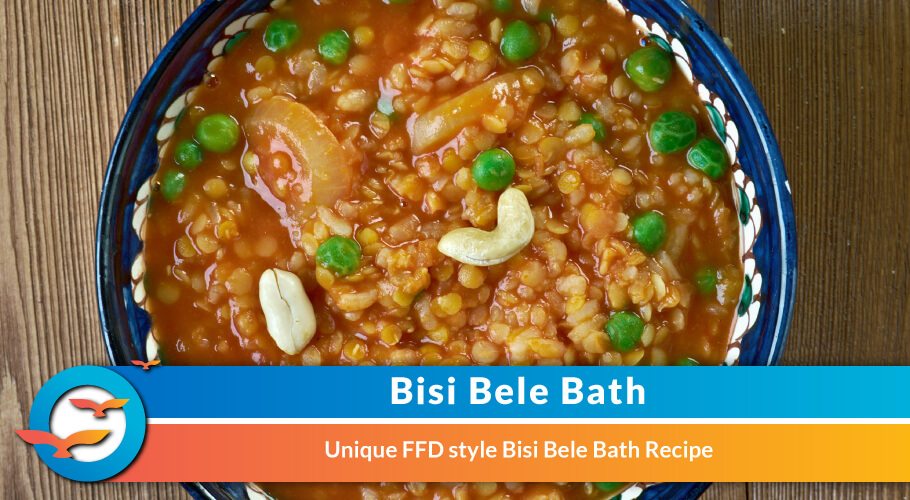 Bisi Bele Bath Recipe From Karnataka

If you have diabetes, keeping a tab on diet and doing regular exercise becomes an important part of your life. In such a situation, making recipes more healthier can prove to be really beneficial.
Why do we modify recipes?

A recipe can be made healthier by preparing it in a different way. We can also substitute ingredients if at all possible. We can make them more beneficial by reducing fat, salt, and unwanted calories in the form of sugar. Also, ingredients can be added to increase fiber. Today, we are going to learn about a recipe, a signature dish from Karnataka - Bisi Bele Bath but in FFD style.
What is the meaning of Bisi bele bath?

Bisi bele bath recipe in Karnataka style is a spicy, flavorsome, slightly tangy meal prepared from lentils, rice, mixed vegetables and super aromatic spice powder known as bisi bele bath powder. Bisi means 'hot'. bele means lentils and bath means a dish cooked by immersing the ingredients in water.
Can diabetics have bisi bele bath?

Fresh veggies, plenty of south Indian flavors plus plant-based protein makes it a good wholesome dish. Health-conscious or diabetics can opt for it as it's gluten-free and easy to make.
Recipe Features

The choice of rolled oats to rice makes this FFD style bisi bele bath different. Oats is one of the healthiest grains which are not only gluten-free but are a great source of minerals, fiber, important vitamins, and antioxidants. Rolled oats have more fiber in them. This fiber helps in lowering cholesterol and reducing blood sugar levels, hence good for diabetes.


| | |
| --- | --- |
| Course | Main |
| Cuisine | Karnataka |
| Preparation time | 20-25 mins |
| Serving | 4 |
Here is the FFD style bisi bele bath recipe step by step
Ingredients
1 Cup Rolled Oats


½ Cup Pigeon peas/ Toor Dal


½ Cup Carrot, Beans, Peas


½ Drumstick


4 Cubes White Pumpkin (optional)​


1 Small Brinjal (optional)


2 Tbsp Tamarind Pulp (Watery)


1 ½ Tbsp Sambar Powder


Salt to taste


For Tempering:
1 Tsp Oil


½ Tsp Mustard Seeds


¼ Tsp Fenugreek Seeds


1 Sprig Curry Leaves


5 Small Onions (Shallots)


¼ Tsp Asafoetida
Method
In a Pressure cooker, add washed dal and all the vegetables with 1 ½ cup of water.


Cook for 2 whistles.


Keep a medium to big size deep wok/ kadai on medium flame.


Add the oil, once the oil heats up, add the mustard seeds, once they splutter, add the fenugreek seeds, curry leaves, and whole shallots, fry on a medium flame for 3 mins.


Then add the oats and half of the sambar powder and some salt and mix well.


Add 1 cup of water.


Close the lid to cook for 15 mins.


When the oats are cooked well.


Add the boiled dal and vegetable mixture to it and mix well.


Add the remaining sambar powder and the tamarind pulp.


Mix well.


Adjust salt and the required amount of water to get the desired consistency.


Cook for 10 more mins.


Take 1 Small Katori as a part of a meal with Salads and cooked vegetables.

FFD knows how to make recipes healthier and more suitable for diabetics. Visit our recipe blog section to know about more such recipes.
Join our Discover Reversal Session based on 4 pillars - diet, exercise, inner transformation, and medical to get customized treatment for speedy Diabetes Reversal.
Looking for other healthy Diabetes-friendly Recipes? Try these:

1. Falafel Recipe