Cabbage Vadi | Kobichi Vadi Recipe | How to make Diabetes friendly Vadi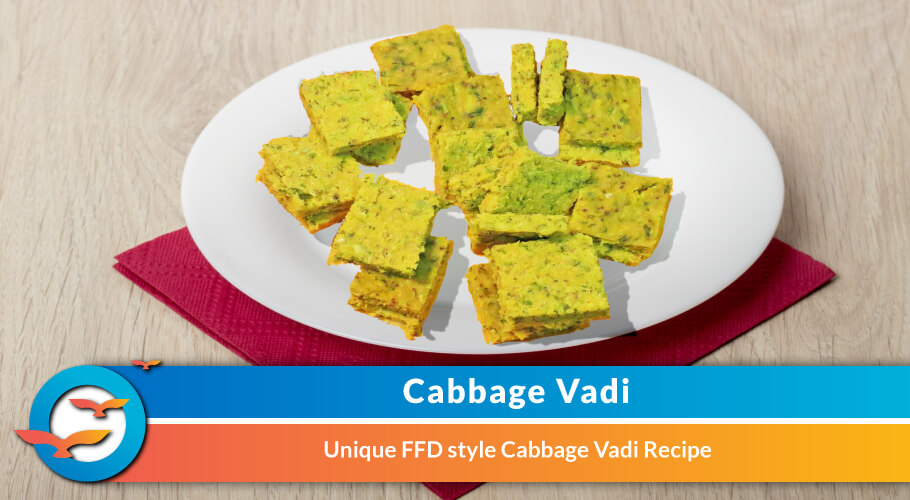 The burden of type 2 diabetes is increasing day by day. The facts and figures point to it as an alarming situation. We all know maintaining blood sugar levels is a great task for diabetics. This can be done with proper diet and exercise.
A diet rich in fruits and vegetables can act as a strong weapon in relation to maintaining high blood sugar levels and cabbage is one of the best vegetables for this condition.
Even though cabbage is not your favourite vegetable, if you are a diabetic, it is the vegetable that should be on your grocery list.


Is Cabbage good for diabetic patients?


Cabbage has a lot of antihyperglycemic and antioxidant properties. Its low calories and high fibre content put it in the ideal vegetable category for diabetics. Its GI number is also very low at 10 which means having cabbage does not give any quick sugar level rise in your blood. All these factors make it a diabetes-friendly vegetable.


Recipe features


It is a diabetes-friendly recipe made up of a combination of wisely chosen ingredients like cabbage, spices, sesame seeds and dal.


| | |
| --- | --- |
| Course | Snacks |
| Cuisine | Indian |
| Preparation time | 10 min |
| Cooking time | 15 min |
| Serving | 1-2 People |
Today, we are going to learn how to make Cabbage Vadi or Kobichi Vadi. The Cabbage Vadi recipe is as follows


Ingredients:


Grated Cabbage – 1 cup


Ginger-garlic paste – 1 tsp


green chilli


coriander – 1/4 cup


masalas - optional


besan – ¼ cup for binding


Sesame seeds – 2 tsp or more


Salt

Method:
Grease a plate.


Mix all the ingredients and spread on the greased thali.


Steam it for 10-15 min.


Cut into pieces once it cools down.

Storage suggestions


It is better to eat this fresh but this Kobichi vadi can be stored in a cool dry place for 4-6 hours.
For more healthy and diabetes-friendly recipes, do visit our recipe section. You will be amazed to know all these recipes are tasty and healthy both at the same time.
Freedom from Diabetes works in the field of diabetes reversal. We have successfully reversed diabetes of 11,000+ people so far and the number is counting. Do enroll in our Discover Reversal Session (DRS) to get customized treatment which has given us such amazing results.


Looking for other healthy Diabetes-friendly Recipes? Try these: