From Overweight Diabetic to Medicine-free Muscle Man. FFD made my transformation possible.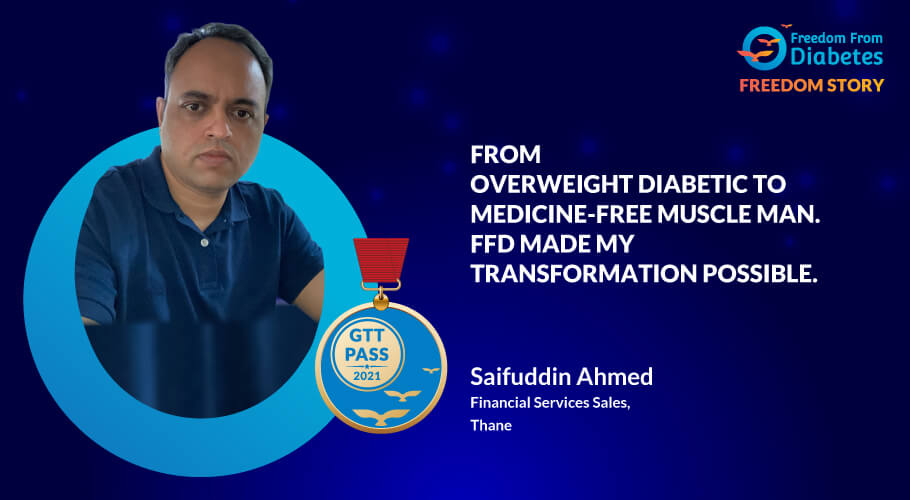 Name- Mr. Saifuddin Ahmed
Age- 42 years
Profession- Financial Services Sales
Place - Mumbai, Thane
Diabetes runs in my family. Both my grandfathers, my father, and my older sister were diabetic, and I knew I was vulnerable too. But food is my weakness.
I love both non-veg food and Bengali sweets. With the result that during a 3-and-a-half stint in Kolkata I put on a lot of weight.
Unfortunately, my lifestyle and bad eating habits probably also pushed me into diabetes, which I only realized during an annual health check. I immediately consulted a Diabetologist who put me on Galvez met 50/ 500.
Diabetes brought a host of other medical issues. Over time, I began feeling less energetic and would tire very easily. Then came Covid-19, and the advisories for people with comorbidities, specifically obesity, and diabetes, made one thing very clear. I urgently needed to take care of my health.
Meanwhile, my medicines too had increased. I was now taking two doses of medicines post meals. Insulin seemed inevitable. But I didn't know what to do.
By chance, I happened to call on an old school friend Sanjay, who happened to be hospitalized due to Covid.
Sanjay was an ex-participant of FFD and when he heard that I was diabetic, he told me about FFD and really motivated me to join.
He felt that since I was quite disciplined and persistent, I would be able to successfully reverse my diabetes. He was right. My experience with FFD was nothing short of magical.
I joined FFD along with my wife Meher. And her support made all the difference. In fact, her results were even more amazing than mine—she was out of medicines in four days flat! But I soon followed her.
In less than 10 days I was free from medicines too. This happened during the lockdown. I initially thought it would be more difficult but in fact, the work-from-home stipulations allowed me to focus on sticking to FFD's protocols—be it meals, exercises, or meditations.
Mr. Saifuddin Ahmed
Such was our commitment to the program that even during a holiday at a resort in Mahabaleshwar, we stuck to the program protocols. I missed my non-veg food and sweets, but I didn't miss the medicines, the fatigue, the anxiety. And that made it all worthwhile.
In a month and a half, I had lost almost 10 kg. The aggressive phase of long fasting, intermittent fasting, juice feasting, and water fasting speeded up the weight loss, enabling me to reach my target weight of 73 kg, and go on to touch 69 kg.
The inner transformation phase was equally enjoyable. Around July, I started trying out various exercises and routines and, in August, joined a gym. I discovered an unsuspected affinity for working out.
It turned out to be my 'athletic identity. I began gymming religiously—and still do—5 to 6 days a week. I have begun putting on muscle, and have reached 76 kg—but the gain is almost entirely muscle. It's a great feeling.
Best of all I have been able to maintain normal food habits. For instance, last month I went on a muscle-building diet, consisting of 4 to 6 eggs, 300 g of chicken, 300 g of fish fillet along with two scoops of whey isolate in a day—and my sugar readings stayed in the normal range.
None of this would have been possible without the amazing guidance and motivation I received from the team at FFD. It is an awesome program. In fact, it is not just a Diabetes Reversal program but a lifestyle and I heartily recommend it to everyone I meet—whether they are diabetic or not!