July 23: Top 10 Diabetes Reversal- Health Transformation Stories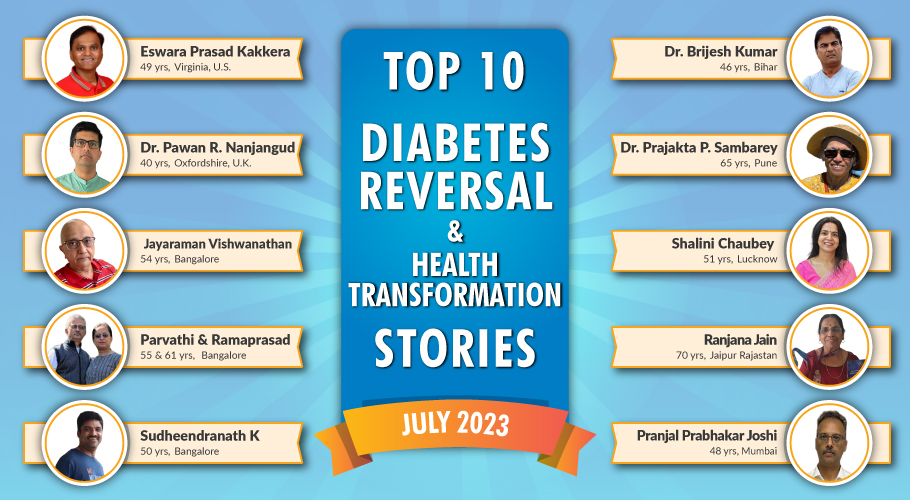 The month of July always begins on a positive note with the celebration of "National Doctor's Day" on the very first. At FFD, this day holds immense significance as we commemorate it with great enthusiasm, specially appreciating the invaluable contributions of our team of doctors.
Their dedication and efforts have helped thousands of individuals achieve freedom from medicines and various health ailments. Just like a good start sets the tone for the rest of the month, FFD also witnessed numerous success stories during this period.
Top 10 success stories of July 2023

Mr. Eswara Prasad | Age- 49 Years | Virginia, U.S. | IT Professional
He is an IT professional hailing from Virginia, U.S., who endured a 20-year-long struggle with diabetes. His journey took a transformative turn when he stumbled upon FFD through Dr. B. M. Hegde's video. Recognizing the hope and potential for positive change, he decided to join FFD.
Thanks to the program's comprehensive approach and expert guidance, Mr. Kakkera's life has taken a remarkable turn for the better. He now enjoys the benefits of reduced medication, improved HbA1c levels, and a significantly healthier and fitter lifestyle.
We invite you to read his full transformative story here ___

Dr. Pawan Nanjangud | Age- 40 Years | Oxfordshire, U.K. | anesthetist
Allow us to share a remarkable diabetes reversal story that comes from Oxfordshire, U.K. Meet Dr. Pawan Ramesh Nanjangud, an esteemed anesthetist who stumbled upon his diabetes diagnosis during a battle with a severe urinary tract infection that was slow to heal.
Fueled by the desire for a sustainable solution, he decided to enroll in FFD, drawn in by its comprehensive and holistic approach. Little did he know that this decision would bring about a profound transformation in his life. Thanks to FFD's expert guidance and support, Dr. Pawan not only became free from diabetes medicines but also successfully shed an impressive 15 kg of weight.
His inspiring journey stands as a testament to the power of a well-rounded approach to health and diabetes management.
We invite you to read about his life-changing experience with FFD here ___

Mr. Jayaraman Vishwanathan | Age- 65 Years | Bangalore | Chartered Accountant
Meet this chartered accountant who had a life-changing journey with FFD. Originally based in Singapore before relocating to Bangalore, he was in for a shock when a routine checkup revealed his diabetic condition.
Determined to find a solution, he joined FFD and found the answer to his 15-year battle with diabetes. With 140 units of insulin and medicines as his companions, he embarked on the FFD program, and the results were astonishing.
Not only did he bid farewell to 140 units of insulin, but he also experienced a remarkable weight loss of 17 kg. His inspiring achievements earned him the title of "Insulin Champion," filling him with pride and happiness.
Read his story to gain deeper insights into his incredible transformation with FFD's help

Mr. Ramaprasad Pormavil & Mrs. Parvathi B. N | Age- 61 & 55 Years | Bangalore | Consultant & Housewife
We are delighted to share the heart-warming reversal story of a couple that fills us with pride and joy. Both husband and wife faced their battles with diabetes at different points in time, but their lives took a positive turn when they became a part of FFD.
Mrs. Parvathi, now free from diabetes medicines, achieved a remarkable weight loss of 13.5 kg, a feat she can be truly proud of.
Meanwhile, Mr. Ramaprasad (husband) witnessed a significant improvement in his health, with his medications substantially reduced, and his once-tormenting migraine headaches becoming a thing of the past, all thanks to FFD's effective treatment approach.
Read their transformation astonishing and inspiring story here __