Kabab Recipe | Masoor Dal Kabab Recipe | How to Make Kabab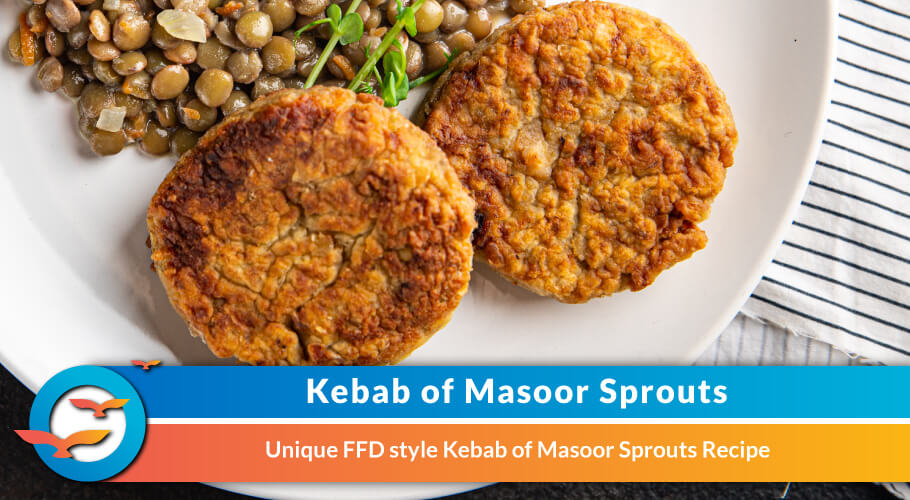 Food history is very Interesting. Each recipe or food item has its unique story and Kebab is also one of them.
What is Kebab?


Kebabs are an invention of medieval soldiers. They used their swords as a tool to grill the meat. A kebab most commonly is pieces of vegetables or meat grilled on a thin long stick.
Though the most popular kebab is the one made from meat, the vegetarian version is also getting popular.
Can diabetics eat chicken Kebab?


Animal food is not good for health. It is acidic. Hence diabetics should try to avoid chicken Kebab. They can go for Kebabs prepared from vegetables or lentil sprouts instead.
Today, we are going to share the FFD style beautiful Kebab recipe - Masoor Dal Kebab without potatoes.
Recipe Features
We all know sprouting highly increases the nutritional value of foods and provides several health-promoting effects too. Hence FFD has chosen masoor sprouts as the main ingredient of this recipe. Plus this recipe is made without potatoes which reduces its carb content too as compared to other vegetable kebabs.


| | |
| --- | --- |
| Course | Snacks/Main |
| Cuisine | Indian |
| Preparation time | 10 mins |
| Cooking time | 10 mins |
| Serve | 2-3 Person |
Masoor Dal Kabab Recipe
Ingredients:
2 cups masoor sprouts ground to a coarse paste with no/minimum water.


1 large onion finely chopped


1/2 inch ginger


3 chillies minced


1/2 cup chopped coriander


1/4 tsp black pepper powder


1/4 tsp Garam Masala powder


Rock salt to taste.
Method:
Saute onion, ginger, chilies well.


Add all the condiments.


Then thoroughly mix it with ground masoor sprout paste.


Add coriander and make oblong flat patties and roast on a hot iron griddle from both sides and serve hot with chutney.


Serving suggestion -
These Kebabs are to be eaten hot and fresh.
Understanding the importance of and making the most of our knowledge is the key. Usage of masoor sprouts has been wisely done in this recipe which makes it diabetes-friendly too.
Diabetics should try out this recipe.
Nobody understands diabetes better than FFD. We know every diabetic is different and hence expertise in Customized treatment. Enroll in our Discover Reversal Session to get customized treatment for a speedy Diabetes Reversal.


Looking for other healthy Diabetes-friendly Recipes? Try these:



2. Diabetic Eggplant Recipes (Brinjal Fry)