Mixed Dal Handvo Recipe : Can diabetic eat Handvo?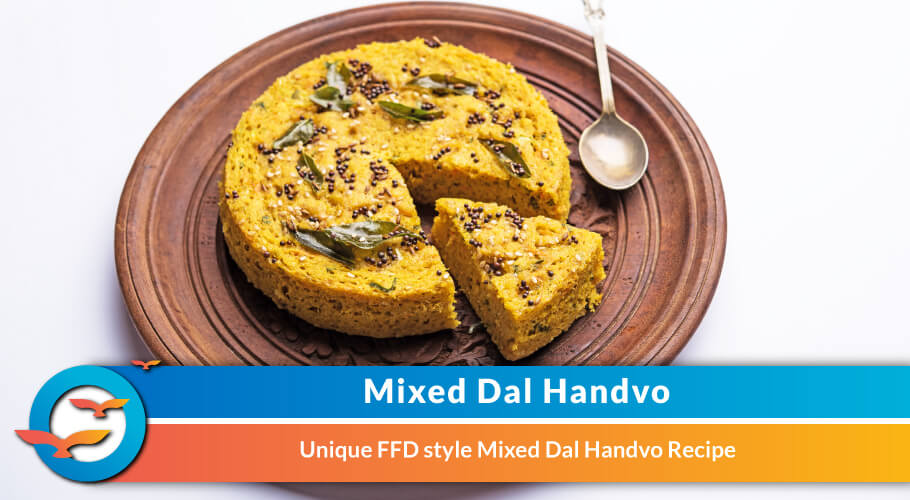 The number of diabetics is increasing day by day. Maintaining sugars is a great task for diabetics but this needs to be done. In this scenario, a proper balance of diet and exercise needs to be maintained. A diabetic should eat healthy foods in moderate amounts and stick to regular mealtimes.
Different states have their different choices of healthy food items. When it comes to Gujrathi food, dal handvo is one such healthy food item.
What is handvo?


Handvo is a savory item prepared from vegetables and lentils originating from Gujarat, India. Its main ingredient is bottle gourd filling, though other vegetables can be added. Crushed peanuts are also added.
Can a diabetic eat Handvo?

A diabetic can definitely eat handvo. This recipes main ingredients are dals and vegetables which makes it healthy for diabetics.
Today, we are going to share the FFD style Dal Handvo recipe.
Recipe Features

FFD style Dal Hanvo is made up of 4 dals - toor, urad, moong and chana all good for diabetics. Remember, dals are 60% sugar as compared to grains which are 80% sugar. So it is good to choose dals over grains. This recipe of handvo is completely vegan too as we use vegan curd in it.


| | |
| --- | --- |
| Course | snacks |
| snacks | Indian (Gujrathi) |
| Preparation time | 25-30 mins |
| Serving | 2-3 |

How to make handvo?
The Gujarati handvo recipe in FFD style goes like this.
Handvo Ingredients:
1 cup toor dal
1/4 cup black urad dal
¼ cup green moong dal
1/2 cup chana dal
1/4 cup vegan dahi
+ 2tsp lemon juice
3/4 cup grated bottle gourd
¼ cup chopped broccoli
1 tsp oil
2 tsp lemon juice
1/4 tsp chilli powder
1/4 tsp turmeric powder
1 tsp green chilli paste
salt to taste
2 tsp oil
1/2 tsp rai
1/2 tsp til
1/2 tsp ajwain
1/4 tsp hing
Method
Clean, wash and soak daals together in enough water for at least 4 to 5 hours.
Drain and keep aside.


Blend in a mixer till smooth, add the vegan Dahi and lemon juice and mix well.


Cover and keep aside to ferment.


Add the doodhi (bottle gourd) and other vegetables, oil, lemon juice, chilli powder, turmeric powder, green chilli paste and salt and mix well.


Keep aside.


Heat the oil in a pan and add rai.


When it splutters, add the sesame seeds, carom seeds and asafoetida and sauté on a medium flame for a few seconds, while stirring continuously.


Pour the batter evenly to make a thick layer.


Cover and cook on a slow flame for 7 to 8 minutes or till the base turns golden brown in colour and crisp.


Lift the handvo gently and turn it over.


Cover and cook on a slow flame for another 5 to 7 minutes or till it turns golden brown in colour.


Cool slightly and cut into square pieces.


Serve immediately.
This recipe is not only tasty but very healthy too! It has all the goodness of dals, bottle gourd, broccoli everything right for a diabetic.
Storage suggestion

It is best when eaten fresh but can also be stored in a cool, dry place for a few hours.
You can find many more diabetes-friendly recipes in our Recipe Blog section. Definitely visit it. Freedom from Diabetes understands the importance of customized care and is well equipped with experts to provide it. Enrol in our IRP program to reverse your diabetes and experience how customized care makes the real difference!
Looking for other healthy Diabetes-friendly Recipes? Try these: