Mouth Watering Mexican Wrap With Refried Beans Recipe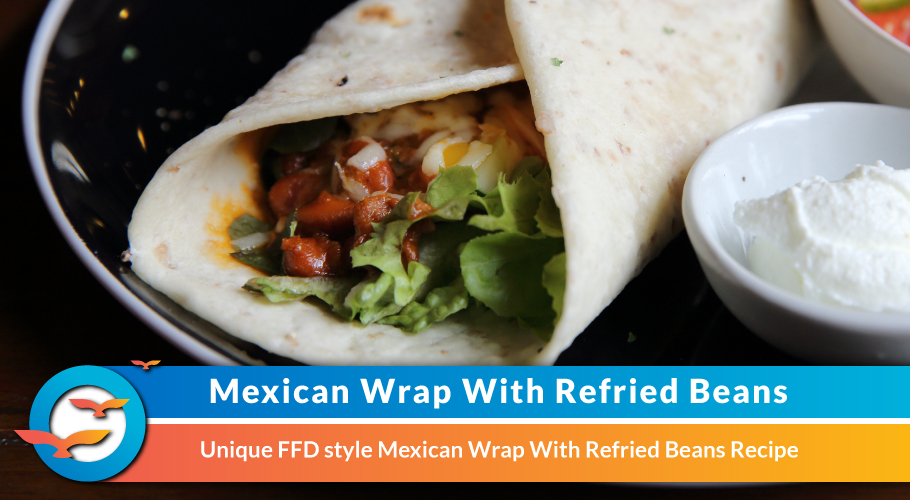 Every cuisine is special. Food items from each has some specialty. Mexican food is very popular as it is full of flavor. The Mexican dishes are prepared from healthy and fresh ingredients like beans, avocados, chilies, tomatoes, etc and they are famous for their tortillas and wraps.
Today, we are going to talk about the 'Mexican wrap with refried beans' recipe.
We have chosen this recipe as the mixing of beans to grains can turn an incomplete protein into a complete one. This is very useful for diabetics too.
What are refried beans?

A dish made of cooked and mashed beans is known as refried beans. It is a traditional staple of Mexican cuisine. In this, the beans are fried or baked after being boiled and then mashed. Interestingly though as they are fried only once, the term is "refried beans".
Are refried beans diabetic friendly?

Beans are also known as superfood for diabetics. Studies show that adding beans to the diet help manage blood sugar levels better than many other starchy foods.
Although beans contain carbohydrates, their glycemic index (GI) is low, and hence consuming them does not cause significant spikes in blood sugar levels.
Are wraps OK for diabetics?

A wrap is actually a soft bread that is rolled around a filling of your choice. The flours used could be wheat, corn etc. There is no harm if diabetics chose lower carb ingredients for preparing a wrap. This will half the carbohydrates and increase the fiber in it which is good for diabetics.
Recipe features

This is a specially modified recipe that FFD has brought in for diabetics Its uniqueness lies in its proper choice of ingredients like khapli wheat which is low GI wheat plus the addition of refried beans and lettuce to the recipe.
Mexican wrap with refried beans


| | |
| --- | --- |
| Course | Snacks |
| Cuisine | Mexican |
| Preparation time | 20-25 mins |
| Serving | 1-2 |
Here are the Mexican wrap Ingredients:

1. Refried Beans
1 cup Cooked Rajma


½ cup tomato purée


½ tsp red chili powder


½ tsp cumin powder


Rock Salt


Oil
Method:
Take a pan and add oil to it.
Heat it.

Add tomato purée and let it cook until the extra water evaporates.


Add Rajma, cumin powder, red chili powder, salt, and a cup of water.


Cook it for 5-7 min until it becomes like gravy.


Now let it cool.


Grind this mixture into a coarse paste with the help of a hand mixer.


2. Mexican Wraps

Ingredients:
Khapali wheat Rotis


Chopped iceberg lettuce
Method:
Spread about 2 tsp of refried beans on a roti.


Put 2 teaspoons of salsa only on the middle portion of the roti vertically.


Add lettuce and any other salad if you want.


Fold the roti to make a roll.
This type of Mexican wrap with refried beans is not only tasty but diabetes-friendly too. Try it and let us know how you found this recipe to be.
For more such interesting recipes, do visit FFD's Diabetes-Friendly recipe section.
Freedom from Diabetes is a diabetes reversal specialist organization. Do join our IRP program and get your diabetes reversed. We have seen our customized treatment makes a lot of difference!
Looking for other healthy Diabetes-friendly Recipes? Try these:



2. Diabetic Eggplant Recipes (Brinjal Fry)