No more diabetes and cholesterol medicine all credit goes to FFD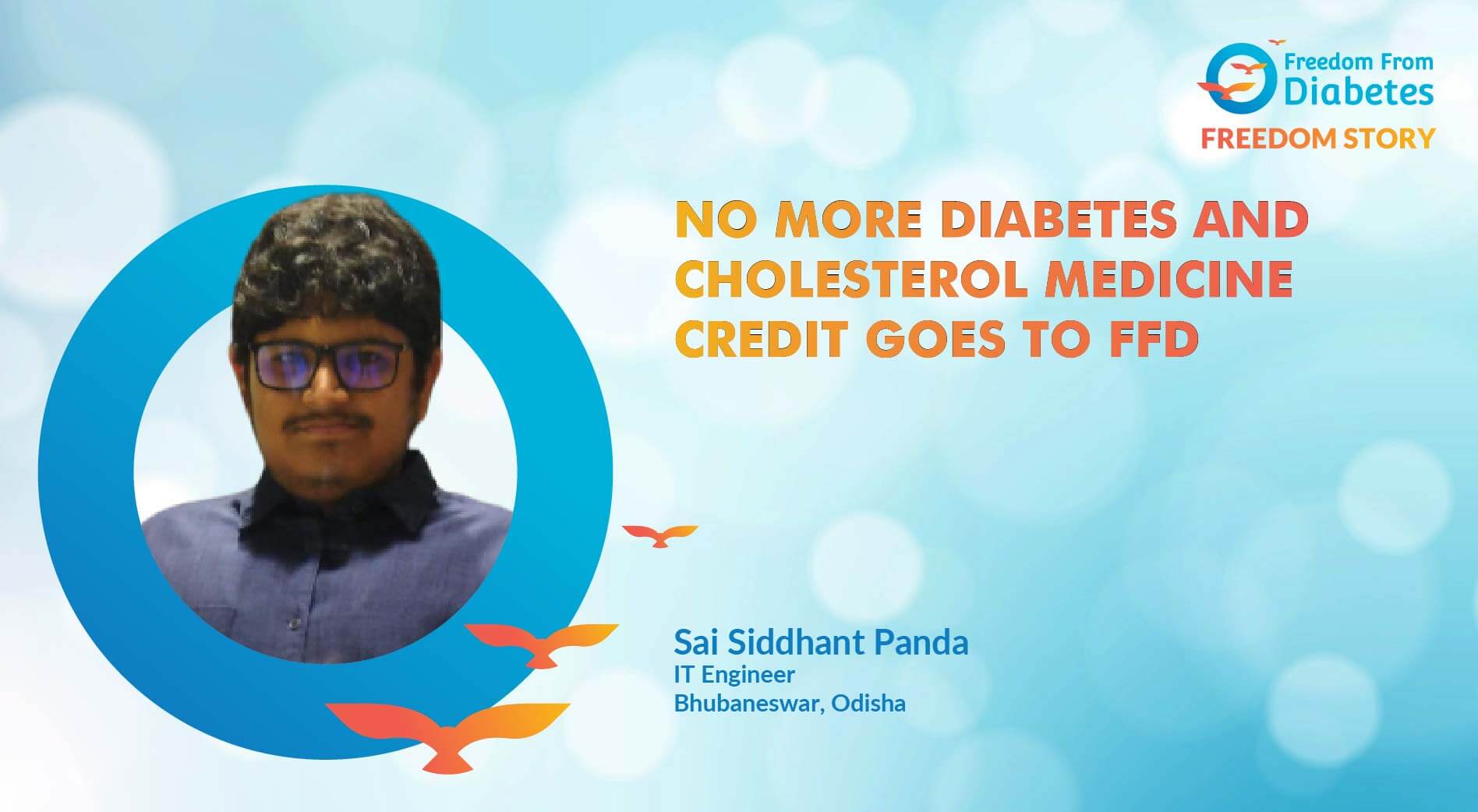 Name- Mr. Sai Siddhant Panda
Age- 27 years
Profession- IT Engineer
Place - Bhubaneswar, Odisha
FFD taught me countless things about health! I really feel fortunate about it. I am Sai Siddhant Panda, 27 years young, IT Engineer working in the space of Analytics for the last 4+ years.
I have a very strong family history of diabetes. Both my parents have diabetes and blood pressure. Maternal uncles, aunties, and grandma have diabetes with paternal uncles too.
COVID time was very bad for me. The loss of a few family members in COVID, heredity, and work-related stress all culminated and gave me diabetes at this young age I think.
I was diagnosed with diabetes (with Hba1c of 11.6) and high cholesterol on 11th April 2021 as part of my annual check-up. I met a couple of endocrinologists at my locality who prescribed me Metformin 1000+500, Vildagliptin 20 mg, and Rosuvastatin 10, and was advised to lose weight.
Mr. Sai Siddhant Panda
I was very young and did not want to continue like this. Definitely wanted to lose weight and come out of medicines if possible. This made me keep looking for solutions. One fine day, I landed on a YouTube video of Dr. Pramod Tripathi talking about diabetes reversal. This just clicked.
The May 4th introductory online session with Dr. Tripathi was incredible. He gave us a lot of insights into the causes of diabetes and how to reverse diabetes.
I knew it was the right path and immediately enrolled in FFD diabetes reversal program - HTP starting from 8th May. I have never looked back since then.
The four FFD protocols namely diet, exercise, inner transformation and medical are amazing. The moment you start following them, you start getting the results.
Within 9 days, I stopped taking diabetes medicine (Metformin 1000+500, Vildagliptin 20 mg). One month later, cholesterol medicines stopped too. Reversing diabetes along with co-morbidity of high cholesterol is a great achievement indeed.
Back in December 2020, I was at 92 kg. While I joined FFD as part of HTP I was at 80 kg and today I am at 68 kg. I have never felt so light and energetic before. Weight is truly a huge hurdle, I realized.
The whole FFD journey was worth rejoicing at every moment, be it the kind of learning we have had on the various activities or lifestyles.
I learned how to fast, feast, meditate, and spread the message that 'Diabetes is Reversible'. I feel a lot more focused, energetic, and also quite confident after clearing GTT and maintaining Hba1c at 4.9 with no medicine.
Dr. Rajesh, Neha, and Yogini from the FFD team have positively impacted my life by making it free from diabetes. As of now am enjoying the FFD-prescribed diet and exercise regime.
Thank you, FFD for everything!