Pavan Kumar Reversed Diabetes, BP & Cholesterol All Within Period of 1.5 Months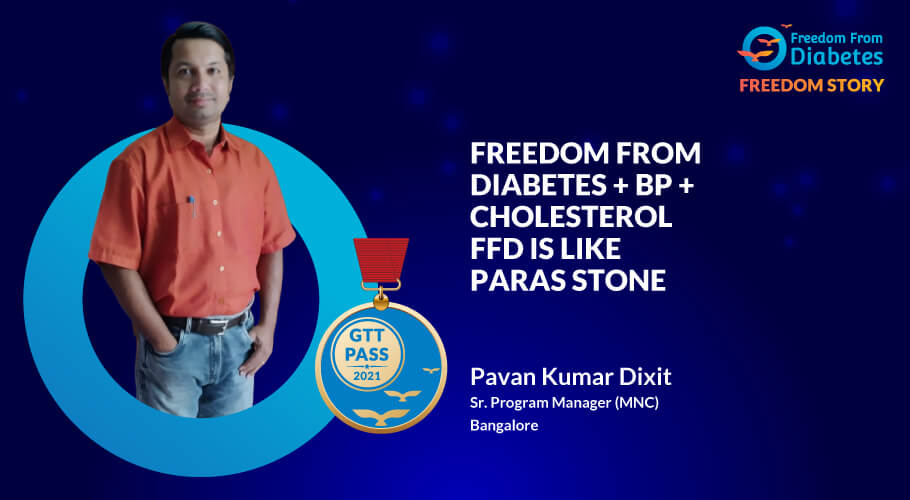 Name- Mr. Pavan Kumar Dixit
Age- 39 years
Profession- Sr. Program Manager (MNC)
Place - Bangalore
I strongly believe "whatever happens, happens for the good".
I am Pavan Kumar Dixit from Bangalore. I work as Sr. Program Manager at a German Automotive MNC.
My father had Diabetes since he was about 30 years of age. Unfortunately, I too got it at a very young age of 27 years. It so happened that in the year 2007, I had a stomach infection and did some routine blood tests including sugar tests where they were found to be high.
Other than high sugars, I used to have tingling in my feet, feeling of exhaustion, lack of good sleep. All of these led to hypertension and cholesterol medications. Before coming to FFD, I was on medicines plus 20 units of insulin in the night daily to control my diabetes.
I got to know about FFD from Facebook. I also had a family friend who was in FFD. I looked into all the videos on Youtube to understand the concept of reversal, talked to existing participants. Initially, I did not feel that this will work but then decided to join FFD as I had nothing to lose.
Having an erratic lifestyle, being a workaholic, never thinking about self-health - was my life before coming to FFD. FFD happened and completely changed my life.
Mr. Pavan Kumar Dixit
The program started and I was loyal to the program. The holistic methodology deep-set in 4 protocols - Diet, Exercise, Medicine, and Mind, actually made me positive towards it.
The dietary phase restrictions were initially worrisome. However, it went on a slow ramp-up and hence was manageable.
A fellow like me who had never done any fasts could at once do continuous fasting for 6 long days. What an achievement it is. I think it is not just me but the credit goes to the FFD team.
Medicines and injections started declining and after a period of 1.5 months of joining, I was completely OFF medicines and injections (which actually cost me about Rs 4000 / month).
Exercises, which were a total NO –NO was now part of my routine. I had only heard of Surya Namaskaras, never ever lifted dumbbells in my life, cycle dusted at my parking place and now I am able to do 108 Suryanamaskaras at a stretch, strengthening exercise twice a week for an hour and cycling a total of 50 km every week.
My Body fat went away and now I feel about 10 to 15 years younger (Lost 15 Kgs, from 75kg to 60kg) with more strength, stamina, and flexibility.
Finally, with the Soul-Mind-Body healing program, I started enjoying meditation, quietness, a tinge of spirituality, which all led to a healthy mind, reduced anxiety, unnecessary anger, and enhanced my patience.
My Family life scored the next high. I got rid of all hypertension and cholesterol medicines too. This gave me a new boost of positivity. Finally, I cleared GTT in Oct 2021.
When I got the results which were unbelievable, I felt I need to give back to society. So decided to become a mentor at FFD to help people by motivating and supporting them to achieve the results for which each one of us had enrolled into FFD.
I thank Dr. Pramod, Dr. Malhar, and all my FFD Participants, Mentors, Doctors, Dieticians, Exercise experts who were always there and helped in this Life Transformational journey. Joining FFD has been one of the best decisions in my life.