Pilaf Recipe | Vegetable Pilaf | Cauliflower Pilaf Recipe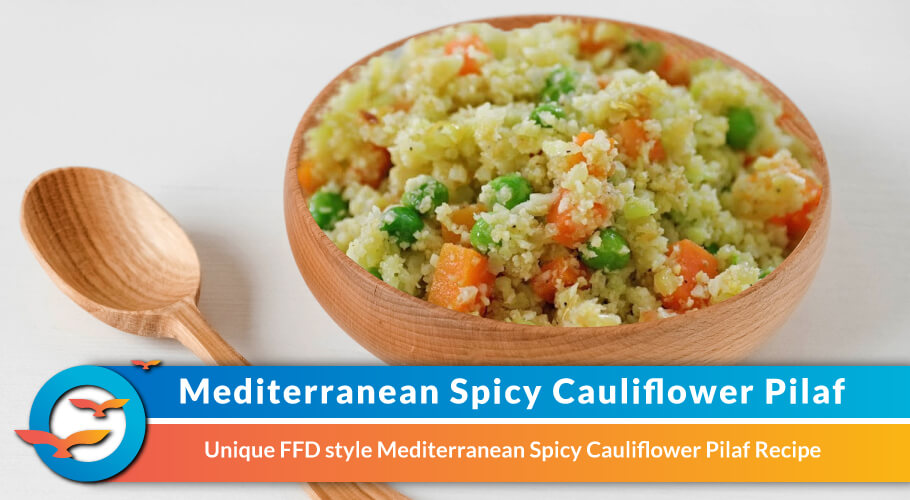 Mediterranean Spicy Cauliflower Pilaf

Understanding different types of foods and their role in our body is interesting. Once you start knowing the intricacies it becomes even more interesting. The right knowledge of it can help you modify or fortify your food all for your good health! Today, we are going to learn about the "Mediterranean pilaf recipe" in a special FFD style.For that, we need to first know the following things;
What is pilaf?

Pilaf or pilau is basically a rice dish cooked in stock or broth along with spices, and other ingredients like vegetables or meat in such a way that the cooked grains do not adhere to each other.
Is cauliflower good for diabetics?
Cauliflower is rich in fiber and vitamins which makes it a great addition to a diabetic diet. Plus it's low in calories and high in important nutrients like folate, vitamin C, and fiber. Fiber plays a big role in helping digestion and improving sugar levels. If you have type 2 diabetes, the most difficult dietary challenge is how to avoid starch. Cauliflower fits pretty well in this space.
Recipe Features

We now know that Pilaf Recipe is originally a rice dish, but here at FFD, we use grated cauliflower instead of rice. This reduces the GI value of the recipe and adds a lot of fiber to this dish as well. This recipe can be used instead of vegetable/sabji.


| | |
| --- | --- |
| Course | Main |
| Cuisine | Mediterranean |
| Preparation time | 15-20 mins |
| Cooking time | 10-15 mins |
| Serving | 2-3 |
Let us see how to prepare a pilaf recipe
Ingredients
1 Medium Cauliflower Head


1 Cup Carrots Julienned


1 Cup French Beans Julienned


1 cup Peas


1 Cup Onions Chopped


2 Tbsp Garlic Minced


1 Tbsp Olive Oil


½ Tsp Cumin Powder


Few Strands Saffron Soaked in 2 Tsp Hot water


¼ Tsp Ground Ginger


1/8 Tsp Cardamom


1/8 Tsp Cinnamon


1/8 Tsp Ground Cloves


Salt and Pepper to Taste


6 Tbsp Chopped Cilantro/ Coriander Leaves


Method
Wash cauliflower thoroughly and quarter it.


Remove tough parts of the stem and chop up the cauliflower into tiny pieces resembling rice.


In a large saucepan, heat 3 Tbsp. of olive oil.


When it is hot, add the onion and garlic and sauté until pink.


Add the carrots, beans, and peas and sauté until almost cooked.


Add cauliflower, and stir occasionally for 5-8 minutes, or until tender.


Season with cumin, saffron, ginger, cardamom, cinnamon, cloves, salt, and pepper.


Remove from heat and add chopped cilantro to taste.


Serve with a big salad, homemade hummus, and khapli/ emmer pita bread to make it a Mediterranean-style meal.
FFD always tries to make recipes more diabetes-friendly and this definitely works. Our Intensive Reversal Program (IRP) helps people reverse their diabetes naturally. Just recently we crossed another milestone of making 12000 people free from diabetes medicines. Enroll in our Introductory session i.e Holistic Transformation Program and start your reversal journey with us!
Looking for other healthy Diabetes-friendly Recipes? Try these: