Sanpiau Recipe | Sanpiau Mizoram Recipe | How to make Sanpiau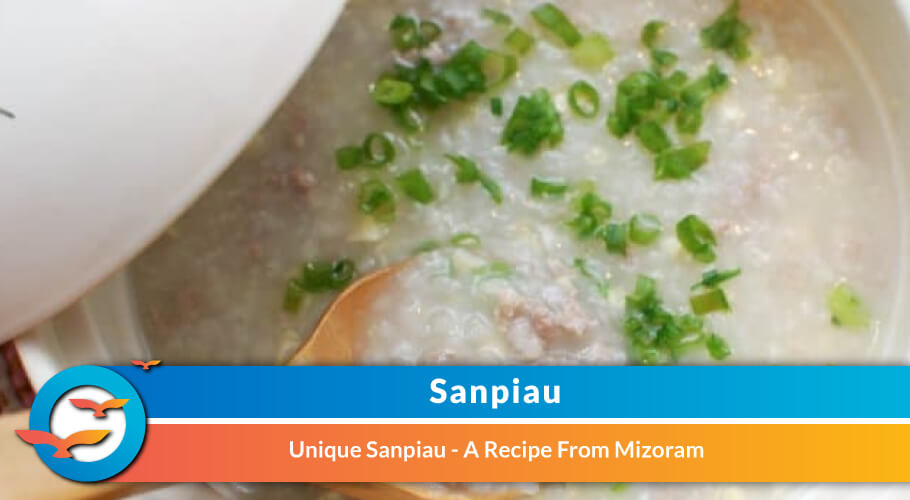 Sanpiau - A Recipe From Mizoram

A congee or conjee is a type of rice porridge. If made well it can be a treat to your palate which is easy to digest, gut-friendly, and filling too at the same time. Today, we are going to learn about an interesting congee recipe from Mizoram.
The recipe name is Sanpiau. Mizoram's staple food is rice and people from Mizoram love to add non-vegetarian ingredients to every dish. Modifying good recipes to customize to our needs is an art that FFD is expertise in. FFD has made variations in several regional recipes to make them diabetes-friendly.

What is sanpiau?

'Sanpiau' is a popular snack from the Mizoram region. It is a rice porridge that is served with fresh coriander paste, crushed black pepper, spring onions, fish sauce. Although Sanpiau is very popular across Mizoram, the recipe is said to have originated from Burma, a type of Burmese Congee named as "Hysan byok", where "hysan" means rice and "byok" means boiled according to the Burmese language. Gradually, it acquired the name 'Sanpiau'.

FFD thought of modifying this recipe a bit to make it diabetes-friendly and healthy not only for people from Mizoram but for the rest of the world too.

Recipe features


This rice porridge is made up of red rice which is extremely suitable for diabetics. Plus it has all the goodness of herbs, spices, and vegetables. It is a totally vegan recipe.


| | |
| --- | --- |
| Course | Snacks |
| Cuisine | Mizoram |
| Preparation time | 15-20 min |
| Serving | 1-2 |

Let's see how to make sanpiau? ...in a special FFD way.
Sanpiau mizoram recipe
Ingredients:
½ Cup Short Grain/ Sticky Brown/ Red Rice


1 Tbsp Garlic, Chopped


½ Tbsp Finely Chopped Ginger


1 Tbsp Oil


Salt and Pepper to Taste


2 to 3 Cups Water
For Garnish
2 Tbsp Shredded Cabbage


1 Tbsp Grated Carrot


1 Tbsp Boiled Peas


1 Tbsp Roasted Onion Rings


1 Tbsp Chopped Spring Onion


Small Red Chillies to Taste


2 Tbsp Shredded Coriander Leaves
Method
Pressure cook the rice with ginger-garlic, salt and pepper, oil, and 2 cups water, till soft and sticky.


Add more water if needed to make it soupy like a congee.


Season to your taste.


Garnish with salt and pepper, onions, and other chopped vegetables and herbs and enjoy hot.
Serving suggestion
Eat a big raw salad and a serving of chole or any legumes with this porridge to make a complete meal.
How did you find this FFD-style recipe to be? Share it with your family and friends too.
FFD's recipe blog has more such regional recipes to add to your diet regime. Definitely visit it.
FFD knows for diabetes reversal to happen, one needs to work from all angles. Hence FFD team consists of doctors, diet experts, exercise experts, psychologists, and more in their team who by giving customized service make your Diabetes Reversal a fruitful journey.
Do enroll in our Discover Reversal Session for your speedy reversal from not only diabetes but other lifestyle disorders too.
Looking for other healthy Diabetes-friendly Recipes? Try these: