Spinach, Avocado With Warm Mustard Salad Recipe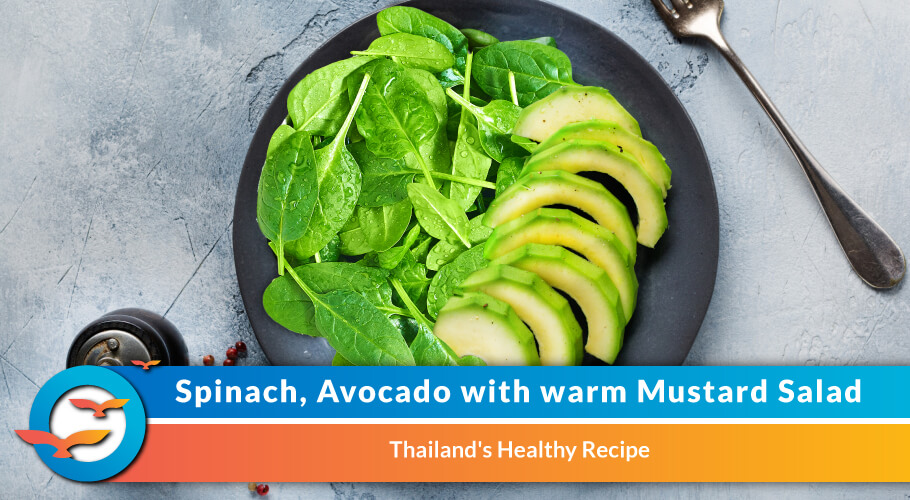 A Tasty Treat With Spinach & Avacado Salad | Diabetes-Friendly Salad Recipe


Spinach is a leafy green vegetable loaded with nutrients and antioxidants. It can be consumed raw or cooked but gives great health benefits when eaten raw.
Avocado fruit is attractive and bright-green color with dark leathery skin. It is not only delicious and creamy in texture but packed with nutrients, vitamins, and fiber.
But can we use both of them and prepare something nice.


How to make a green salad with avocado?


'Spinach, Avocado with warm mustard salad' is a unique recipe made out of spinach and avocado. It can also be named as 'Spinach salad recipe'
| | |
| --- | --- |
| Course | Main |
| Preparation Time | 15 Minutes Tie |
| Cooking time | 0 minutes |
| Servings | 2-3 Person |
| Cuisine | Indian |
Recipe features -


This salad recipe comes with an uncommon combination of spinach, lettuce, avocado, sesame seeds, and mustard.


Ingredients for Spinach & Avacado Salad-
4 cups chopped spinach
2 cups chopped lettuce
2 avocados thinly sliced
3 tsp toasted sesame seeds
Salt
Pepper
Dressing
3 tbsp olive oil
1 ½ tbsp lemon juice
2 tsp ground mustard

Method:
Mix the lettuce, spinach, pepper, and salt in a big bowl.
Add the avocado slices.
In a pan, put the dressing ingredients and heat it just enough to make it warm.
Pour the warm dressing on the salad.
Add toasted sesame seeds.
Toss gently to cover the leaves.
Serve immediately.
Storage suggestion -


Freshly prepared salad is the best. One can refrigerate all the ingredients except avocado for a few hours. Cut avocado pieces should be added just before serving.
What is the best time to eat avocado?


The best time to have avocado is the morning mealtime.


Is avocado good for belly fat?


Yes... the plus point is avocados are high in soluble fiber which help in reducing belly fat by suppressing appetite. Thus it is seen that they can help you maintain or lose weight.
Can diabetics eat avocado every day?


Yes.. people with diabetes can have avocado in moderate amounts as it is low in carbohydrates, high in fiber, and healthful fat. The high-fiber and the low-carb ratio are great for maintaining blood sugar levels. Diabetics can have the above recipe as one can address it as a 'diabetes salad recipe' also.
We already know spinach and lettuce are great for health. But blending them with avocado makes this salad a special one.
All the people looking for good health and fitness must try this salad recipe


Looking for other healthy Diabetes-friendly Recipes? Try these: