Weight loss journey from England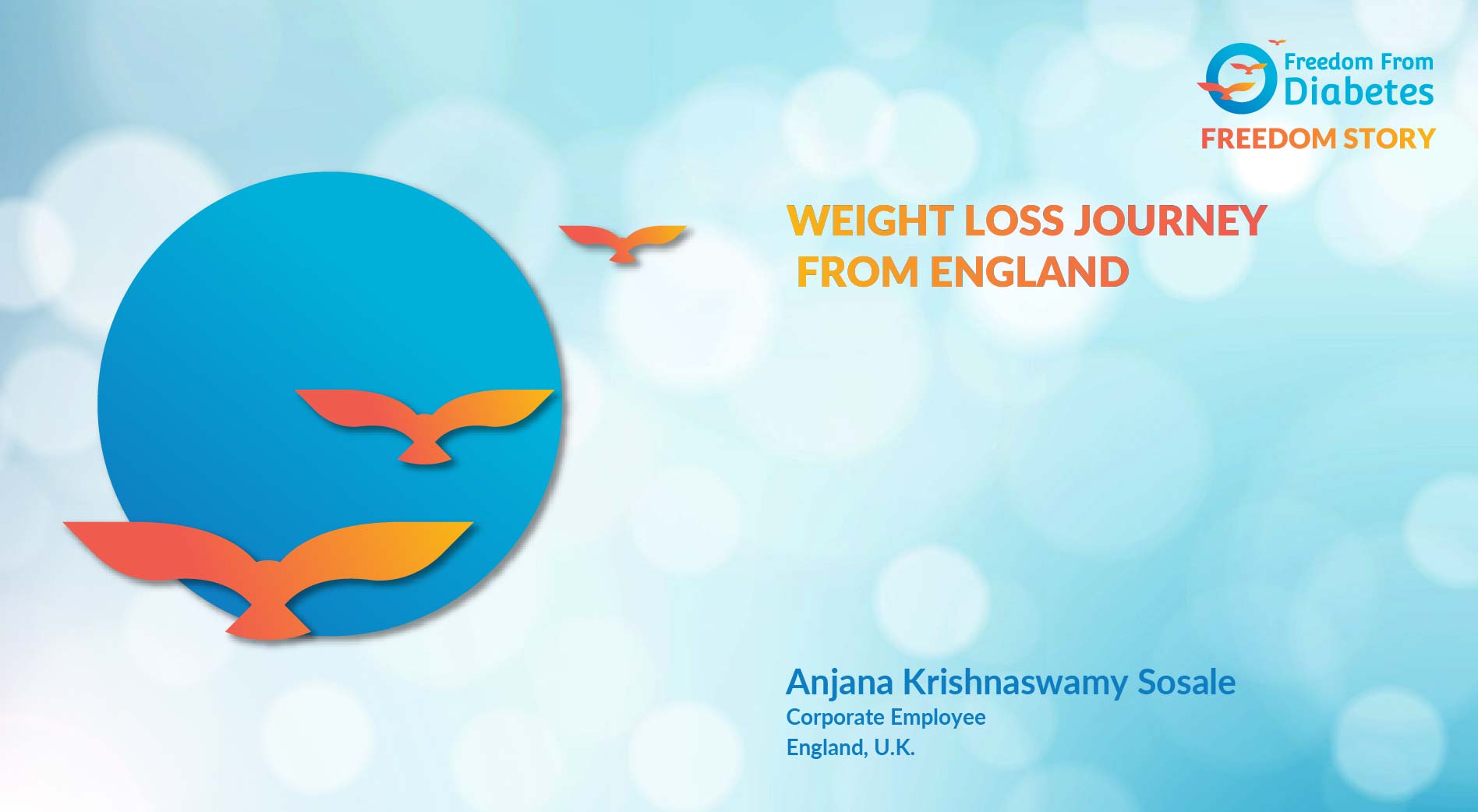 Name- Mrs.

Anjana

Krishnaswamy

Sosale

Age- 45 years
Profession- Corporate Employee
Place - England, U.K.
Excess weight can lead to several other ailments. I knew it, but did not realize how bad it would be till I reached a BMI of more than 40. I had become an ace in procrastinating things and used to spend hours together stuck on my chair and glued to my laptop.
COVID situation added to my lethargic lifestyle as I was able to work from the comforts of my bedroom. I used to always think of going for a walk and practicing some easy yoga asanas, but never actually stepped out of my home.

I am Anjana, a 45-year-young and cheerful corporate employee settled in England. Managing work-life balance is never easy but one has to do it for good health. As a result of my lethargic lifestyle, I ended up getting a BMI of more than 40.
Needless to say, being this heavy made my life difficult in all possible ways. I did try some of the weight-loss programs conducted in England but following the diet, and protocols was never my cup of tea as I am used to Indian food habits and a very strict vegetarian. Slowly, I lost interest and dropped out of that program.
One fine day, I got introduced to FFD through my relative. I observed that she had gotten into good shape. She told me that she got rid of diabetes and her fitness was very evident. I am not diabetic but wanted to lose weight and was motivated to join this.
I had my own questions and had to speak to a few international FFD participants who gave positive feedback and motivated me to definitely join the program without second thoughts.

At first, I participated in the online Discover Reversal Session of Dr. Pramod Tripathi, then enrolled for the HTP program batch 73.

At FFD, I came to know that there is something called 'Healthy Weight Loss' and that my aim should be to achieve it. This kind of weight loss was going to help increase my physical capacity rather than making me weak and less strong.
An explanation about a healthy weight loss diet chart was given. FFD diet team answered all my diet-related queries satisfactorily. It was a nice feeling being attended personally by so many experts.

Regular smoothie intake, following diet protocols, enjoying fasting days, doing warm-ups, super brain yoga, surya namaskar, and whatever exercises possible along with a strong determination is all it requires.
FFD recipes, interactions within the group, mentor, diet/exercise experts, and doctor consultations are some of the excellent motivation resources which I was privileged to have being in this program.
Although I could not join all the Live sessions, I would make it a point to watch the recording which made me never give up.

The result was obvious...good. I lost 10 kg in just 3 months and further lost a few more kilos. I was 85 kg in Dec 2021, just 3-4 months after joining the program. No other diet regime could bring such great improvement in me till now.

There has been some deviation from my regime due to travel and health issues, but nevertheless have started the process again and all set to lose at least another 15 kg.

Thank you, FFD for showing me the way to good health!