5 Best East Indian Diabetes-Friendly Sweets Recipes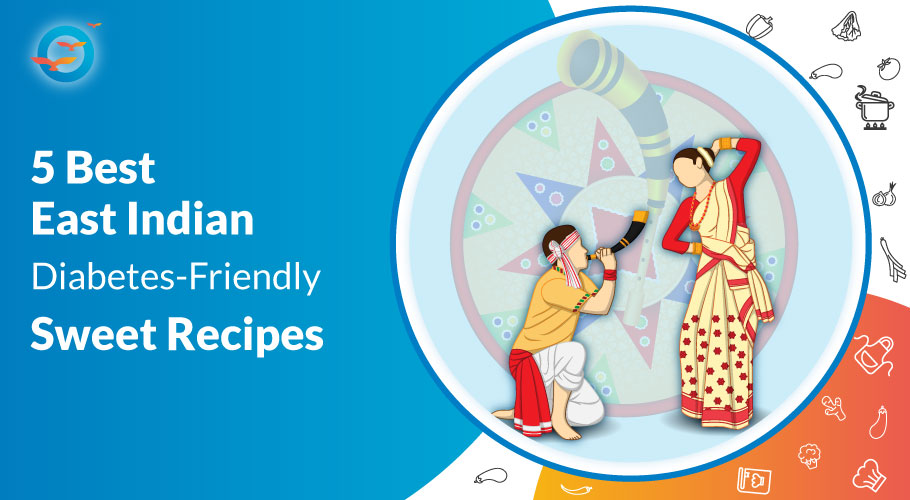 West Bengal, Odissa, Jharkhand, and Bihar are the various states that belong to East India. Like every other region, this region too has its set of sweets recipes which are well known all over. In the last 3 articles, we saw about breakfast, lunch, and dinner recipes from East India. Today, we are going to see the
Top 5 East Indian Sweets recipes that can be made suitable for diabetics.
1. Makhane ki Kheer Recipe


Kheer is a well-known and ancient Indian dessert that is made in several versions across the country. It is a common dish that can be had at any time. Its main ingredient is milk which is not good for diabetes. Hence FFD suggests kheer of the healthy item, i.e., Makhana.
Recipe Features

FFD suggests the use of coconut milk, dates, and stevia drops all of which are good for diabetics. Do try this diabetes-friendly sweets recipe.
Here is the detailed diabetic friendly sweets recipe
Ingredients
1 Cup Makhana (Foxnuts Or PhoolMakhana)
200 ml Coconut/ Vegan Milk + 200 ml Water
3-4 Green Cardamom/ Choti-Elaichi (Husked and Powdered in A Mortar-Pestle)
8 Almonds/ Badam (Blanched and Sliced)
1 Tsp Golden Raisins (Kishmish)
1 Tsp Dates Paste
Few Stevia Drops
Pinch of Saffron (Kesar)
1-2 Tsp Oil
Method
Roast all the makhana and almonds with 1-2 tsp oil, till crunchy, and keep them aside.
Heat coconut milk in a saucepan or a thick-bottomed pan.
Stir at intervals so that the milk does not scorch from the bottom, and boil.
While the coconut milk is getting heated up, reserve 1/3 cup makhana
Add the remaining to a grinder or blender jar, and add cardamom seeds from 4 cardamom pods along with a pinch of saffron strands grind to a fine powder.
Then add the dates paste, and stevia as per taste, ground makhana and the reserved 1/3 cup makhana and stir well.
Cook on low flame for 9-10 minutes till it softens and thickens, scrape the evaporated milk solids from the sides and add to the coconut milk.
Lastly, add the golden almonds and raisins.
Serve makhana ki kheer hot or warm or chilled.
After chilling the kheer's consistency thickens a bit.
Disclaimer:
Eat only 2 tbsp per day, sometimes, if sugars are well in control.
2. Lobongo Latika

Recipe


This dish also known as Laung Latika is a classic Bengali sweet where a stuffing made of milk solids is enveloped with pastry dough. The dough folds are sealed using a clove or lobongo, deep-fried, and dunked in thick sugar syrup. This has a crunchy texture on the outside with a juicy rich center.
Recipe Features

FFD has chosen all ingredients such that this recipe becomes 100% vegan. We have eliminated the use of milk. Plus chose dates instead of sugar and used khapli wheat instead of other acidic variety. This too falls under one of the best East Indian sweets recipes category.
Ingredients
1.5 Cups Khapli/ Emmer wheat
2 Tbsp Vegan Curd
1 Tbsp Oil
2 Tbsp Coconut oil
½Tsp Cooking Soda
8 Cloves
Water - for kneading
For making the filling
1 cup coconut
1 Tbsp cashews chopped
1 Tbsp almonds chopped
1 Tsp pistachios chopped
For making syrup
½Cup date syrup
1 cup water
1 Tsp cardamom powder
1 Pinch saffron
Method
Sift wheat flour and baking soda together and keep aside.
Add margarine, oil, and vegan curd to the sifted flour and mix it together to form a crumbly texture.
Add water as needed, and start kneading to make a soft and smooth dough.
The dough should neither be too soft nor too tight.
It should bounce back when pinched.
Cover the dough with a clean muslin cloth and leave it to rest for 15 min.
Meanwhile, prepare the filling.
Take a non-stick pan and add the coconut along with dates and chopped nuts.
Mix all together till the coconut turns golden in color.
Turn off the gas and keep aside to cool.
Assembling and folding
Divide the dough into 8 balls and roll one out with a rolling pin on a dusted counter.
The size should be the same as we make a puri.
Take 1/8th of the coconut mix and place it in the center of the rolled dough.
Now fold the opposite sides towards the center and make a square packet.
Take a clove and press in between the overlapped folds to seal the pocket.
Insert the clove properly such that the packet should not open while frying.
Make 8 similar packets using the same technique. Keep all aside.
Place the folded packets into the air fryer and fry till golden in color.
Making Date Syrup
Heat water in a pan and add deseeded date, saffron, and cardamom powder and let it boil till it dissolves.
Once the deseeded dates are dissolved, simmer the gas flame and let the syrup boil till it gets a one-string consistency.
Turn off the gas and keep the syrup aside.
Take the fried lobong latikas and immerse them into the date syrup for 1 min. Take them out and place them on a tray and allow them to cool.
Store them in an airtight container and you can use them for 10 to 15 days.
Disclaimer:
Eat only 1 piece per day, sometimes, if sugars are well in control.
3. Khaja Recipe



Khaja is a deep-fried pastry soaked in sugar syrup. The batter is basically prepared from all-purpose flour or wheat flour, mawa, and oil which is then deep-fried until crisp. This is then soaked in a sugar syrup before serving.
Recipe Features


FFD has modified this recipe in such a way that all the ingredients chosen are diabetes friendly. We have chosen khapli wheat, oil instead of ghee dates instead of sugar, etc. This too can be considered as sweets for diabetic patient
See the detailed diabetic friendly sweets recipe here -
Ingredients


For Dough
1 Cup Khapli/ Emmer Wheat
2 Tbsp Oil
¼ Cup Water
For Dates Syrup
¼ Cup Dates
Few Drops Stevia
½ Cup Water
¼ Tsp Cardamom Powder / Elaichi Powder
1 Tsp Lemon Juice
Method
Mix the ingredients for the syrup and cook until it thickens slightly, and keep aside till needed.
In a large bowl take 1 cup flour and 2 tbsp oil, and mix well making the flour moist.
Add ¼ cup water and knead smooth and soft dough.
Cover and rest for 15 minutes.
Dust the dough with flour and roll with the rolling pin.
Roll as thin as possible making sure to dust flour as required.
Cut the sides evenly, forming a large rectangle.
Dust the top with dry flour and start to roll tightly from one side.
Roll the cylinder tight to remove any air gaps if present.
Cut it into 1-inch pieces and slightly flatten.
Fry in the air fryer till they turn crispy and golden in color.
Immediately drop the fried kajas into the warmed dates syrup.
Soak them in the syrup for 5 minutes, making sure that the syrup is coating the khaja on all sides.
Can stored in an airtight container for 10-15 days.
Variation:
Can layer ½ cup of finely chopped nuts on top of the rolled-out dough before rolling it into a tight cylinder.
Disclaimer:
Eat only 1 piece per day, Sometimes, if Sugars are well in control
4. Narkel Naru