Girish Jange: 7 years of Diabetes Reversed in just 1 month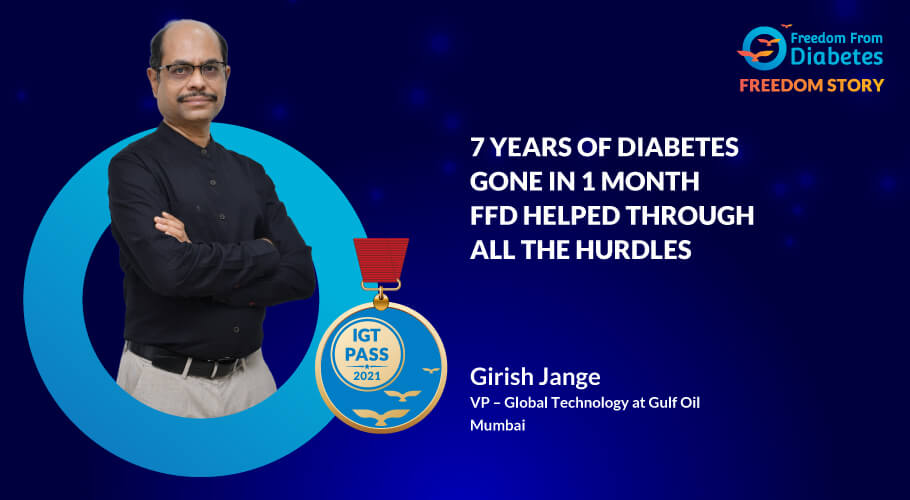 Name- Mr.

Girish

Jange

Age- 54 years
Profession- VP – Global Technology at Gulf Oil
Place - Mumbai
My belief about if something is bound to happen is going to happen - has been reaffirmed now. I had to meet FFD and things were bound to change. It was destined.I am Girish Jange, 54 years young, serving as VP – Global Technology at Gulf Oil.
My father and mother both are diabetic. So there is definitely a strong medical history in my case. Also, working in a senior position is pretty taxing.
In around September of 2014, I got my routine medical check-up done and came to know that I had diabetes. During that time, I was feeling pretty sluggish and less active, as if there was no energy left to do work at all. I also suffered from hypothyroidism, hypertension, and high triglycerides.
COVID time came and it affected me too badly. I suffered from COVID and at that time my doctor put me on insulin for uncontrolled sugars. The insulin dosage went up to 16 units 3 times a day with 3-4 tablets. Injecting insulin was so distressing both physically and mentally!
We live in a family and that is a good thing. My sufferings used to disturb my wife and my other family members too. My wife knew about FFD and had advised me about it earlier. Later, my sister and her husband (both medicos) strongly recommended I join FFD.
Mr. Girish Jange
I took a long time to make a decision but finally made it and I am very happy about it now. Without any second thought, I joined HTP batch 62.
I had decided to give a sincere attempt and so followed each and everything told. Within one month, all my medications and insulin came to 0. Now my sugars were in control without any medicine or insulin. My cholesterol medicines too stopped in around 6 months' time. This was a wonderful experience.
When the insulin and other medication stopped, I got enthusiastic about the whole journey. Although initially, I fell behind the batch due to COVID infection, I started following every step more religiously - planning food, smoothie, exercise, etc. AGE has become routine for me. I started walking and running along with Suryanamaskara / Chair suryanamaskara. I lost 7 kg of weight.
Once I cleared IGT, I felt very happy and also got confidence that I can clear GTT also.I feel very happy to come to this stage and very thankful to Dr. Pramod Tripathi (one of my most respected Gurus in this beautiful life journey), the whole FFD team, and also my family members who supported me. I never imagined myself doing 78 Surya Namaskaras on 7th Feb! I did it!