How Sandhya's 9 years diabetes medicines stopped in 8 days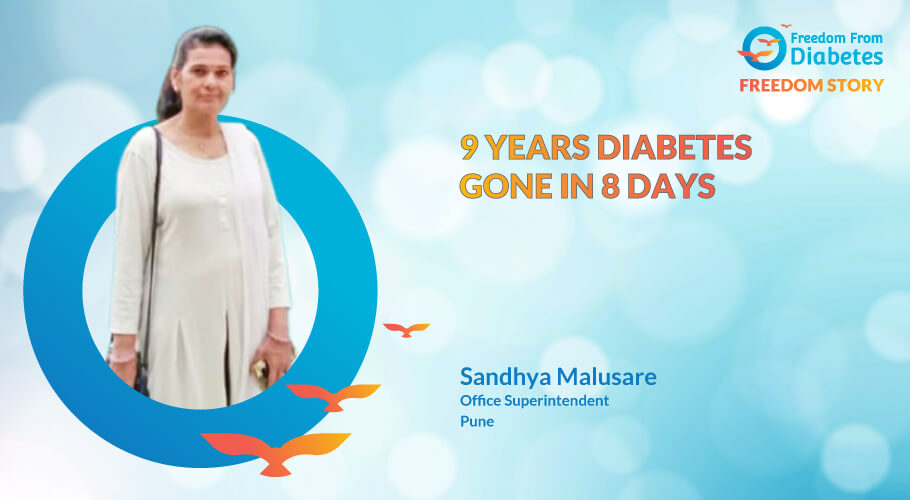 Name- Mrs.

Sandhya

Malusare

Age- 63 years
Profession- Office Superintendent
Place -Pune, India
Fear is not a good emotion, but in my case, it proved to be good. Interesting..isn't it?
Myself, Sandhya Laxman Malusare, Mentor at FFD. I have worked as a Personal Assistant to Hon. Chairman Social Welfare, Pune Zilla Parishad; Hon.
Chairman Women and Child Welfare Committee, as well as honorable President Zilla Parishad, Pune. After 37 years of service, I retired in 2016 as Office Superintendent.
Once when I was sick, the doctor asked me to do a blood test. After receiving the report, they started me on diabetes tablets. None of my family members, my mother, father, all siblings, or in-laws suffer from diabetes actually. So this was definitely not good news for me.
In 2015, I needed to go to New York (USA), my daughter was to deliver her baby. Going there for 6 months meant, taking all the medicines including medicines for diabetes, BP, and multivitamin along with me. I was afraid that my daughter would be scared to see this big volume of medicines with me.
Plus, I was worried that over in New York I might lose control of my diet which would increase my diabetes. A close friend of mine advised me to join FFD as she had heard a lot about it. So I immediately joined the FFD's Basic Program i.e. Discover Reversal Session
Before I moved to the USA, I started making smoothies, and within a month and a half, my diabetes tablet Glycomet 500 reduced to half to 250. I also learned a lot about diet then.
As mentioned above, I had already done the FFD Basic course before leaving for New York and saw the amazing results like my pills were reduced to half plus smoothie made me feel very fresh So, I joined Holistic Transformation Program Batch 32 (2016) soon after arriving from the USA.
I was never on insulin but was on several medicines for diabetes (I don't remember the exact names though). But after the FFD Basic program, I was introduced to the Glycomet 500 tablet by FFD doctors.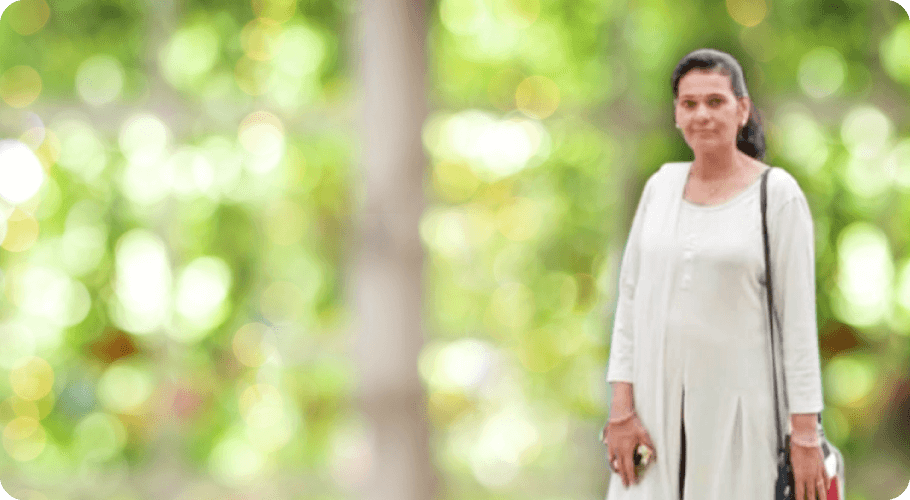 Mrs.Sandhya Malusare
My diabetes medicines stopped in just 8 days of joining HTP. This was the best news for me.
When I joined FFD, I weighed around 65 kg. I stayed at Urli Kanchan Naturopathy Center for 8 days and lost 5 kilos. Later on, I became a mentor in FFD. At the age of 60, I joined a gym.
Cycling in the gym, Zumba, pilates, yoga, etc. made me lose some more weight. Taking 1 liter of smoothie every day for a few days in the morning and evening changed the game dramatically. I came down to 55 kg, a big 10 kg weight loss.
The gyms were closed during Corona time. One of my mentees with insulin had cleared GTT twice which gave me great inspiration. I could not go cycling, so found a different way.
I did non-stop Zumba on Bollywood songs for half an hour daily plus staircase climbing after meals, 2 months before going for GTT, and successfully cleared it. I understood, Just focusing on a diet does not give you the result, one needs to work really hard on exercise too.
Right now, I follow the FFD diet - 25% rule as I know, diet is 80% important.
Interestingly, since October 2021 I do not think I am 64 years old at all. Just recently, on 17th October I had gone to Narayangaon in Junnar taluka for an SSC student get-together. Actor, MP Dr. Amol Kolhe, son of my classmate Ranjana was the chief guest, so I enthusiastically hosted the event.
That's when I realized what transformation FFD had done to me. Everyone praised my looks and energy saying 'I look the youngest. I told them this was all due to the Freedom from Diabetes diet and Diabetes-Friendly smoothies and gave them information about FFD.
My assigned doctor, Dr. Kiran was very good but I was a little unhappy with my mentor, as they did not respond well.
I had decided that if I become a mentor, I would respond to everyone who would call me even after 9 pm at night. When I became a mentor, I told all my mentees that they call me anytime, even at night.
I was even happier when I saw my mentee clear GTT than I was when I saw Niagara Falls. FFD as a whole makes me feel very happy. Since all three of my children are in the United States, this is a great opportunity for me to do community service, so I became a mentor.
I am aware of the fact that becoming a mentor in one way helped me clear GTT.
Thank you, FFD.